Richtrohrmikrofon mit ausgeprägter Richtcharakteristik!
Das MKE 400 ist ein kompaktes Richtrohrmikrofon mit ausgeprägter Richtcharakteristik, mit dem Sie den Ton für Ihre Videos optimieren. Wie schon beim MKE 200 sind auch im MKE 400 Windschutz und Schwinghalterung integriert.
Es bietet jedoch noch weitere Eigenschaften für präzise Ton- Aufnahmen: Ein 3-Stufen-Empfindlichkeitsschalter sorgt dafür, dass das MKE 400 in jeder Umgebung verzerrungsfreien Klang liefert, ein zuschaltbarer Low-Cut-Filter fokussiert Ihr Audio auf die für Klarheit und Sprachverständlichkeit entscheidenden Frequenzen. Wechselbare Anschlussoptionen mit verriegelbaren 3,5-mm-Klinkensteckern sind kompatibel mit DSLR-Kameras, spiegellosen Kameras und mobilen Geräten. Über einen praktischen Kopfhörerausgang können Sie das Mikrofonsignal überwachen.
Sound im Fokus
Das MKE 400 verfügt über eine Supernieren-Kapsel, deren Richtwirkung durch ein Interferenzrohr verstärkt wird, um zu fokussieren, Details präzise einzufangen und gleichzeitig unerwünschte Hintergrundgeräusche zu dämpfen. Dieses Mikrofon mit ausgeprägter Richtcharakteristik ist ideal für Vlogger und Videografen. Es verbessert die Tonqualität und bringt Präsenz und Klarheit in Ihre Aufnahmen.
Selbstbewusst aufnehmen
Alle Handkameras sind anfällig für Handhabungsgeräusche. Wir haben daher in das MKE 400 Windschutz und Schwinghalterung integriert. Diese Kombination sorgt immer für saubere Audioaufnahmen mit der Kamera im Außeneinsatz. Für maximale Dämpfung von Windgeräuschen im Freien befestigen Sie einfach den mitgelieferten Fellwindschutz.
Vielseitigkeit als Prinzip
Ihre Videoarbeit ist wahrscheinlich nicht auf ein Gerät beschränkt - und Ihr Mikrofon muss es auch nicht sein. Jedes MKE 400 kommt mit 3,5-mm-TRS- und TRRS-Kabeln zum Anschließen an DSLR-Kameras, spiegellose Kameras und Mobilgeräte.
Passend für jede Situation
Schlechte akustische Umgebungen gehören unterwegs oder bei Aufnahmen vor Ort zur Realität. Deshalb ist das MKE 400 mit einem Low-Cut-Filter und einem 3-Stufen-Empfindlichkeitsschalter ausgestattet. Verwenden Sie den Low-Cut-Filter, um Körperschall oder Windgeräusche zu eliminieren, und passen Sie die Gain-Empfindlichkeit an, um die Aufnahmepegel für jede Umgebung zu optimieren.
Bevor Sie loslegen
Zu den wichtigsten Aufgaben bei jeder Tonaufnahme gehört die Überprüfung des Pegels und die Überwachung des Sounds. Einige Kameras verfügen zwar über eine Kopfhörerbuchse, aber nicht alle - und hier kommt der Kopfhörer-Monitorausgang ins Spiel. Sie können einen 3,5-mm-Kopfhörer-Klinkenstecker direkt an das MKE 400 anschließen und Ihre Aufnahmen mit dem integrierten Lautstärkeregler optimal abstimmen.
Mit zusätzlichen Features für optimierte Tonaufnahmen an der Kamera!
Suitable accessories (Not included in the delivery.)
Reviews
Questions about product
No questions have yet been asked about this article.
Your question about the article Sennheiser MKE 400
Your question will be forwarded directly to the department and answered as soon as possible.
Accessories
Product Video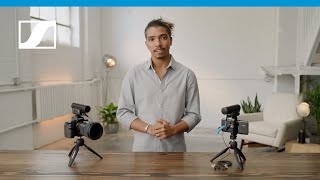 Your contact persons
The hotline is currently not manned. You can reach us again on Thursday, 24.06.2021 at 09:30.
| | | |
| --- | --- | --- |
| Wednesday | 09:30 - 18:00 | |
| Thursday | 09:30 - 18:00 | |
| Friday | 09:30 - 18:00 | |
| Saturday | 09:30 - 13:30 | |
| Monday | 09:30 - 18:00 | |
| Tuesday | 09:30 - 18:00 | |