Eurolite Dynamic Fog 600 Nebelmaschine!
Die leistungsstarke Eurolite Dynamic Fog 600 Nebelmaschine ist ideal zur Inszenierung von Licht- und Laserstrahlen in Discotheken, Clubs und Bars.
Die Auslösung der Nebelmaschine wird manuell mittels der beiliegenden Kabelfernbedienung vorgenommen und hat ein hohes Ausstoßvolumen von 170 m³/Min.
Betrieben wird die Dynamic Fog 600 mit herkömmlichem Nebelfluid auf Wasserbasis. Um das Befüllen und die Reinigung zu erleichtern, lässt sich der Tank herausnehmen und hat zudem eine praktische Pegelanzeige.
Damit der Dynamic Fog 600 im Dunkeln auch gut zu sehen ist und natürlich auch optisch was hermacht, hat das Lüftungsgitter eine schaltbare, blaue LED-Beleuchtung.
Kompakte Nebelmaschine mit 600 W Leistung mit Kabelfernbedienung!
Specification
Product number

00074812

Light source power (Watts)

600

Colour

Black

DMX interface

No
Reviews
| | | |
| --- | --- | --- |
| 5 Stars | | 0 |
| 4 Stars | | 0 |
| 3 Stars | | 0 |
| 2 Stars | | 0 |
| 1 Star | | 1 |
A verification of the ratings has taken place as follows: Only customers who are registered in our online store and have actually purchased the product from us can submit a rating for the item in the customer account.
2 machines - 2 broken after one day one day.
Review from
Florian
on 27.04.2022
Variant
Eurolite Dynamic Fog 700 Nebelmaschine
This rating has been translated automatically. Original language
verified purchase
I have never experienced anything like this.
The machine is switched on for me from Monday to Friday approx. 8-16 o'clock. Must fog in the course of the day 5-10x.
It this time quality fluid from Martin used (5 liters 29€), the last time Stairvill E-M. With both inserts, the device has already broken down on the second day. I guess again on the heating element, because yesterday only liquid came out of the nozzle.

I have fortunately 2 fog machines in use, but I need both (short-lived fog as a single effect and long-lived fog as a projection surface for the moving heads) the second runs for 2 years without problems ...

Oh and from "even output" you can not really speak - more like the inflammation of certain excretory organs.
No questions have yet been asked about this article.
Product Video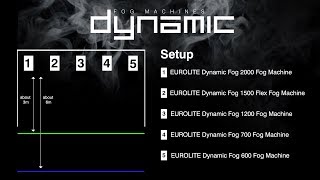 Your contact persons
The hotline is currently not manned. You can reach us again on Monday, 05.06.2023 at 09:30.
| | | |
| --- | --- | --- |
| Monday | 09:30 - 18:00 | |
| Tuesday | 09:30 - 18:00 | |
| Wednesday | 09:30 - 18:00 | |
| Thursday | Closed | |
| Friday | 09:30 - 18:00 | |
| Saturday | 09:30 - 13:30 | |