Eurolite KLS Laser Bar Pro FX Light Set - die konsequente Weiterentwicklung!
Tausende rote und grüne Laserstrahlen tanzen durch die Menge, zwei rotierende LED-Derbys sorgen mit je 6 hellen RGB-LEDs für Spiegelkugeleffekte, dazu kommen noch vier starke, weiße BCL-LEDs für einen kaltweißen Strobe-Effekt. Die Menge jubelt... so könnte Deine Party aussehen! Egal ob in Clubs, Bars, Discos oder unterwegs als mobiler DJ, mit dem LED KLS Laser Bar PRO FX-Lichtset ist Dir der Wow-Effekt sicher!
KLS erfreuen sich seit ihrer Einführung großer Beliebtheit. Besonders bei mobilen DJs und kleinen Bands sind sie nicht mehr aus dem Setup wegzudenken. Die KLS Laser Bar PRO FX führt den Gedanken der All-in-one-Lösung konsequent weiter.
Starke LED-Power
Die 4-in-1-DMX-Lichteffektleiste ist insgesamt mit einem Laser, zwei rotierenden LED-Derbys, zwei LED-Spots und vier Strobe-LEDs in Weiß und UV ausgestattet. Die beiden Laserioden projizieren hunderte rote und grüne Laserstrahlen, wie tanzende Sterne im ganzen Raum. Dazu sorgen zwei rotierende LED-Derbys mit je sechs hellen LEDs in Rot, Grün und Blau, für einen coolen Spiegelkugeleffekt.
Aber das war noch längst nicht alles! Die Laser Bar Pro hat zudem noch zwei Spots mit je sechs hellen TCL-LEDs, ebenfalls in Rot, Grün und Blau. Zum guten Schluss kommen noch vier Strobe-LEDs obendrauf. Die Strobes sind zudem jetzt mit BCL-LEDs ausgestattet. Neben Weiß ist auch UV unter jeder Linse verbaut und die Leiste gewinnt dadurch insgesamt noch mehr an Flexibilität. In Kombination mit einem Nebeleffekt kommt die Lichtshow besonders gut zur Geltung.
Der richtige Modus & Effekt für jede Party
Auch in dieser Kategorie hat die Lichteffektleiste ganz schön was zu bieten. 39 integrierte Showprogramme (die alle 4 Effektgeräte beinhalten) im Auto- und Musikmodus sorgen für reichlich Abwechslung im Show-Programm. Dazu kommen noch die üblichen Auto-, Musik-, Master/Slave- und DMX-Modi. Dafür ist der Querträger mit einer integrierten DMX-Steuereinheit und einer Stativhülse ausgestattet.
Kinderleichte Bedienung
Natürlich ist die Bedienung auch kein Hexenwerk. Die Adressierung und Einstellungen erfolgt über die Steuereinheit mit 4-stelliger LED-Anzeige auf der Rückseite der Laser Bar. Zusätzlich ist auch die Musiksteuerung über das eingebaute Mikrofon mit Empfindlichkeitsregler möglich. Wer's gerne bequem hat, nutzt einfach die Fernsteuerung per Funk-Fußschalter oder die mitgelieferte IR-Fernbedienung. Wie gesagt, kinderleicht.
Montage und Sonstiges
Das Eurolite Lichtset ist ein absolutes Leichtgewicht und eignet sich somit hervorragend für den mobilen Einsatz. Zudem wird es bereits vormontiert, in einer praktischen Transporttasche geliefert. Der eingebaute, schwenkbare Montagebügel ist dabei zur Traversenmontage gedacht. Die Schaltnetzteiltechnologie ist für eine Netzspannung zwischen 100 und 240 Volt ausgelegt. Außerdem gibt es einen Durchschleifausgang zur Spannungsversorgung von bis zu 8 Geräten - ideal für alle, die großes Vorhaben.
Veranstalte nicht nur eine Party - schenke ein Erlebnis!
Suitable accessories (Not included in the delivery.)
Specification
Product number

00045216

DMX interface

Yes

Colour spectrum

RGB/UV

Black light / UV

Yes

Light source power (Watts)

56

Colour

Black
Reviews
| | | |
| --- | --- | --- |
| 5 Stars | | 16 |
| 4 Stars | | 0 |
| 3 Stars | | 0 |
| 2 Stars | | 0 |
| 1 Star | | 0 |
A verification of the ratings has taken place as follows: Only customers who are registered in our online store and have actually purchased the product from us can submit a rating for the item in the customer account.
Great part
Review from
Jan
on 29.01.2023
This rating has been translated automatically. Original language
verified purchase
Super for any use. Whether small party, or like us in a private hall. Used and ne mega party made with sound and light! For the professional and also for the private man (woman). Super light bar. Every cent has been worth.
Super product
Review from
Kevin
on 17.07.2020
This rating has been translated automatically. Original language
verified purchase
The product delivers what it promises.
The music recognition is good. It is very bright.
The installation is simple and straightforward.
A good price/performance. Would order it again.
Only to recommend !
Review from
Volkan
on 26.09.2019
This rating has been translated automatically. Original language
verified purchase
High luminosity, great colors, built-in microphone works very well and can be regulated well, foot switch works well.
Very good light output, extensive light programs, good program control, good workmanship! Quick to set up and easy to operate by foot pedal.
laser bar
Review from
Bernd
on 04.02.2017
This rating has been translated automatically. Original language
verified purchase
Beautiful part with many variable effects.
The screw connections on the cables hook something!
LED KLS BAR
Review from
Benjamin
on 27.05.2023
Variant
Eurolite LED KLS Laser Bar FX-Lichtset
This rating has been translated automatically. Original language
verified purchase
I own the KLS BAR now almost two years and am mega satisfied with the product.
They do what they should and even in sound mode they can be seen, which is not the case with all.
All in one a good and practical product.
No questions have yet been asked about this article.
B-Stock Bargains.
This product is also available in the following condition:
Product Video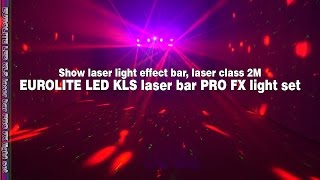 Your contact persons
Our specialists will be happy to advise you.
| | | |
| --- | --- | --- |
| Thursday | 09:30 - 18:00 | |
| Friday | 09:30 - 18:00 | |
| Saturday | 09:30 - 13:30 | |
| Monday | 09:30 - 18:00 | |
| Tuesday | Closed | |
| Wednesday | 09:30 - 18:00 | |