Involight LightBall63 - LED Lichteffekt mit 6x 3 Watt RGB LEDs & DMX!
Der "LightBall63" von INVOLIGHT ist ein hervorragender Lichteffekt mit beeindruckender Effektivität. Das kleine, leichte und enorm kompakte Gehäuse ist transparent, dadurch kommen nicht nur tolle Strahleneffekte zustande, auch die Halbkugel wird mit ins Licht getaucht! Der Effekt wirkt dadurch stylisch und modern.
Aber der "LightBall63" punktet insbesondere in Sachen Ausstattung. Er bietet dank der 6x 3 Watt RGB LED's sehr leistungsstarke und farbenfrohe Lichtstrahlen. Die Form einer Halbkugel sorgt für einen Abstrahlwinkel von 140°, so dass der ganze Raum in farbige Lichtstrahlen getaucht wird. Auch in Punkto Funktionalität wurde an alles gedacht: Die kleine Discokugel kann sowohl musikgesteuert über das integrierte Mikrofon (2 verschiedene Modi), als auch in 7 verschiedenen Automatikmodi betrieben werden. Die eingespeicherten Programme sorgen für wundervolle Shows und sind allesamt in der Geschwindigkeit 9-stufig einstellbar.
Für fortgeschrittene Anwender steht auch eine Ansteuerung über 8 DMX Kanäle zur Verfügung. Damit lassen sich die einzelnen Farben von 0 - 100% dimmen, ein Strobe Effekt in variabler Geschwindigkeit erzeugen sowie die Motorbewegung manuell oder automatisch ausführen.
Zur Komplettierung der Funktionalität wurde auch an einen Master/Slave Modus gedacht. Er ermöglicht es, mehrere "LightBall63" zu verlinken, die dann synchron miteinander arbeiten. Klar, das ist für Kenner nichts neues, aber es sieht gerade beim "LightBall63" einfach toll aus! Damit das Gerät nicht empfindlich gegen äußere Einwirkungen ist, findet die Effektbewegung im Inneren und nicht über das Gehäuse statt. Ein immenser Vorteil!
Alles in Allem ist der "LightBall63" ein kompakter, leistungsstarker Lichteffekt, der zudem auch noch erstaunlich günstig ist!
Specification
| | |
| --- | --- |
| Mit DMX-Anschluss | Ja |
| Lichtquellenleistung in Watt | 18 |
| Farbspektrum | RGB |
| Schwarzlicht/UV | Nein |
| Farbe | Schwarz |
Reviews
5.0
/
5.0
Based On 1 ratings
| | | |
| --- | --- | --- |
| 5 Stars | | 1 |
| 4 Stars | | 0 |
| 3 Stars | | 0 |
| 2 Stars | | 0 |
| 1 Star | | 0 |
Guter Kauf
KIR_REVIEW_WRITTEN_BY
verified purchase
Hab mir die disco Kugel gekauft für zu Hause für meine Tochter wir waren sehr erstaunt wie viele Farben es hat mit Bewegung und komplette ein ganzen Raum ausfüllt wie in einer disco ein toller Kauf
Questions about product
No questions have yet been asked about this article.
Your question about the article Involight LightBall63
Your question will be forwarded directly to the department and answered as soon as possible.
Alternatives
Customers also bought
product video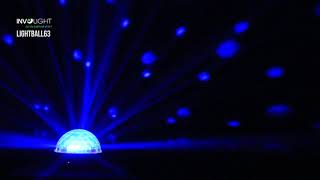 Your contact persons
Our specialists will be happy to advise you.
| | |
| --- | --- |
| Monday - Friday | 09:30 - 18:00 |
| Saturday | 09:30 - 13:30 |
| Sunday | closed |