1 Reviews
Overall Rating:
(5.0 of 5 Stars)
Eurolite LED Z-1000 Strahleneffekt
Eurolite LED Z-1000 Strahleneffekt - TOP Gerät zum kleinen Preis!
Wir haben für unsere Gartenlaube ein preisgünstiges, jedoch gutes Strahleneffektgerät gesucht. Der Eurolite LED-Z 1000 erfüllt seinen Zweck zur vollsten Zufriedenheit. In Kombination mit einer kleinen Nebelmaschine ein Highlight bei jeder Feier. Die ersten 12 Stunden durchgelaufen bis zum Ende. Die Gäste waren begeistert.

Fazit: Das Gerät ist top und in Verbindung mit einer kleinen Nebelmaschine sehr zu empfehlen!
Questions about product
Your question about the article Eurolite LED Z-1000 Strahleneffekt
Your question will be forwarded directly to the department and answered as soon as possible.
No questions have yet been asked about this article.
product video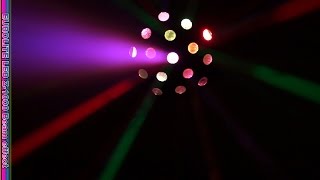 Alternatives