Das Showlite BM-60 UV-Partyset für leuchtenden Bubble-Spaß!
Seifenblasen sind ja wirklich immer der Hit, aber Seifenblasen, die auch noch farbig leuchten - das ist schon eine ganz andere Liga von Entertainment!
Das Showlite BM-60 UV-Seifenblasen Set hat alles dabei, was Du für diese außergewöhnliche Effektshow brauchst: Leistungsstarke Seifenblasenmaschine mit Funk-Fernbedienung, kleinen UV-PARty-Spot mit einer starken 30-W-COB-UV-LED, bedienbar im Standalone-Modus oder über DMX und natürlich das magische UV-Seifenblasenfluid.
Die Seifenblasenmaschine
Das Gehäuse der BM-60 ist durchdacht konzipiert. Die Oktagonform mit integriertem 0,6 l Tank in der Front liefert beste Voraussetzungen, um ein konstantes Seifenblasenmeer zu versprühen. Der Tank lässt sich auch während des Betriebs befüllen, so dass es niemals zu Bubble-Engpässen kommt. Bei Nichtgebrauch kann der Tank durch einfaches Kippen wieder geleert werden.
Der Motor und das Gebläse arbeiten äußerst laufruhig. So hält sich das Gerät bei Feiern und Veranstaltungen mit der Lautstärke bewusst im Hintergrund. Das leistungsstarke Gebläse, 16 Blasringe und 20-24 Umdrehungen pro Minute sorgen für einen kontinuierlichen Ausstoß. Dabei reicht eine Tankfüllung (0,6 l) für zwei bis drei Stunden. Die Maschine kann mit handelsüblichem Seifenblasenfluid (nicht im Lieferumfang enthalten) betrieben werden.
Im Lieferumfang ist bereits eine Funkfernbedienung enthalten, so kann die Maschine auch in montiertem Zustand (z. B. im Club-Betrieb) bequem aus der Ferne bedient werden. Weitere Features sind der Bügel zu Befestigung an Decken und der oben angebrachte Tragegriff. Somit lässt sich die Bubblemaschine auch leicht in Bar- und Lounge-Bereichen anbringen.
Der LED PARty UV Spot Scheinwerfer
Mit einer leistungsstarken 30-W-COB-UV-LED ausgestattet, zeigt der kleine Spot was in ihm steckt und das, bei flickerfreier Projektion. Ein zusätzlicher Strobe-Effekt mit regelbarer Geschwindigkeit, sorgt für Abwechslung im dunklen.
Bedienbar ist der LED PARty UV Spot im Standalone-Modus oder über DMX. Die Adressierung und Einstellung erfolgt über die Steuereinheit mit 4-stelliger LED-Anzeige auf der Rückseite des Scheinwerfers. Ideal für Partys, ist die geniale Musiksteuerung über das eingebaute Mikrofon.
Der UV-Scheinwerfer lässt sich mit seinem praktischen Montagebügel einfach an Wand- und Decke montieren und dank des Super-Silent-Lüfters wirst Du gar nicht bemerken, das er da ist. Mit dem zusätzlichen Bügel kann der Spot auch auf dem Boden aufgestellt werden - super, für Räume mit geringem Platzbedarf!
Das UV-Seifenblasenfluid
Das Eurolite UV-Seifenblasenfluid erzeugt bei Standardbeleuchtung normale Seifenblasen. Bei UV-Licht beginnen diese rötlich zu leuchten!
Der ultimative Hit für Diskotheken, Parties oder Konzerte!
Suitable accessories (Not included in the delivery.)
Specification
| | |
| --- | --- |
| Product number | 00057699 |
| DMX interface | No |
| Colour | Grey |
Reviews
Questions about product
No questions have yet been asked about this article.
Your question about the article Showlite BM-60 UV-Seifenblasen Set Rot
Your question will be forwarded directly to the department and answered as soon as possible.
Variants
Accessories
Customers also bought
Product Video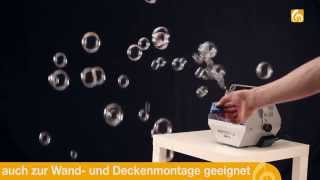 Your contact persons
Our specialists will be happy to advise you.
| | | |
| --- | --- | --- |
| Monday | 09:30 - 18:00 | |
| Tuesday | 09:30 - 18:00 | |
| Wednesday | 09:30 - 18:00 | |
| Thursday | 09:30 - 18:00 | |
| Friday | 09:30 - 18:00 | |
| Saturday | 09:30 - 13:30 | |