Sonic Performance!
Von Treibern mit großer Öffnung bis hin zu schallisolierenden Ohrmuscheln und einer robusten Konstruktion bietet der M50x ein unvergleichliches Hörerlebnis auch für die kritischsten professionellen Anwender.
45 mm Treiber, Neodym-Magnetsystem und CCAW- Schwingspulen
Mit äußerst präziser Basswiedergabe
Um 90 Grad schwenkbare Ohrmuscheln für einfaches Einohrmonitoring
Extrem langlebiges und komfortables Kopfband und Ohrpolster
Klappbar für platzsparenden Transport
Drei abnehmbare Kabel im Lieferumfang
Hoch gelobte Performance
Der ATH-M50 ist das am meisten gefeierte Modell der M-Serie, Jahr für Jahr hoch gelobt von Audio-Ingenieuren und Fachstimmen der Pro-Audio-Branche. Der neue ATH-M50x verfügt über die gleichen, herausragenden klanglichen Eigenschaften, nun mit überarbeiteten Ohrpolstern und abnehmbaren Kabeln.
Außergewöhnlich detaillierte Abbildung
Der ATH-M50x ist ausgestattet mit 45 mm Treibern, Neodym-Magnetsystem und CCAW- Schwingspulen. Er liefert eine detaillierte Abbildung über den gesamten erweiterten Frequenzbereich mit äußerst präziser Basswiedergabe.
Komfort
Stunde um Stunde. Jahr um Jahr. Der ATH-M50x hält was er verspricht. Bequemlichkeit, komfortablen Transport durch die bis zu 90 Grad schwenkbaren und einklappbaren Ohrmuscheln, präzise Wiedergabe über einen erweiterten Frequenzbereich und hervorragende Soundisolation. Überzeugen Sie sich selbst!
Hervorragende Isolation
Ohrumschließendes Design für exzellente Isolation in lauten Umgebungen
Kompakt
Der ATH-M50x verfügt über einklappbare Ohrmuscheln, was einen einfachen und platzsparenden Transport ermöglicht.
Abnehmbare Kabel
Im Lieferumfang sind 3 Kabel (1,2 - 3,0 m Spiralkabel, 1,2 m gerades Kabel und 3,0 m gerades Kabel) enthalten. Einseitige Kabelführung
Hochwertiges Equipment von audio-technica!
Specification
| | |
| --- | --- |
| Colour | Black |
| detachable cable | Yes |
| System | closed back |
Reviews
| | | |
| --- | --- | --- |
| 5 Stars | | 5 |
| 4 Stars | | 0 |
| 3 Stars | | 0 |
| 2 Stars | | 0 |
| 1 Star | | 0 |
Questions about product
No questions have yet been asked about this article.
Your question about the article Audio-Technica ATH-M50x Kopfhörer
Your question will be forwarded directly to the department and answered as soon as possible.
Variants
Customers also bought
Product Video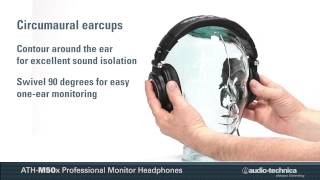 Your contact persons
The hotline is currently not manned. You can reach us again on Tuesday, 26.10.2021 at 09:30.
| | | |
| --- | --- | --- |
| Monday | 09:30 - 18:00 | |
| Tuesday | 09:30 - 18:00 | |
| Wednesday | 09:30 - 18:00 | |
| Thursday | 09:30 - 18:00 | |
| Friday | 09:30 - 18:00 | |
| Saturday | 09:30 - 13:30 | |