Pioneer DJ HDJ-X10-S Silber - Over-Ear-DJ-Kopfhörer Spitzenmodell!
Mit dem Over-Ear-Kopfhörer-Spitzenmodell HDJ-X10 von Pioneer DJ mischt du ganz vorne mit. Bei seiner Entwicklung hat Pioneer DJ den Input zahlreicher Profi-DJs berücksichtigt, damit er dir bei Festivals, in Clubs und überall sonst beste Dienste leistet.
Er lässt dich deine Musik völlig neu erleben. Dank des neuen 50-mm-Treibers mit einem Frequenzganz von 5 Hz bis 40 kHz ist er ideal fürs Monitoring, denn er trennt die Stereokanäle ebenso klar wie die satten Bässe, knackigen Mitten und kristallklaren Höhen.
Der Schwenkmechanismus bietet größten Komfort und maximale Flexibilität, damit du ihn immer auf deine spezielle Art tragen kannst - auch bei wirklich langen Performances oder Studio-Sessions. Das Kopfband und die Ohrpolster aus PU-Leder sind durch eine wasserabweisende Nanobeschichtung geschützt. Dadurch kannst du Schweiß und Schmutz einfach abwischen und dein Kopfhörer hält länger.
Über Stöße und Schläge beim Transport muss du dir keine Gedanken machen, denn dieser DJ-Kopfhörer übersteht raue Behandlung und harte Einsatzbedingungen problemlos. Er hat sogar den Standard-Schocktest des US-Militärs* bestanden. *MIL-STD-810G.
HiRes-Audio - erstmalig im DJ-Bereich
Dank der präzisen hochauflösenden Klangreproduktion entgeht dir keine Nuance deiner Musik. Die deutliche Kanaltrennung und die Bassreflexkammer machen ihn zum idealen Kopfhörer für professionelles Monitoring.
Unter härtesten Bedingungen getestet
Auch unterwegs kommt dein Kopfhörer mit rauen Bedingungen und hoher Beanspruchung problemlos klar. Die stabile Bauweise mit beweglichen Teilen aus Metall hat sogar den Standard-Schocktest des US-Militärs* bestanden. * MIL-STD-810G
Nano-Beschichtung zum Schutz des Leders
Weltweit erstmalig bei einem DJ-Kopfhörer sind die Polyurethan Leder-Ohrpolster und das lederne Kopfbandpolster des HDJ-X10 dank einer speziellen Nanobeschichtung verrottungsbeständig. Du kannst Schmutz und Schweiß also ganz einfach abwischen.
Ideale Passform und hoher Tragekomfort
Diese Kopfhörer bieten maximalen Komfort unter allen Einsatzbedingungen - wie du sie auch trägst. Die Form der Gehäuse reduziert den Druck auf den Kopf, während ihr Oberflächenfinish besonders griffig ist. Dank des flexiblen, robusten Kopfbandes und der flexiblen Schwenkmechaniken kannst du den Kopfhörer immer so einstellen, dass er am bequemsten sitzt.
Solide Bauweise, verbessertes Design
Alle Kopfhörer der Serie HDJ-X bieten ein überarbeitetes Design und sind auf lange Haltbarkeit ausgelegt. Wähle die Version, die am besten zu dir und deinem Style passt: Silber oder Silber.
Weitere Features
Voll reisetauglich
Das flache Transportcase passt locker mit in die Reisetasche und schützt deinen wertvollen Kopfhörer perfekt. Außerdem bietet es noch Platz für USB-Sticks und SD-Karten.
Zubehör wird mitgeliefert
Im Lieferumfang des HDJ-X10 befinden sich ein kurzes Spiralkabel (1,2 m), ein gerades Kabel (1,6 m) sowie ein 3,5-mm-Winkelstecker, um versehentliches Herausreißen zu verhindern.
Wichtige Teile sind austauschbar
Die abnehmbaren Kabel und die Ohrpolster lassen sich leicht austauschen und ersetzen. Passende Ersatzteile sind separat erhältlich.
Der Profi-Standard!
Suitable accessories (Not included in the delivery.)
Reviews
Questions about product
No questions have yet been asked about this article.
Your question about the article Pioneer DJ HDJ-X10-S Silber
Your question will be forwarded directly to the department and answered as soon as possible.
Variants
Alternatives
Accessories
Product Video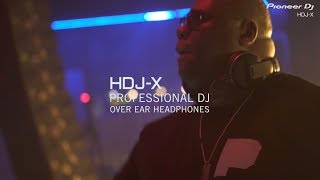 Your contact persons
The hotline is currently not manned. You can reach us again on Saturday, 16.10.2021 at 09:30.
| | | |
| --- | --- | --- |
| Saturday | 09:30 - 13:30 | |
| Monday | 09:30 - 18:00 | |
| Tuesday | 09:30 - 18:00 | |
| Wednesday | 09:30 - 18:00 | |
| Thursday | 09:30 - 18:00 | |
| Friday | 09:30 - 18:00 | |