Rane Seventy-Two MKII - hebe Deine DJ-Performance auf ein ganz neues Niveau!
Der RANE SEVENTY-TWO MKII ist ein fortgeschrittener 2-Kanal Mixer für Performance und Kontrolle, der die volle kreativePower der Serato DJ Pro Software entfesselt. Deine Performance verlangt nach Perfektion - revolutioniere dein Setup mit den neuesten Battle-Tools von RANE und bringe deine Performance einen Schritt nach vorn.
Der RANE SEVENTY-TWO MKII definiert Leistungsumfang und Möglichkeiten für professionelle Club- und Scratch DJs neu und ist auf eine freie Entfaltung der Performance ausgerichtet: ein vollfarbiger Touchscreen bietet unmittelbares Feedback aller wichtigen Performance-Funktionen, stapelbare Serato- und Flex-Effekte, MAG FOURFader, extern & intern anpassbare Crossfader-Spannung, individuelle Parameter-Kontrolle für Instant-Doubles, Stummschaltungvon Cues und Synchronisierung, duale DVS-Eingänge und zusätzlich die ultimative, ausdrucksstarke Playback-Kontrolle dank 16 multifunktionalen Trigger Pads.
Siegreiches Erbe
Bereits der erste SEVENTY-TWO war bei unzähligen Auftritten von Rang und Namen dabei und hat DJs immer wieder bei hochkompetitiven Performances zum Sieg geführt - ob DMC, Red Bull 3Style & The Goldies, der SEVENTY-TWO hat schon überall mitgemischt. Mit seiner robusten Verarbeitung und der unübertroffenen Integration mit Serato DJ Pro ist es kein Wunder, dass der SEVENTY-TWO Mixer immer wieder von Champions gewählt wurde.
MAG FOUR Fader
Zusätzlich zu dem ultra-intuitiven Layout, das sich für jedes Performance-Szenario eignet, und einer extern anpassbaren Crossfader-Spannung, enthält der SEVENTY-TWO MKII drei ultra-leichte MAG FOUR Fader. Dieses neue Design ist das bisher leichteste und besitzt eine hochqualitative, patentierte Technologie, zusammen mit einer extern anpassbaren Crossfader-Spannung.
Absolut robust
Mit seinem strapazierfähigen Gehäuse aus vollberuhigtem Stahl und Aluminium erfüllt der Performance- und Battle-Mixer SEVENTY-TWO MKII höchste Bedienungsansprüche und Performance-Erwartungen moderner DJs. Entwickelt in Zusammenarbeit mit führenden Turntablisten auf der ganzen Welt, und basierend auf dem technologischen Fundament, das von dem weltweit renommierten, Seattle-basierten Unternehmen RANE gelegt wurde, liefert der SEVENTY-TWO MKII eine Neudefinition dessen, was möglich ist, wenn echte DJ-Kunst auf bahnbrechende Technologien trifft.
Visualisiere Deinen Mix
Das farbige 4.3-Zoll Touchscreen-Interface des SEVENTY-TWO MKII übermittelt Serato DJs bewegte Wellenformen, ermöglicht Navigation, Track-Auswahl und umfassende Anpassungen der bevorzugten Performance-Einstellungen. Es bietet außerdem volle Effektkontrolle und akustische Manipulation dank der dualen Flex FX Engines, die mit den umfangreichen Serato DJ Pro Effektbänken kombiniert werden können.
Für alles bereit
Dank der dualen USB-Verbindungen können zwei DJs gleichzeitig performen und mühelose Abgaben durchführen. Ob Cuts, Flares, Chirps, Crabs, Orbits und Transformationen - mit den neuen taktilen und präzisen MAG FOUR Fadern führen Turntablisten alles mühelos durch und wechseln dann zwischen kreativen Steuerungsfunktionen über die 16 Pads im MPC-Stil mit RGB Hintergrundbeleuchtungund Multi-Performance Modusauswahl. Außerdem ist die ausdrucksstarke Pitch 'n Time DJ-Erweiterung von Serato im Lieferumfang des SEVENTY-TWO MKII enthalten, mit der DJs kreative 'Pitch-Play' Techniken in ihren Mix integrieren können.
Rane - rüste Dich für den Battle!
Suitable accessories (Not included in the delivery.)
Reviews
Questions about product
No questions have yet been asked about this article.
Your question about the article Rane Seventy-Two MKII
Your question will be forwarded directly to the department and answered as soon as possible.
B-Stock Bargains.
This product is also available as b-stock:
Variants
Alternatives
Accessories
Product Video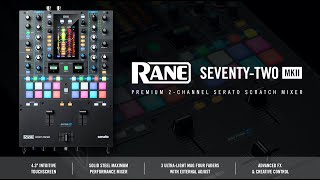 Your contact persons
The hotline is currently not manned. You can reach us again on Thursday, 27.01.2022 at 09:30.
| | | |
| --- | --- | --- |
| Thursday | 09:30 - 18:00 | |
| Friday | 09:30 - 18:00 | |
| Saturday | 09:30 - 13:30 | |
| Monday | 09:30 - 18:00 | |
| Tuesday | 09:30 - 18:00 | |
| Wednesday | 09:30 - 18:00 | |