Denon DJ X1850 Prime - das professionelle Mixing-Herzstück für kreative DJs!
Denon DJ präsentiert X1850 - der professionelle, digitale 4-Kanal DJ Club Mixer. Mit seiner Kombination aus vertrautem, intuitivem Layout in einer robusten Verarbeitung, Performance-orientierten Effekten sowie einer Vielzahl an Anschlussmöglichkeiten steht der X1850 für die nächste Generation der DJ-Technologie - in jeder Beziehung das professionelle Mixing-Herzstück für den zukunftsorientierten, kreativen DJ.
Vertrautes Layout, überlegene Performance
Mit seiner robusten Metallkonstruktion bringt der X1850 jeden DJ in die "Mixing-Wohlfühlzone". Im Mittelpunkt stehen 4 Kanäle mit mehrfach zuweisbaren Phono/Line-Eingängen für die nahtlose Einbindung in praktisch jedes Setup. Eine "hochsichtbare", 3-Band EQ Sektion bietet sowohl "normale" als auch ausdrucksstarke "Isolation" Modi für mehr Ausdrucksfähigkeit, außerdem wird eine erweiterte akustische Kreativität geboten durch die frequenzkontrollierte Band-Isolation.
Vier sanfte 60mm Throw Line Fader mit anpassbarem Contour und ein Denon DJ Contour-anpassbarer Flex-Fader Crossfader eignen sich für jeden Mixing-Stil - von Cutting und Scratching bis zu Überblendungen und Mixing. Die hochwertige "Flex-Fader" Technologie von Denon DJ bietet eine anpassbare Spannung für die Crossfader-Ansprache und bietet ein individuell abgestimmtes, professionelles DJErlebnis, damit du dich ganz auf die perfekte Performance konzentrieren kannst.
Forme deinen Sound
Ein echter Club Mixer darf kein Hindernis für die Kreativität darstellen, sondern sollte als natürliche, intuitive Erweiterung deiner DJ-Performance dienen, damit du ohne Hindernisse deinen eigenen Sound erschaffen kannst. Füge dynamische Audioeffekte deinem Mix hinzu mit den 4 Sweep FX, forme deinen Sound mit dem leistungsstarken Lo/Hi Pass Filter und der anpassbaren Resonanzkontrolle.
Lasse deiner Kreativität freien Lauf mit den 16 professionellen Club-BPM-Effekten und dem "Time-Division" Touch-Streifen, um rhythmusbasierte Effektanpassungen vorzunehmen. Für die totale Kontrolle über dein Set ermöglicht das scharfe OLED Display des X1850 die vollständige Anpassung des Workflows sowie deiner Performance-Einstellungen und erlaubt die unbeschränkte Anpassung und Bearbeitung der 16 professionellen Club-Effekte.
Die neue FX Quantize Kontrolle mit dem Engine Connect Protocol gibt deiner Performance noch mehr Power; jetzt werden alle Effektparameter immer an deinen Groove angeglichen, damit du dich weniger auf Funktionen konzentrieren musst, und mehr Zeit damit verbringst, den Dancefloor zu beherrschen.
Duale USB-Verbindung
Du suchst eine stressfreie Verbindung zu deiner Lieblings-DJ-Software? Dank der dualen USB-Verbindung des X1850 verbindest du einfach deinen Laptop, während du den zweiten Eingang für einen Ersatz-Laptop verwendest. Oder lasse zwei DJ-Programme gleichzeitig laufen, für schnelle und einfache DJ-Übergaben.
Da der X1850 auch ein vollwertiges Audio-Interface ist, kannst du 5 Stereokanäle (4 Kanal-Fader und 1 Stereo-Master) an eine DAW senden - so kannst du deinen Mix im Multitrack-Modus aufnehmen, um ihn später zu bearbeiten und zu verfeinern!
Verbessere deine Light- und Video-Shows mit STAGELINQ
Die "StagelinQ" Verbindung von Denon DJ kontrolliert die SoundSwitch Beleuchtung, das Resolume Video und die TimeCode Software - synchronisiere und verbessere jede AV-Show, ob mobil oder auf der Mainstage.
Professioneller 4-Kanal Club-Mixer mit mehrfach zuweisbaren Eingängen!
Suitable accessories (Not included in the delivery.)
Specification
| | |
| --- | --- |
| Product number | 00072769 |
| Colour | Black |
Reviews
Questions about product
No questions have yet been asked about this article.
Your question about the article Denon DJ X1850 Prime
Your question will be forwarded directly to the department and answered as soon as possible.
Accessories
Also available as set!
Product Video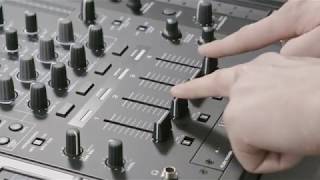 Your contact persons
The hotline is currently not manned. You can reach us again on Thursday, 09.02.2023 at 09:30.
| | | |
| --- | --- | --- |
| Wednesday | 09:30 - 18:00 | |
| Thursday | 09:30 - 18:00 | |
| Friday | 09:30 - 18:00 | |
| Saturday | 09:30 - 13:30 | |
| Monday | 09:30 - 18:00 | |
| Tuesday | 09:30 - 18:00 | |