Leistungsstarkes und effizientes Design!
Die vielseitigen Leistungsverstärker der PX-Serie kombinieren intelligentes Signalprocessing mit enormen Ausgangsleistungen für den Einsatz in unterschiedlichsten Beschallungssituationen.
Die Vertreter der PX-Serie basieren auf einer neu entwickelten, digitalen Class-D-Verstärkerstufe, welche sämtliche notwendigen Funktionen auf nur einem, speziell entwickelten LSI-Chip bereitstellt. Dank der integrierten Phasenregelschleifen (PLL)-Technologie bieten die PX-Verstärker die Kontrolle der Signalübertragungseigenschaften in Echtzeit für eine beeindruckende Wiedergabequalität und Leistung. Durch die neuartige Einzelchip-Architektur ermöglicht die PX-Serie eine höhere Ausgangsleistung sowie eine verbesserte Performance bei gleichzeitig geringem Gewicht und erhöhter Zuverlässigkeit des Systems. Die Kombination aus innovativer Technologie und sorgfältigster Auswahl der Komponenten macht die PX-Verstärker – neben der beeindruckenden Klangqualität – besonders effizient, leise und zuverlässig.
DSP für Audio processing - Eingangs- & Ausgangs-Routing
Der Amp Mode bietet eine Auswahl an 15 Pattern-Typen für Eingangs- & Ausgangs-Routing. So ist das System einfach konfigurierbar.
- Eingangs-Routing (Dual/Parallel/Single/SUM)
- Lautsprechersystem-Struktur (FULL+FULL/SUB+SUB/FULL+SUB/Bi-Amp/Boost Full/Boost Sub)
Ausgefeilte Signalverarbeitung
Die neuen Verstärker der PX-Serie verfügen standardmäßig über einen parametrischen Onboard-Equalizer, Crossover-Filter, Delay- und Limiterfunktionen. Das LC-Display erlaubt die schnelle und komfortable Konfiguration des Systems.
Darüber hinaus verfügen sämtliche Modelle über Yamahas intelligente D-CONTOUR Multiband-Dynamik-Signalverarbeitung für gleichbleibende Klarheit und Wiedergabequalität bei jedem Ausgangspegel – wahlweise für FOH- und Monitor-Setups.
Einfaches, intuitives Setup
Um den unterschiedlichen Beschallungserfahrungen von Anwendern entgegenzukommen bietet die PX-Serie sowohl einen Basic- als auch einen Advanced-Setup-Modus. Der Basic-Modus erlaubt auch unerfahrenen Anwendern die einfache Konfiguration des Systems, während fortgeschrittene Anwender im Advanced-Modus mehr Kontrolle über jeden Klang- und Wiedergabeaspekt erhalten. Jedes PX-Modell verfügt über acht programmier-, speicher- und abrufbare Presets für eine deutliche Zeitersparnis bei der Einrichtung des Systems. Zudem lassen sich die Presets auf einem USB-Datenträger speichern und auf weitere PX-Verstärker übertragen.
Flexible Anschlüsse, robuste Bauweise
Ausgestattet mit XLR- und Klinken-Eingängen, Polklemmen, SpeakON- und Klinkenausgang, bieten die Verstärker der PX-Serie die nötige Vielfalt für eine breite Anzahl an Anwendungen. Dank des robusten Gehäusedesigns inklusive der widerstandsfähigen Tragegriffe kann auch der harte Alltag on the road der PX-Serie nichts anhaben.
Eleganter Konfigurationsassistent
Für die zeitsparende Systemeinrichtung ermöglicht der integrierte Konfigurationsassistent die Auswahl von optimierten Lautsprechersettings für die perfekte Anpassung an das jeweilige System – einfach das entsprechende Filter und die Crossover-Frequenz für jeden Lautsprecher auswählen und der Konfigurationsassistent erledigt den Rest. Darüber hinaus hält der Assistent spezifische Presets für jeden passiven Lautsprecher von Yamaha*, inklusive der weit verbreiteten CBR-, Club-, Installations- und VXS/VXC-Serie. Im Advanced-Modus bietet der Konfigurationsassistent zudem weitere Einstelloptionen für das Routing der Eingangssignale, die Eingangsempfindlichkeit, Gain und die Lautsprecherimpedanz.
*Weitere Presets werden nachgereicht bzw. upgedatet
Specification
| | |
| --- | --- |
| Colour | Black |
| Height in U | 2 U |
Reviews
| | | |
| --- | --- | --- |
| 5 Stars | | 1 |
| 4 Stars | | 0 |
| 3 Stars | | 0 |
| 2 Stars | | 0 |
| 1 Star | | 0 |
Px8 Power
Review from
dirk
on 06.01.2021
Variant
Yamaha PX 8 Endstufe
This rating has been translated automatically. Original language
verified purchase
Have the device on the av reciver to operate my Monster subs. Da Werkeln 2*500watt at 8 Ohm dran. With 97 db efficiency ????
Will probably never need the power, but is extremely cool with so much reserve. The Yamaha can be adjusted very well. I limited it to 25-100 Hz.
And that even without an active crossover. I find the part just very good.
Questions about product
No questions have yet been asked about this article.
Your question about the article Yamaha PX 10 Endstufe
Your question will be forwarded directly to the department and answered as soon as possible.
Accessories
Customers also bought
Product Video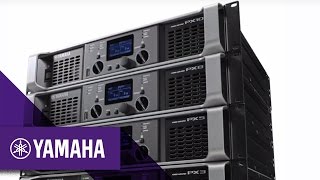 Your contact persons
Our specialists will be happy to advise you.
| | | |
| --- | --- | --- |
| Wednesday | 09:30 - 18:00 | |
| Thursday | 09:30 - 18:00 | |
| Friday | 09:30 - 18:00 | |
| Saturday | 09:30 - 13:30 | |
| Monday | 09:30 - 18:00 | |
| Tuesday | 09:30 - 18:00 | |