Genelec GLM Software Set!
Das Genelec GLM Kit ermöglicht die Einmessung und Steuerung von Studiomonitoren der SAM-Serie (Smart Active Monitor). Das Netzwerkinterface wird über USB mit einem PC oder Mac verbunden. Die Lautsprecher werden über Standard-CAT-Kabel (RJ45) angeschlossen. Die Genelec GLM-Software ermöglicht die einfache Konfiguration von Setups.
Bis zu 40 Lautsprecher und Subwoofer können verwaltet werden. Die Messung erfolgt über das kalibrierte Messmikrofon am Hörplatz. Der Algorithmus AutoCal ermittelt dann zunächst automatisch Filtereinstellungen zur Kompensation von Raumeinflüssen. Auch Pegel, Laufzeiten und die Phasenlage zu Subwoofern werden angepasst. Jeder Parameter kann manuell editiert werden. Einstellungen können abschließend in den Lautsprechern abgespeichert werden. Bleibt das Netzwerkinterface verbunden, besteht Zugriff auf Monitor-Controller-Funktionen.
Lautstärke-Regelung, Umschaltung von Gruppen oder Solo- und Mute-Funktionen stehen direkt über GLM zur Verfügung. Optional erhältlich ist ein kabelgebundener Lautstärke-Regler (Genelec 9310AM) oder eine Fernbedienung (Genelec 9101AM). Zur Nutzung als Lautstärke-Controller ist kein PC/Mac notwendig. Es genügt eine USB-Stromversorgung für das Netzwerkinterface.
Made in Finland - Quality that you can always trust!
Specification
Product number

00060679

Colour

Black
Reviews
No questions have yet been asked about this article.
Product Video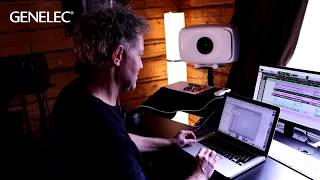 Your contact persons
The hotline is currently not manned. You can reach us again on Monday, 05.06.2023 at 09:30.
| | | |
| --- | --- | --- |
| Monday | 09:30 - 18:00 | |
| Tuesday | 09:30 - 18:00 | |
| Wednesday | 09:30 - 18:00 | |
| Thursday | Closed | |
| Friday | 09:30 - 18:00 | |
| Saturday | 09:30 - 13:30 | |