Clear, comprehensive design and comes with many helpful features!
This is how piano beginners benefit from the easy-to-use features, with the DP-50 from Classic Cantabile, but also more experienced musicians who are already practicing and want to deepen their skills to come up with this digital piano get their money's worth! With its DP-50 Classic Cantabile brings an electric piano on the market, despite its surprisingly affordable price and never compromising on quality.
Weighted Hammer keyboard with adjustable velocity
The weighted keyboard of the DP-50 with a real hammer action simulates the pianist as possible authentic feel of an acoustic piano. The keys are characterized by a certain, "natural" resistance as you press them as audible as the case with classical piano fortes. The keyboard is also velocity sensitive.
The DP-50 as the "Twin-Piano"
Another feature of the DP-50 is the possibility to split the keyboard into two halves, so that one keyboard becomes two small, independent piano keyboards placed next to eachother. You can play these two keyboards sitting side by side as if they were two small, independent pianos - A great function for interaction, for example,between music students and music teachers! In addition to this function, the DP-50 offers many other features such as a metronome, headphone jacks, a recording capability, Layer, Split, Transpose, etc. the set contains an elegant piano stool, a high-quality and dynamic headphones. This set is pure guarantees you pure joy - it's preprgrammed to do so!
Specification
| | |
| --- | --- |
| Lesson function | No |
| USB to device | No |
| Auto accompaniment | No |
| Colour | Black |
| Display | Yes |
| Integrated speakers | Yes |
| Keyboard cover | Yes |
| Accessories included | Yes |
| Recording function | Yes |
| Headphones out | Yes |
| Midi interface | No |
| USB to host | Yes |
| Wooden keys | No |
| Finish | Satin |
| Console | No |
Reviews
| | | |
| --- | --- | --- |
| 5 Stars | | 482 |
| 4 Stars | | 37 |
| 3 Stars | | 10 |
| 2 Stars | | 3 |
| 1 Star | | 2 |
Tolles Piano
Review from
Anonymus
on 31.05.2019
verified purchase
Tolle Beratung,
Sehr schnelle Lieferung,
Tolles Gerät
great gaming experience....
Review from
Susan
on 08.09.2021
This rating has been translated automatically. Original language
verified purchase
It looks a bit like a piano and therefore looks quite good in a living room. It also feels almost like a real keyboard and so it's a good alternative if you can't afford a real piano.
The sound is absolutely acceptable and the thing with the headphones is of course great for the neighbors.

Why one star deduction? - The jack on the headphones is 3.5 and the jack on the instrument is unfortunately 6.35, so I had to go out and get an adapter. With things sold in a set, I expect them to fit together.
The headphones are also not special, there are better, at virtually the same price.

It would also be good to know beforehand that it's not a normal USB cable that you need to connect to a computer, but a "host to USB" - so that's also best to get beforehand.

Permium delivery went great and was well organized in terms of time.
Very good surprise
Review from
Héloïse
on 16.04.2021
This rating has been translated automatically. Original language
verified purchase
I chose this piano to be able to play in my apartment (less expensive, less heavy and less noisy than a real piano). Despite a very modest price, I was very pleasantly surprised by the quality of the product. The wood finish is beautiful, it's easy to assemble, and it was delivered in just one week! I had read the comments beforehand and the manufacturers seem to take customer feedback well into account (e.g. adding the adapter for the headphones). Good job!
All around satisfied
Review from
Pierluigi
on 15.04.2021
This rating has been translated automatically. Original language
verified purchase
Perfect purchase throughout. Very nice digital piano, shipping on time, nothing to say. Honestly, I was a little skeptical about buying a piano online without physically seeing it, but after being reassured by my son's music teacher about the goodness/quality of the instrument and the company, I decided to buy. I consider myself fully satisfied!!!
Super Digitalpiano ☆☆☆☆☆
Review from
Aysel
on 26.02.2021
This rating has been translated automatically. Original language
verified purchase
We are totally satisfied. The delivery and packaging were impeccable, the construction in just under 1 hour done (1Erw.+10jähr.Kind), only at the end we have briefly needed help from 2 other people.
It is a lot of fun to play on it and try out the extra features.
We recommend Kirstein and the digital piano in any case.
Questions about product
Was bedeuten bei den DP-50 E- Pianos die Bezeichnungen im Namen RH und SM?
Was ist der Unterschied?

Beste Grüße
Florian
Question by Florian on 28.10.2019
Answer by Amelie Sänger - Musikhaus Kirstein
Die Kürzel stehen für die Farbe des jeweiligen Modells: RH = Rosenholz, SM = Schwarz Matt, WM = Weiß Matt.
Guten Tag
Kann man das Piano auch transportieren oder ist es fix an einem Platz? Bzw könnte man nur die "Tastatur" transportieren oder braucht es das ganze Set?
Question by Valentina on 07.04.2020
Answer by Til - Musikhaus Kirstein
Dieses E-Piano kann beispielsweise innerhalb eines Zimmers oder einer Wohnung schon verschoben/versetzt werden, allerdings ist eine (häufige) Demontage eher unpraktisch und das Instrument ist auch etwas zu groß und schwer, um es flexibel transportieren zu können. Für solche Zwecke sind sogenannte Stage Pianos gut geeignet, zum Beispiel dieses:
https://www.kirstein.de/Stagepianos/Steinmayer-P-60-WM-Stagepiano-weiss.html
Hallo,

besteht bei dem DP 50 die Möglichkeit Musik in mp3 Format direkt vom USB-STICK abzuspielen und gleichzeitig dazu selbst spielen?

LG
Marcel
Question by Marcel on 21.09.2020
Answer by Jochen Sonntag - Musikhaus Kirstein
Das Classic Cantabile DP-50 hat ausschließlich einen "USB to Host"-Anschluss. Du kannst allerdings über den Stereo-In-Anschluss ein Gerät anschließen, Musik darüber abspielen und parallel dazu spielen.
Besteht eine Möglichkeit das e-Piano an das Smartphone/Tablet anzuschließen und parallel auch an die Kopfhörer, sodass das Tablet die Töne auch wahrnehmen kann, für eine Lernapp z.B.?
Question by Olya on 24.10.2020
Answer by Jochen Sonntag - Musikhaus Kirstein
Dieses Digitalpiano hat 2 Kopfhöreranschlüsse. Sie können einen für den Kopfhörer und einen für die Audio-Verbindung zum Tablet nutzen.
Hallo,

Muss man extra für die Lieferung bezahlen?

Baut man den selber auf?

Viele Grüße
Nada Farid
Question by Nada Farid on 18.01.2019
Answer by thomas - Musikhaus Kirstein
Your question about the article Classic Cantabile DP-50 SM Electric Piano, black matt, set with bench, headphones
Your question will be forwarded directly to the department and answered as soon as possible.
Variants
Accessories
Customers also bought
Product Video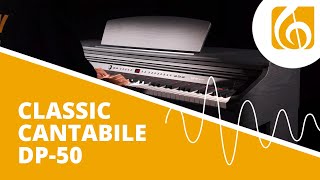 Sound Examples
Your contact persons
The hotline is currently not manned. You can reach us again on Saturday, 16.10.2021 at 09:30.
| | | |
| --- | --- | --- |
| Saturday | 09:30 - 13:30 | |
| Monday | 09:30 - 18:00 | |
| Tuesday | 09:30 - 18:00 | |
| Wednesday | 09:30 - 18:00 | |
| Thursday | 09:30 - 18:00 | |
| Friday | 09:30 - 18:00 | |