High quality 150 cm LED fluorescent tube for use in offices, warehouses, etc. Extensive range of uses!
Fluorescent lights, also known as neon lights, are now found almost everywhere in our environment such as offices, warehouses, etc. Of course, these offer advantages over conventional incandescent bulbs. Unfortunately, there are also drawbacks, such as high energy costs and long turn-on time. On top of all this, they are filled with harmful gases and mercury, which makes a disposal cumbersome. Also, regular replacement intervals are an additional maintenance cost.
LED Fluorescent Lights are an effective remedy:
LEDs have no turn-on delay and aren't sensitive to frequent switching on and off. They don't flicker or dim like conventional lights making neon lights obsolete. With a lifespan of more than 50,000 hours, the replacement interval and, with it, maintenance costs are considerably reduced. Moreover, these bulbs are environmentally friendly with their long life. Their uniformly bright, flicker- and glare-free light also reduces the fatigue caused by traditional lights. Each tube comes with a LED starter, making replacing old tubes as easy as possible. When installing, only the existing starter needs to be replaced with the included starter.
With Showlite LED tube lights, you save power. The exact value depends on the ballast used: standard fluorescent tube and ballast: 58 watts + 8 to 12 watts (power loss depending on the type ECG/CCG) Showlite LED tube T8W24K45F-1500-50: 24 Watt.
This corresponds to a power saving of more than 60 percent!
Specification
Product number

00038302

Bulb holder

T8

Colour

White

Light source power (Watts)

24

Illuminant

LED

Colour

Transparent
Reviews
| | | |
| --- | --- | --- |
| 5 Stars | | 12 |
| 4 Stars | | 0 |
| 3 Stars | | 0 |
| 2 Stars | | 0 |
| 1 Star | | 0 |
A verification of the ratings has taken place as follows: Only customers who are registered in our online store and have actually purchased the product from us can submit a rating for the item in the customer account.
100% satisfaction
Review from
Reinhard
on 19.05.2019
This rating has been translated automatically. Original language
verified purchase
I am very satisfied and can only recommend this item. The change of the tubes was very simple. I could do the exchange myself without any problems. The price-performance ratio and the delivery were perfect. Too bad that I have already exchanged everything, because then I would buy everything through Kirsten. Thank you and kind regards Reinhard.
Fast and functional
Review from
Anonymus
on 20.12.2017
This rating has been translated automatically. Original language
verified purchase
LED tubes are the really sensible replacement for the old fluorescent tubes. The exchange is easy because each LED tube is also the appropriate starter enclosed.
Inexpensive conversion to LED
Review from
Bernd
on 24.06.2017
This rating has been translated automatically. Original language
verified purchase
Easy conversion from fluorescent to LED without changing anything in the installation. Super
LED illuminant meets expectations
Review from
Egon
on 04.01.2017
This rating has been translated automatically. Original language
verified purchase
LED bulb could not install in damp proof fluorescent lamp without problme. The screw connections did not fit.
Great light output
Review from
Christian
on 10.08.2016
This rating has been translated automatically. Original language
verified purchase
This replacement article for conventional neon tubes is characterized by a great light output and makes any old neon tube look very old.

The installation is quite simple and safe (even for laymen) to manage.

Thanks to the included replacement starter, which is electrically only a jumper wire, no conversion inside the neon tube fitting is necessary.

However, I myself have completely removed the ballasts, the starter sockets and the suppressor capacitors from my double tube socket, as these are technically absolutely unnecessary and only represent further - albeit minor - power consumers.

The supplied operating / installation instructions are clear and concise.

If you wire the sockets as suggested, the direction in which the LED tubes are inserted doesn't matter at all, as there is also a jumper wire at the second end of the tubes that closes the circuit.

However, due to the removal of the old "innards" (ballasts, etc.) one or the other connection cable may be too short and must then be additionally extended.

However, it is sufficient to connect only one side of the neon tube socket (one pole to the neutral [N], one pole to the phase [L]) if you want to keep the wiring simple and don't want to make a big effort during the conversion.

This is the simplest variant, but the end of the LED tube on which the letters N and L are applied to the pin base must be used. This fact should not be forgotten if you want to change the LED tube after many years. If you insert it the wrong way round, it will remain dark.

Of course, this advanced conversion may only be carried out by a trained electrician.

Incidentally, the bulbs were safely packaged and shipped super fast.

Kirstein has here a very great environmentally friendly product in sales.

I am very satisfied with it.


Christian Neunteufel
from A-6850 Dornbirn
No questions have yet been asked about this article.
Product Video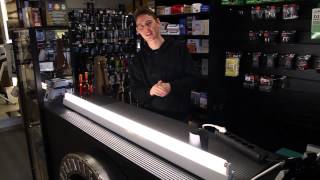 Your contact persons
The hotline is currently not manned. You can reach us again on Monday, 04.12.2023 at 09:30.
| | | |
| --- | --- | --- |
| Saturday | 09:30 - 16:00 | |
| Monday | 09:30 - 18:00 | |
| Tuesday | 09:30 - 18:00 | |
| Wednesday | 09:30 - 18:00 | |
| Thursday | 09:30 - 18:00 | |
| Friday | 09:30 - 18:00 | |