Yamaha EZ-220 - spiele wie Du noch nie zuvor gespielt hast!
Das EZ-220 ist mit seinen 61 leicht gewichteten anschlagdynamischen Leuchttasten, einer eingebauten kabellosen Verbindungsmöglichkeit zu einem Ipad für die gratis "Page Turner" App und 100 internen Songs das perfekte Einsteiger Keyboard. Eine USB TO HOST Buchse verbindet ihr Keyboard problemlos mit ihrem computer um damit viele Musikprogramme nutzen zu können, egal ob zum Lernen, oder einfach nur zum Spaß.
Die große Vielfalt der 392 Instrumentenklänge lässt sie Streicher, Gitarren, Bläser, Synthesizer, Schlagzeuge und viele andere Instrumente spielen. Die eingebaute Yamaha Education Suite ermöglicht ihnen viele Wege das Keyboardspiel zu erlernen. Außerdem dienen Ihnen die 100 PReset Begleit Styles die Möglichkeit mit einer virtuellen Band zu spielen wann immer Sie möchten.
Beleuchtete leicht gewichtete Tastatur
Die 61 anschlagdynamischen Leuchttasten in Standardgröße sind eine großartige Hilfe beim Erlernen des Keyboardspielens. Sie zeigen Ihnen welche Tasten Sie spielen müssen.
Instrumentenklänge / Begleit-Styles
Das EZ-220 ist mit seinen 392 internen Instrumentenklängen XG-lite kompatibel und lässt Sie viel mehr als nur Klavier spielen. Spielen Sie Streicher, Gitarren, Bläser, Saxophone, Synthesizer, Schlagzeug und vieles mehr. 100 Preset Begleit-Styles agieren als virutelle Band und sind jederzeit bereit mit Ihnen zu jammen.
Lernfunktion - Fingersatzhilfe
Der empfohlene Fingersatz wird im LCD Display gezeigt, damit sie schnell lernen, wie Sie einen Song richtig spielen.
Lernfunktion - Yamaha Education Suite (Y.E.S.)
Die Zusammenstellung dieser hilfreichem Lernfunktionen hilft Ihnen sich selber das Spielen bei zu bringen. Y.E.S. hilft Ihnen einen Song in einfachen Schritten zu erlernen. Jede Übung kann einzeln mit der linken oder der rechten hand oder beidhändige geübt werden. Wählen Sie einfach einen der 100 Songs aus und drücken Sie "Start". Das Keyboard lässt die richtigen Tasten leuchten und Sie können sofort los spielen. Der Song wartet so lange bis Sie die richtige Taste gespielt haben.
Lernfunktion - "EZ-220 Page Turner" App für das Ipad
Yamahas Page Turner Funktion beinhaltet nicht nur die Klaviernoten für die 100 Preset Songs, es blättert auch automatisch um und erlaubt ihnen somit sich nur auf die Musik zu konzentrieren. Außerdem kann es ihr Spiel und/oder Ihren Gesang aufnehmen.
Song Book
Das 100 Song Book ist eine gratis Zugabe für jeden, der das EZ-220 kauft!
Portable Grand Button
Klavierspielen ist so einfach mit Yamahas Portable Grand Funktion. Ein einziger Knopfdruck und sie haben einen wundervollen authentischen Flügelklang auf der gesamten Tastatur.
USB TO HOST
Verbinden Sie das Keyboard direkt mit ihrem Computer oder einem Apple Ipad, für andere beliebte Musiklernsoftware, Noten oder Sequenzerprogrammen.
Das perfekte Starterset inkl. Zubehör!
X-Keyboardständer- einstrebig & höhenverstellbar
Er bietet Ihrem Keyboard ein sicheres Plätzchen und ist der ideale Ständer für Zuhause oder die Bühne! Dieser X-Keyboardständer ist über den Schnellverschluss bequem und einfach auf fünf verschiedene Höhen einstellbar. Die robusten Gummimanschetten sorgen für festen Stand. Für eine hohe Lebensdauer sind alle Metallteile mit einer haltbaren Pulverbeschichtung versehen. Für platzsparenden Transport und Lagerung kann der X-Keyboardständer ganz leicht zerlegt werden. Der benötigte Sechskant-Schlüssel wird mitgeliefert.
Multifunktionaler Kopfhörer
Der KH-10BK liefert einen vollen, ausgewogenen Klang mit satter Basswiedergabe und klaren Höhen. Er bietet richtig viel Volumen und dennoch eine saubere und deutliche Ortung im Stereofeld. Natürlich lässt sich das weich geposterte, breite Bügelband in der Länge verstellen. Der Auszug bietet auf jeder Seite 12 Stufen und kann so optimal angepasst werden. Für noch mehr Tragekomfort sind die Ohrmuscheln in zwei Achsen drehbar gelagert und schmiegen sich so sehr angenehm an.
Unkompliziert & benutzerfreundlich ist - die perfekte Wahl für den Entdecker und Einsteiger!
Specification
| | |
| --- | --- |
| Set inkl. Zubehör | Ja |
| Eingänge | - |
| Leuchttasten | Ja |
| USB to host (Midi) | Ja |
| Farbe | Schwarz |
| Anschlagsdynamik | Ja |
| Midi-Anschluss | Nein |
| Anzahl Tasten | 61 |
| Ausgänge | 6.3mm Klinke, USB |
| Mikrofoneingang | Nein |
Reviews
| | | |
| --- | --- | --- |
| 5 Stars | | 30 |
| 4 Stars | | 3 |
| 3 Stars | | 0 |
| 2 Stars | | 0 |
| 1 Star | | 0 |
Leuchttasten wenig nützlich
KIR_REVIEW_WRITTEN_BY
verified purchase
Wir haben das Keyboard nun seit wenigen Wochen.
Ich befürchte, dass die Leuchttasten dazu verführen nur den Leuchten zu folgen.
Dies ist für die Fingerfertigkeit zwar positiv, das Notenlernen dafür fällt um so schwerer, da man Tasten, Display und Notenständer unmöglich gleichzeitig im Blick haben kann.

Anonsten halt ein einfaches Basismodell, dass seinen Zweck für die ersten Monate und schauen, ob man Lust am spielen hat, erfüllt. Bei ernstem Interesse gerne eine Preisklasse höher auswählen.
Guter Einstieg
KIR_REVIEW_WRITTEN_BY
verified purchase
macht Spaß und für die Preisklasse top Produkt, guter Klang
Pünktliche Lieferung
KIR_REVIEW_WRITTEN_BY
verified purchase
Vielen Dank für die pünktliche Lieferung. Das Keyboard war schön verpackt und funktioniert einwandfrei. Das naechste Instrument würde ich auch bei Ihnen kaufen.

Beste Grüsse
Edit
Questions about product
Your question about the article Yamaha EZ-220 Leuchttastenkeyboard Set inkl. Keyboardständer und Kopfhörer
Your question will be forwarded directly to the department and answered as soon as possible.
Question by Violeta Hruba on 30.10.2020
Guten Tag,
kann man die Lernfunktion - "EZ-220 Page Turner" App auch mit einem Android Tablett nutzen? Bzw. welche Optionen hat man mit Android?
Vielen Dank.
Mit freundlichen Grüße.
Violeta Hruba
Answer by Til - Musikhaus Kirstein
Die EZ-220 Page Turner App ist nur für Apple iPad verfügbar. Apps zum Lernen gibt es aber einige, wie zum Beispiel Flowkey, Simply Piano und viele mehr.
Alternatives
Customers also bought
product video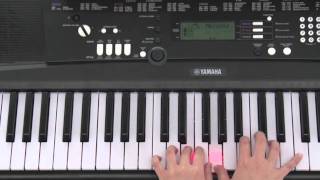 Your contact persons
The hotline is currently not manned. You can reach us again on Tuesday, 24.11.2020 at 09:30.
| | |
| --- | --- |
| Monday - Friday | 09:30 - 18:00 |
| Saturday | 09:30 - 13:30 |
| Sunday | closed |