Korg EK-50 - Perfekt für den Einstieg!
Wer seine Lieblingssongs spielen oder Melodie-Ideen zu Eigenkompositionen entwickeln möchte, kann mit KORG sein musikalisches Potenzial optimal entfalten. Das KORG EK-50 ist der perfekte Begleiter beim Erlernen des Tastenspiels, ohne dabei auf tolle und hochwertige Klänge verzichten zu müssen. Als perfekter Begleiter eignet sich das EK-50 für Einsteiger und Fortgeschrittene gleichermaßen.
Während Sie Keyboard spielen, fügen Begleitrhythmen (Styles) automatisch eine komplette Band hinzu. Vom ersten Moment an entstehen ganze Ensembles, die zu neuen, kreativen Ideen inspirieren. So können Sie Ihre Darbietung ständig verbessern und das EK-50 für Ihre musikalische Skizze perfekt einsetzen.
Styles, die Ihre Performance unterstützen
Mit den Styles der automatischen Begleitfunktion können Sie komplette Backing Bands abrufen, indem Sie mit der linken Hand nur eine Note oder einen einfachen Akkord spielen. Die Begleitung wechselt mit jedem neuen Ton oder Akkord, während Sie mit der rechten Hand frei improvisieren oder neue Melodien erfinden. Mit nur einem Finger starten Sie vielseitige Begleitungen und Hunderte von Songs.
Die integrierten Styles des EK-50 umfassen mehr als 280 internationale musikalische Genres und bieten jeweils vier Variationen von einfach bis komplex sowie ein Intro und Ending zur Abrundung Ihrer Songs. Um Ihrer Aufführung den richtigen Schliff zu geben, können Sie via Taster alle Optionen synchron zum Rhythmus umschalten.
Beim Wechseln der Styles wählt die "STS" (Single Touch Setting) Funktion automatisch die passenden Sounds und erstellt eine perfekte Kombination von Sound und Style, fertig eingerichtet und einsatzbereit, damit Sie fokussiert lernen, komponieren und musizieren können.
Spielen Sie eine breite Palette an Klangfarben
Das EK-50 verfügt über mehr als 700 realistische Sounds, darunter Pianos, Geigen, Synthesizer, Saxophone und Drums, die man einfach auswählen und sofort spielen kann, ganz gleich ob Solo- oder Band-Performance. Mit der Split-Funktion lässt sich die Tastatur unterteilen, um beispielsweise Piano mit der rechten und Bass mit der linken Hand zu spielen. Dies erlaubt die unterschiedlichsten Soundkombinationen bei hohem Spaßpotenzial.
Leicht verständliches Bedienkonzept
In der Mitte des Bedienfelds zeigt das Display die gewählten Sound- und Style-Namen in großen, gut lesbaren Buchstaben an. Die wichtigsten Schalter werden von integrierten LEDs beleuchtet und informieren auf den ersten Blick über die aktuellen Einstellungen von Funktionen. Der spezielle "Grand Piano"-Taster bringt Sie ungeachtet des aktuell gewählten Sounds direkt zum anfänglichen Konzertflügelklang zurück.
Eingebaute Lautsprecher für optimalen Klanggenuss
Die integrierten, druckvollen 2 x 10 Watt Stereo-Lautsprecher reproduzieren nicht nur die Instrumentenklänge des EK-50 in eindrucksvoller Qualität, sondern auch die Sounds externer Geräte wie Smartphones oder Tablets, die an die Eingangsbuchse angeschlossen werden können. Dank mitgeliefertem Notenpult und Netzadapter ist das EK-50 sofort nach dem Auspacken spielbereit. Mit separat erhältlichen AA-Batterien kann man das Keyboard für den perfekten Einstig sogar unterwegs nutzen!
Praktische Music Styles Funktion
Die 64 "Music Styles" des EK-50 unterstützen jeden Ihrer Lieblingssongs mit kompletten Sets aus voreingestellten Styles, Sounds und Tempi. Diese direkt wählbaren, maßgefertigten Einstellungen bilden die ideale Basis für Improvisationen oder die Entwicklung neuer Songideen.
Geben Sie Ihre Lieblingssongs auf dem Instrument wieder und spielen Sie gleichzeitig dazu
Neue Songideen lassen sich mit dem EK-50 auch aufnehmen und speichern. Im Song-Modus können Sie eigene Kompositionen, interne Demo-Songs sowie auf USB-Stick gespeicherte MP3- und WAV-Audiodateien oder SMF (Standard MIDI File) Daten abspielen und sogar selbst dazu spielen.
Erweitern Sie das Instrument mit Styles aus der umfangreichen KORG Library
Das EK-50 lässt sich über einen USB-Stick mit bis zu 96 weiteren Styles erweitern. Die ohnehin schon große, kostenlose KORG Style-Datenbank wird auch in Zukunft weiter ausgebaut werden. Auf KORG.de informieren wir regelmäßig über neu erhältliche Styles.
Das passende Zubehör für Anfänger & fortgeschrittene Keyboarder!
X-Keyboardständer - einstrebig & höhenverstellbar
Der ideale Ständer für Zuhause oder die Bühne! Er bietet rutschfesten Halt, egal ob für Keyboards, leichte Stagepianos oder Synthesizer. Dieser X-Keyboardständer ist über den Schnellverschluss bequem und einfach auf 5 verschiedene Höhen einstellbar. So erreicht jeder eine für ihn ergonomische und angenehme Spielhaltung.
Die robusten Gummimanschetten bieten absolut rutschfreien und kratzfesten Stand! Und für eine hohe Lebensdauer sind alle Metallteile mit einer haltbaren Pulverbeschichtung versehen.
Für platzsparenden Transport und Lagerung ist der X-Keyboardständer leicht zerlegbar. Der benötigte Sechskantschlüssel wird mitgeliefert.
Komfort-Kopfhörer
Der KH-238 liefert einen vollen, ausgewogenen Klang mit satter Basswiedergabe, klaren Höhen und höchsten Tragekomfort. Das weich geposterte, breite Bügelband lässt sich in der Länge verstellen. Der Auszug bietet auf jeder Seite 12 Stufen und kann so optimal angepasst werden. Für noch mehr Tragekomfort sind die Ohrmuscheln in zwei Achsen drehbar gelagert. Die dicke, weiche Polsterung der ohrumschließenden Muscheln sorgt zusätzlich für eine gute Außenschallisolierung.
Die im Kabel integrierte Lautstärkeregelung ist jederzeit zur Hand und vereinfacht so die Verwendung am PC oder mp3-Player. Der 3,5 mm Stereoklinken-Stecker liefert beste Übertragungseigenschaften und ein Adapter auf 6,3 mm Klinke (stereo) ist ebenfalls bereits im Lieferumfang enthalten.
Keyboardschule mit Videos und Playalongs
Auf 32 Seiten erklärt Michael Christoph die grundlegenden Funktion eines typischen Keyboards, wie z.B. die Begleitautomatik und die Transpose-Funktion. Zusammen mit Informationen zu Notenwerten, Taktartangaben, Tonleitern und Akkorden wird man auch als Anfänger in kürzester Zeit zum gefragten Entertainer.
Anhand meist bekannter Notenbeispiele werden immer neue Fähigkeiten in das Spiel integriert und somit das eigenen Können kontinuierlich erweitert und verbessert.
Inklusive Download-Links - Jedes Heft enthält einen Zugang zu insgesamt 21 Lehrvideos und 18 Playalongs im MP3-Format. Auf anschauliche Weise werden die Übungen und Tricks vertieft, während die Lieder zum Mitspielen helfen, die eigenen Fortschritte zu vertiefen.
Der perfekte Begleiter für die Komponisten und Entertainer von Morgen!
Specification
| | |
| --- | --- |
| Microphone input | No |
| velocity response | Yes |
| Colour | Black |
| Midi-Interface | Yes |
| Accessories included | Yes |
| USB to host (Midi) | Yes |
| Illuminated keys | No |
| Outputs | - |
Reviews
| | | |
| --- | --- | --- |
| 5 Stars | | 5 |
| 4 Stars | | 0 |
| 3 Stars | | 0 |
| 2 Stars | | 0 |
| 1 Star | | 0 |
Concerns keyboard EK-50 SET and stool
Review from
Werner
on 22.01.2021
This rating has been translated automatically. Original language
verified purchase
So I am highly satisfied with the keyboard! I am a beginner but you just have to practice! What one can play there for sounds incredibly super!! with the Kömmunikation with the music house 1A!!! Thanks again!
Greeting Werner Löbig
great keyboard for a small price
Review from
Thomas
on 23.10.2020
This rating has been translated automatically. Original language
verified purchase
a great musical instrument, which should actually be in the middle price segment, but at this absolutely reasonable price you just have to buy it I bought this instrument with stand and headphones in the set. These items are also highly recommended. Fast delivery in very neat packaging.
Suitable for beginners.
Review from
wolfgang
on 18.09.2020
This rating has been translated automatically. Original language
verified purchase
The delivery was made at short notice and free of defects. The instructions for calling the extensive playback options are also implementable for the beginner.
Korg EK - 50
Review from
Yannick
on 06.01.2020
This rating has been translated automatically. Original language
verified purchase
As a beginner who has only been playing for 1 1/2 years, this is an excellent product for learning to play the keyboard. You find yourself quickly and intuitively right. Only when setting the metronome I had to briefly look in the manual. But this is described there very understandably. Otherwise, I like very much that the styles also have different intro and ending variants. The timbres of the different instruments are also very authentic. This can be especially emphasized with the steel guitar, for example, where the resonance of the string is very nicely reproduced. The styles also motivate you to learn how to play the keyboard and encourage you to keep improving. The chords can also be played in inverted position, which makes picking them up an easy task. The included headphones are already familiar from my purchase of the DP-50 electric piano. Here, too, there is nothing to complain about as a layman. They are absolutely sufficient for the beginning.
EK-50
Review from
Werner
on 03.11.2019
This rating has been translated automatically. Original language
verified purchase
After 24 years on a Yamaha PSR 620, I needed something fresh.
Extensive research on the net let me buy the Korg EK-50.
What a grandiose advancement in keyboard technology.
I don't want to list everything here, a comprehensive review can be found here:
https://www.bonedo.de/artikel/einzelansicht/korg-ek-50-test.html
I can confirm all described characteristics, already on the first afternoon I "looked through" the device, first own settings are stored in the set list, 40 places are available.
This jack-of-all-trades offers an advantage that is not common in this class: the operating software can be updated! Immediately after receipt I updated the firmware from 1.4 to 2.4.

Not to be left unmentioned is the good cooperation with Kirstein: smooth, competent, fast...
Questions about product
No questions have yet been asked about this article.
Your question about the article Korg EK-50 Keyboard Set
Your question will be forwarded directly to the department and answered as soon as possible.
Variants
Customers also bought
Product Video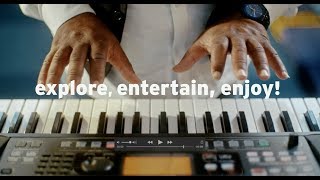 Your contact persons
The hotline is currently not manned. You can reach us again on Monday, 21.06.2021 at 09:30.
| | | |
| --- | --- | --- |
| Monday | 09:30 - 18:00 | |
| Tuesday | 09:30 - 18:00 | |
| Wednesday | 09:30 - 18:00 | |
| Thursday | 09:30 - 18:00 | |
| Friday | 09:30 - 18:00 | |
| Saturday | 09:30 - 13:30 | |