Get personal advice now!
The hotline is currently not manned. You can reach us again on Thursday, 09.02.2023 at 09:30.
Cort L200 ATV - Westerngitarre mit Tonabnehmer!
Die LUCE200-ATV wurde speziell für Fingerpicking Gitarristen konzipiert und entwickelt, die ein breiteres Griffbrett und eine sehr ausgewogenen, fokussierten Klang suchen. Bei dieser Gitarre steht der akustische Ton absolut im Vordergrund, sie kommt mit einer torrefizierten, massiven Sitka-Fichtendecke, Pau Ferro Boden und Zargen und Ebenholz Griffbrett um von Anfang an den bestmöglichen akustischen Klang von Anfang zu bieten. Das Fishman Sonitone Tonabnehmer System ermöglicht eine sehr natürliche Abnahme der Gitarre.
Vintage OM Korpus
Die LUCE200-ATV kommt mit klassichem OM Korpus. Diese Korpusform wurde in den 1920er Jahren entwickelt und fängt den typischen und so gesuchten Ton der Pre-War-Ära ein. Der Korpus produziert einen sehr ausgewogenen Klang mit schlanken Bässen und prägnanten Mitten und exzellenter Dynamik der sich wunderbar für Fingepicking und Solieren eignet.
Aged to Vintage Decke
Eine gealterte Vintage Gitarre ist das Non-plus-Ultra wenn es um Klang geht. Durch Spielen und Veränderung der Jahreszeiten im Laufe der Jahrzehnte, verändert sich die Struktur des Holzes und der Klang bricht auf, wird offener und weicher. Genau dies wird bei einem neuen Instrument welches am Anfang noch sehr geschlossen und eng kling vermisst - bis jetzt. Mittels des speziellen Cort Produktions-Prozesses der ATV (Aged To Vintage) genannt wird, wird die Decke in einer aufwändigen Prozedur thermisch behandelt. Genau so wird der charakteristische Klang alter Instrumente ohne langwieriges Einspielen erreicht.
Pau Ferro Boden & Zargen
Pao Ferro auch als Morado, Santos oder bolivianisches Palisander bekannt, ist in seinem tonalen Qualitäten dem indischen Palisander extrem ähnlich. Es ist ein sehr hartes und widerstandsfähiges Holz, das der Gitarre diesen percussiven, offenen Klang mit einer Extra-Portion Höhen verleiht.
Fishman Sonitone Tonabnehmer
Das Sonitone Tonabnehmer System ist sehr unauffällig im oberen Bereich des Schalllochs installiert und kann so sehr einfach mit dem Finger eingestellt werden. Er setzt zusammen mit dem Sonicore Pickup den Klang der Gitarre optimal für Verstärker und PA-Systeme um.
Grover Vintage Mechaniken
Vintage Optik bei bester Stimmstabilität ergänzen die klassische Optik der LUCE200-ATV optimal. Mit einem Übersetzungsverhältnis von 18:1 sind diese Mechaniken sehr präzise und angenehm zu stimmen.
Ebenholz Brücke & Pins
Die hohe Dichte von Ebenholz verbessert die Schwingungsübertragung uns somit den akustischen Klang im Gegensatz zu normalen Brücken mit Plastik-Pins deutlich.
45mm Sattelbreite
Freiheit für die Finger - der breitere Sattel ist optimal für Fingerpicking.
Ebenholz Griffbrett
Ebenholz ist ein sehr hartes und extrem widerstandsfähiges Griffbrett-Holz mit offenem höhenreichen Klang.
Seidenmatte Lackierung
Die LUCE200-ATV kommt in schicker Seidenmatter Lackierung, die sehr dünn und schwingungsfreudig ist und den klassischen Look hat.
Reviews
Questions about product
No questions have yet been asked about this article.
Your question about the article Cort L200 ATV
Your question will be forwarded directly to the department and answered as soon as possible.
B-Stock Bargains.
This product is also available in the following condition:
Accessories
Product Video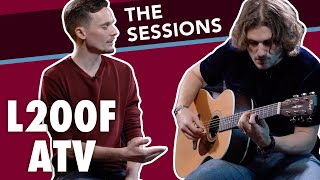 Your contact persons
The hotline is currently not manned. You can reach us again on Thursday, 09.02.2023 at 09:30.
| | | |
| --- | --- | --- |
| Wednesday | 09:30 - 18:00 | |
| Thursday | 09:30 - 18:00 | |
| Friday | 09:30 - 18:00 | |
| Saturday | 09:30 - 13:30 | |
| Monday | 09:30 - 18:00 | |
| Tuesday | 09:30 - 18:00 | |