Ready for the stage!
The DD-670 comes with many features that make this drum set a real workhorse on stage and in the rehearsal room. To top it all off, all mesh pads are made of real wooden shells and are mounted on their own stands. It runs!
Drum Pads with Mesh Heads
If you expect realistic rebound from an electric drum, you simply can't do it without mesh heads. All drum pads are equipped with double-layered mesh heads, which are absolutely quiet and allow accurate triggering.
All pads are made out of wood!
A real highlight: all drum pads have a real shell made of real wood and are mounted on their own stand, thus offering the same handling as the acoustic model. Moreover, this design prevents crosstalk with other pads. You immediately feel "at home".
Cymbal pads at their best
You can work with this: the hi-hat pad consists of two parts and can be mounted on any standard hi-hat machine. While the crash pads have two freely assignable zones, the ride pad even comes with its own bell trigger.
First-class sounds and many possibilities
The heart of the drum kit - the module - offers 720 high-quality sounds with multisampling technology. From rock and pop to ethno and electro, you can put together 20 drum sets of your own, and of course each pad can be freely allocated.
Hardware included
A hi-hat machine and 3 boom stands ensure an absolutely individual set-up of the set. Even in cramped conditions, there is always a way to position all the pads perfectly.
So get out of the rehearsal room and let the show begin!
Specification
| | |
| --- | --- |
| Snare pad size | 14 Zoll |
| USB to Host | Yes |
| Snare pad | Dual Zone |
| Crash cymbal pad size | 14 Zoll |
| Little floor space required | no |
| Kick/Bass Drum Pad | Pad 20 Zoll |
| Direct Outputs | No |
| Midi in/out | No |
| Colour | Black |
| Ride cymbal pad size | 14 Zoll |
| USB in | No |
| Ride cymbal pad | Triple Zone |
| Suited for Double Bass | yes |
| HiHat Controller | HiHat Stand |
| Social media support | No |
| Mesh Head Pads | Yes |
| sampling function | No |
| Outputs | 6.3 mm jack |
| Tom pads size | 10 Zoll |
| Crash cymbal pad | Dual Zone |
| Tom pads | Dual Zone |
| Crash cymbal with stop function | Yes |
| Accessories included | Yes |
| LCD Display | Yes |
| upgradable through optional pads | Yes |
| MP3 Input | Yes |
Reviews
5.0
/
5.0
Based On 2 ratings
| | | |
| --- | --- | --- |
| 5 Stars | | 2 |
| 4 Stars | | 0 |
| 3 Stars | | 0 |
| 2 Stars | | 0 |
| 1 Star | | 0 |
Batterie
Review from
Bernard
on 28.07.2020
This rating has been translated automatically. Original language
verified purchase
Battery of good quality except the amp of too low power and especially no instructions in French (when German) how to do when you do not speak or read the language on the manual !!!! It would be that I would receive the manual in French
Sincerely
Good sound, good quality - very satisfied
Review from
Rodger
on 13.06.2020
Variant
XDrum DD-650 PLUS Mesh E-Drum Kit Live Set
This rating has been translated automatically. Original language
verified purchase
Unpack it, plug it in, and it works. It couldn't be easier!

The assembly sketch is in need of improvement, but if you first open all the boxes (and also found the tuning key in the kick drum box), there are no problems. After setting up, you still need some time to find the optimal position and alignment of the pads (you can't individually place a drum closer or further away). However, the large, easy-grip thumbscrews make this quite straightforward, even from the sitting position.
I attached the extra add-on tom tom (no. 4) to the outside of the vertical stand tube to give the third tom tom some distance from the tom tom 2 hanging above it - otherwise it would be partially covered and not easy to play. Kick drum and snare are great, also the foot machines in general. The mesh heads play well and are really similar to conventional heads in attack and rebound. In my experience, the hi-hat is the neuralgic point and shows the technical sophistication of an e-drum kit. Especially the swell point to open (also adjustable). I have to get used to opening with the foot already a tick earlier for an open or half-close hit. The hi-hat of this XDrum kit is ok.
The stool isn't of superior quality, but it's firm and resilient. Let's see how the foam changes over use or holds its shape for a long time. (Replacing a stool after a few years is certainly the least and least expensive challenge though).

I find the available sound palette quite large and varied and really sufficient in terms of breadth (with a conventional drum set, you already decide on more or less one sound set when you buy it and get by with it).
Admittedly, it takes a long time to toggle through this selection with the rotary wheel per pad and create your own sound set. But once you've put together your 4-5 favorite sets, you're done and don't change them on a daily basis. Subtracting all the percussive and futuristic sounds, there are still a handful of good fat snare, toms and kick drum sounds.

So, I'm very pleased - plays well, sounds good, is fun to play, and is very quiet indeed (the loudest are the rubber stops, which are the cymbals)! Now I hope to enjoy many years of playing this drum kit without any problems, glitches or premature material fatigue.

P.S.: Order and delivery were prompt, complete and of good quality. Thank you, Kirstein team!
Questions about product
Hallo, ist das Set noch erweiterbar durch zb weitere Becken Pads?
Question by Dieter on 21.09.2020
Answer by stephan.echtler - Musikhaus Kirstein
Hallo zusammen,
passt das Set (mit 2. Standtom) auf einem 180x150cm Teppich?
Question by Daniel N. on 02.09.2020
Answer by Michael - Musikhaus Kirstein
Ja, das Schlagzeug passt mit der zweiten Standtom auf den Teppich.
Your question about the article XDrum DD-670 PLUS Mesh E-Drum Kit Live Set
Your question will be forwarded directly to the department and answered as soon as possible.
Variants
Product Video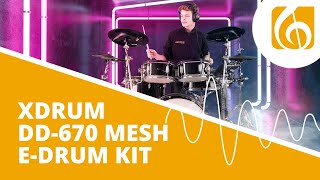 Sound Examples
Your contact persons
The hotline is currently not manned. You can reach us again on Monday, 17.05.2021 at 09:00.
| | | |
| --- | --- | --- |
| Saturday | 09:30 - 13:30 | |
| Monday | 09:00 - 18:00 | |
| Tuesday | 09:00 - 18:00 | |
| Wednesday | 09:00 - 18:00 | |
| Thursday | 09:00 - 18:00 | |
| Friday | 09:00 - 18:00 | |