Ready for the stage!
The DD-650 comes with many features that make this drum set a real workhorse on stage and in the rehearsal room. In
addition, the wooden snare and kick pads offer an incredibly realistic feel and even look like "real" drums! It's time to
get playing!
Drum pads with mesh heads
Anyone wanting a realistic rebound from an electric drum shouldn't overlook mesh heads. All drum pads are equipped with
two-ply mesh heads, which are stunningly quiet and allow for accurate triggering.
Snare and kick pad made of wood!
A real highlight: the 14" snare with the right kettle made of wood is mounted on its own stand and handles like a
traditional drum. In addition, this structure prevents overtones from the other pads. The kick pad also has a wooden
shell. It not only offers a very realistic feel on its 14" large mesh head, but it also leaves enough space for a double
foot pedal.
Cymbal pads at their finest
You can work with it: the hi-hat pad consists of two parts and can be mounted on any standard hi-hat stand. While the
crash pads have two freely assignable zones, the ride pad even comes with its own bell trigger.
First-class sounds and many possibilities
The heart of the drum kit - the module - offers 720 high-quality sounds with multisampling technology. Many styles,
including pop, folk, and electronic, can be put together 20 own drumsets, and each pad is also freely assignable.
Includes rack
Almost the entire drum set (except the hi-hat, snare and kick drum) is attached to the sturdy rack, which saves space and
enables a quick setup.
Out of the rehearsal room and off you go!
Suitable accessories (Not included in the delivery.)
Specification
| | |
| --- | --- |
| Mesh Head Pads | Yes |
| Suited for Double Bass | yes |
| upgradable through optional pads | Yes |
| Snare pad | Dual Zone |
| USB in | No |
| Crash cymbal pad size | 12 Zoll |
| Social media support | No |
| Ride cymbal pad size | 14 Zoll |
| sampling function | No |
| Colour | Black |
| Kick/Bass Drum Pad | Pad 14 Zoll |
| Snare pad size | 14 Zoll |
| MP3 Input | Yes |
| Tom pads | Dual Zone |
| Midi in/out | No |
| Crash cymbal with stop function | Yes |
| Direct Outputs | No |
| Accessories included | No |
| Little floor space required | yes |
| HiHat Controller | HiHat Stand |
| LCD Display | Yes |
| Tom pads size | 10 Zoll |
| USB to Host | Yes |
| Crash cymbal pad | Dual Zone |
| Outputs | 6.3 mm jack |
| Ride cymbal pad | Triple Zone |
Reviews
| | | |
| --- | --- | --- |
| 5 Stars | | 24 |
| 4 Stars | | 3 |
| 3 Stars | | 0 |
| 2 Stars | | 0 |
| 1 Star | | 1 |
Dziękuję za super produkt
Review from
Artur
on 26.11.2019
verified purchase
Szybka i profesjonalna dostawa. Perkusję oceniam na 5 gwiazdek. Świetny realizm gry, doskonały stosunek jakości do ceny. Kirstein... DZIĘKUJĘ BARDZO
lay opinion
Review from
Frithjof
on 12.04.2021
This rating has been translated automatically. Original language
verified purchase
The drum kit itself I like super.
I do not need much, because I bought it only to "rumdaddeln" and accordingly I have so far probably only exhausted one percent of the possibilities that gives the device.
Basically, I've just assigned individual sounds to the drums and played away.
The fact that you don't have to decide on a kit, but can really customize everything, is outstanding.
Sound, volume, effects etc.
If I have noticed correctly, even the suggestions for improvement of the drum freaks, who have tested the device extensively on Youtube, have been taken into account.
Chapeau, hats off.
By the way, a very successful test, which has finally convinced me.

What I don't like is the module.
The blue illumination of individual buttons is so bright that you can no longer read the lettering as soon as the room is a little darker.
Maybe you can adjust this and I have not found it yet.
However, also not yet searched.

I have in any case already found a good manual for the module on the net.

The second point are the feet of the bassdrum.
I can tighten the poultry nuts as much as I want and they still wobble.
However, an inability of the builder can not be ruled out.

Conclusion is but in any case a clear buy recommendation.

Who is unsure, just look at the just mentioned test on Youtube.
No questions remain unanswered.
A good drum set with good sound and great delivery
Review from
Achim
on 05.01.2021
This rating has been translated automatically. Original language
verified purchase
We use the drums in our church because then it can be matched with the instruments and the vocals better than an acoustic one. The sound is really good, also the feel because the drums are suspended. The quality is also right and the delivery was perfect. That was a bull's eye!
Excellent battery for my needs
Review from
MANFREDO
on 29.12.2020
This rating has been translated automatically. Original language
verified purchase
I must admit I am not an expert. I bought the instrument after watching a series of videos in Italian on YouTube dedicated to the DD-670 model by the blogger Suonodistorto who seemed very competent. The instrument is used by my children (14 years old) who appreciate it very much. The features are superior to all the drums of better known brands of the same price; in particular I appreciate the snare drum and the bass drum with wooden shaft (a bit of aesthetics is not bad). It is easy to assemble and connect to an amplifier or ipad to record from Garageband. More than positive judgment.
great product
Review from
antonio
on 14.12.2020
This rating has been translated automatically. Original language
verified purchase
I bought this drum kit in November: wonderful. Silent thanks to the double layer of mesh skins, aesthetically very beautiful, superlative control unit comparable to top level control units, possibility to play the double pedal without creating excessive noise. Thanks for the Christmas present. <3
Questions about product
Has this module midi connection? I can't see it in pictures. Thank you!
Question by EnricRamoneda on 25.10.2019
Answer by Maximilian Bauer - Musikhaus Kirstein
Yes, it has a midi in- and output.
Hi,

i have this set and it plays great!! I am beginner drummer. How many cymbals and toms can I max add to this set ?
Question by Rik on 28.04.2020
Answer by Michael - Musikhaus Kirstein
Hello,

I'm from the Netherlands and have interest in the DD-650 and DD-670 kits.

Are there demo kits somewhere so I can try them? And is it possible to expand them with an extra (floor) tom?

Kind regards,

Sander
Question by Sander Twisk on 11.06.2019
Answer by Michael Karle - Musikhaus Kirstein
It is possible to connect a second floor tom. Our shop is in Schongau, Bavaria. Here is a kit to try out.
Is it possible make own sound (snare, kick, etc..) to use with the drum ?

Thank you
Question by ANDREA ZAVARONI on 02.02.2020
Answer by Maximilian Bauer - Musikhaus Kirstein
You can change the included sound on the drumcomputer the way you want. It is also possible to use sounds from your PC by connecting the Drumset via USB/Midi.
Si può collegare un dispositivo esterno? Come per esempio un PC uno smartphone o altro? Non vedo l entrata Aux sulla centralina
Question by FABRIZIOIORIO on 30.10.2020
Answer by Michael Karle - Musikhaus Kirstein
Al connettore "Line In" può essere collegato un dispositivo audio esterno. Questo connettore si trova sul retro del modulo.
Estaba interesado en comprar esta bateria. alguien que la tenga me puede comentar su experiencia con esta?
Question by Lecha roig on 14.12.2019
Answer by Maximilian Bauer - Musikhaus Kirstein
Este conjunto es casi insuperable en términos de relación precio-rendimiento! En la página de productos puede ver 3 extensos videos donde se prueban y demuestran los tambores.
Buongiorno, purtroppo oltre ad avere problemi di insonorizzazione (che mi costringe ad andare su una batteria elettronica), nel mio appartamento ho anche problemi di spazio.... dunque.... qualcuno mi saprebbe dire la dimensione effettiva che occupa questo Kit?
Grazie mille!!
Question by Samuelo on 16.01.2021
Answer by Michael Karle - Musikhaus Kirstein
Poiché ogni batterista imposta il suo setup in modo diverso, non è possibile fornire misure esatte. Circa, il kit del tamburo ha bisogno di un area di 1,50 m x 1,50 m (sgabello incluso).
Hallo zusammen,
Ich interessiere mich für das DD 650 oder DD 670. Kann man die beiden Sets bei Euch vor Ort antesten und vergleichen?
Viele Grüße,
Ralph
Question by Ralph on 09.07.2020
Answer by Michael - Musikhaus Kirstein
Generell sind diese beiden Drumsets soundtechnisch identisch, der Unterschied besteht in den Hardwarekomponenten. Das XDrum DD-670 steht bei uns testbereit im Ladengeschäft. Wir freuen uns auf Deinen Besuch!
Si possono utilizzare le spazzole ?
Question by Tumminello on 01.06.2020
Answer by Echtler Stephan - Musikhaus Kirstein
Purtroppo non è possibile giocare sulla XDrum DD-650 Mesh E-Drum Kit con scope. Le Mash Heads non sono progettate per questo.
Hola me gustaría me dijese si el puerto USB hace la función de Midi in Midi Out, ya que no veo puertos Midi convencionales..Gracias de antemano Y Un Saludo
Question by Víctor Manuel on 24.12.2020
Answer by Michael Karle - Musikhaus Kirstein
Con la ayuda de la conexión USB se pueden transferir datos de Midi. Para esto necesitas un cable USB A a USB B. No es necesario instalar un controlador para su uso.
Buongiorno. Le parti di questo kit Xdrum sono tutte funzionanti con una centralina Roland tipo una TD17 che vorrei acquistare prossimamente? Incluso l'hi hat fornito con la dd670. Non vorrei comprarla e poi scoprire che sono incompatibili. Grazie mille.
Question by Simone Del Bene on 23.03.2021
Answer by Michael Karle - Musikhaus Kirstein
Sull XDrum DD-650, il hihat e il piatto ride non sono compatibili con il modulo Roland TD-17, tutti gli altri pad sono compatibili.
Hi ihrse, mich würde einmal interessieren, welchen Platzbedarf man für die Aufstellung des xdrum dd 650 ca. veranschlagen muss.

Vielen Dank.
Question by Lutz on 07.06.2020
Answer by Echtler Stephan - Musikhaus Kirstein
Der Platzbedarf für das DD-650 ist:
Breite ca. 180 cm
Tiefe ca. 100 cm (ohne Hocker)
Höhe ca. 110 cm
Hallo zusammen,

kann ich meine Handymusik anschließen, sodass ich im Kopfhörer die Musik + das Schlagzeug höre?

Danke für die Info
Question by Leo on 12.09.2019
Answer by Lukas - Musikhaus Kirstein
Ja, man kann an der Rückseite des Drumcomputers über den Line-In ein Handy anschließen, um Musik abzuspielen und Schlagzeug dazu zu spielen.
Si può usare il doppio pedale?
Question by FABRIZIO IORIO on 27.10.2020
Answer by stephan.echtler - Musikhaus Kirstein
È possibile collegare un doppio pedale a questa batteria.
Quelles sont les différences techniques entre les modules DD-650 et DD-670 ? Merci !
Question by djay on 22.08.2020
Answer by Michael - Musikhaus Kirstein
Le module pour le XDrum DD-650 et DD-670 est identique.
Your question about the article XDRum DD-650 Mesh E-Drum Kit
Your question will be forwarded directly to the department and answered as soon as possible.
Variants
Accessories
Also available as set!
Customers also bought
Product Video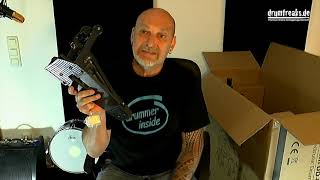 Sound Examples
Your contact persons
The hotline is currently not manned. You can reach us again on Monday, 10.05.2021 at 09:00.
| | | |
| --- | --- | --- |
| Monday | 09:00 - 18:00 | |
| Tuesday | 09:00 - 18:00 | |
| Wednesday | 09:00 - 18:00 | |
| Thursday | Closed | |
| Friday | 09:00 - 18:00 | |
| Saturday | 09:30 - 13:30 | |