Get personal advice now!
Our specialists from the drum department are looking forward to your call.
15 cm Singing Bowl von Sela - handgefertigt in Indien!
Sela Harmony Singing Bowls sind handgefertigte Meisterstücke in der Tradition tibetischer Klangschalen. Sie erzeugen lang anhaltende, sphärische Klänge mit einem durchdringenden Grundton und einem breiten, harmonischen Obertonspektrum. Alle Sela Harmony Singing Bowls werden in Indien hergestellt, besitzen ein matt-schimmerndes Finish und eine stilvolle Gravur auf der Innenseite.
Sela Harmony Singing Bowls sind in 7 unterschiedlichen Größen erhältlich, mit denen verschiedene Tonhöhen und Schwingungsbereiche erlebt werden können.
Für Musik, Meditation und Klangschalentherapie
Sela Harmony Singing Bowls eignen sich zum Musizieren genauso wie für Meditation, Yoga-Sessions und Klangmassagen. Ihre beruhigende Stimme kann dabei helfen, Stress abzubauen, tief zu entspannen und Körper und Geist in Einklang zu bringen.
Sela Harmony Singing Bowls können einzeln gespielt oder auch zusammen mit weiteren Klangschalen, Sela Handpans und anderen Instrumenten kombiniert werden, um die Zuhörer auf eine vielschichtige Klangreise zu entführen.
Mit Kombischlägel und weiterem Zubehör
Jede Sela Harmony Singing Bowl wird mit einem nützlichen Zubehörset ausgeliefert. Der beiliegende Schlägel ist dabei besonders hervorzuheben, denn er stellt eine Kombination aus einem klassischem Filzklöppel und einem Reibholz dar. Die Klangschale kann demnach mit dem runden Filzkopf angespielt oder mit dem lederbezogenen Stiel sanft gerieben und zum Singen gebracht werden, wodurch sich der Klang des Instruments auf unterschiedliche Weise entfaltet.
Eine Baumwolltasche mit Kordelzug und rotem Velourfutter schützt die Klangschale beim Transport, ein Filzring sorgt für einen sicheren Stand und optimales Schwingungsverhalten beim Anspielen der Sela Harmony Singing Bowl.
Sela - the soul of sound!
Reviews
Questions about product
No questions have yet been asked about this article.
Your question about the article Sela SE 261 Harmony Klangschale 15
Your question will be forwarded directly to the department and answered as soon as possible.
Variants
Customers also bought
Product Video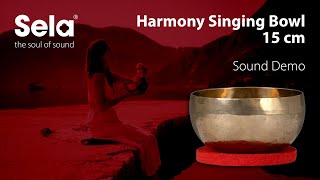 Your contact persons
Our specialists will be happy to advise you.
| | | |
| --- | --- | --- |
| Tuesday | 09:30 - 18:00 | |
| Wednesday | 09:30 - 18:00 | |
| Thursday | 09:30 - 18:00 | |
| Friday | 09:30 - 18:00 | |
| Saturday | 09:30 - 13:30 | |
| Monday | 09:30 - 18:00 | |