Back to the roots - back to the nature!
Enjoy the deep and mystical sound when playing the RAV Vast G Pygmy. This scale was inspired by severe primaeval nature. It conjures up in your mind the pictures of stalactite caves, lava fields, cold springs, deep creeks and old-growth forests. The sound of the G Pygmy will take you to the places where the spirits of nature live.
This scale is a great choice to become your first RAV drum, especially if you are looking for a darker sound to create a mysterious mood. Advanced players will enjoy the opportunity to choose between the major and minor feel and create highly contrasting compositions.
The G Pygmy is a mysterious scale. The melodies composed with the G Pygmy are full of heavy rainy clouds and the smell of ozone before a storm. This RAV drum is made of 1.5 mm special steel that provides a deep acoustic sound with a great number of harmonious overtones to this musical instrument.
The G Pygmy is sometimes called as the "day-and-night" scale. It has both major and minor tones and can create two distant moods. The higher notes provide a diurnal sunny feel, while the lower notes bring in the nocturnal dramatic and meditative sound. You can switch between these two moods and create stunningly sophisticated and contrasting compositions. The G Pygmy is great for both slow and fast playing that's what makes it really versatile.
Specifications
Notes: G2 C3 D3 D#3 G3 A#3 C4 D4 F4
Proficiency Level: Easy
Mood: Mysterious
Culture: African
Key: G
Material: Steel (1.5 mm)
Weight: 4.9 kg
Size: 20" (51 cm)
Height: (17 cm)
Coating: Painted
Colour: Blue-green
Suitable accessories (Not included in the delivery.)
Reviews
Questions about product
No questions have yet been asked about this article.
Your question about the article RAV Vast G Pygmy Steel Tongue Drum
Your question will be forwarded directly to the department and answered as soon as possible.
Variants
Accessories
Product Video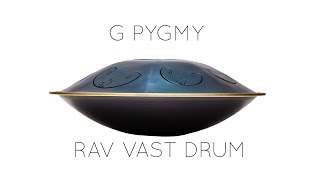 Your contact persons
Our specialists will be happy to advise you.
| | | |
| --- | --- | --- |
| Saturday | 09:30 - 13:30 | |
| Monday | 09:30 - 18:00 | |
| Tuesday | 09:30 - 18:00 | |
| Wednesday | 09:30 - 18:00 | |
| Thursday | 09:30 - 18:00 | |
| Friday | 09:30 - 18:00 | |