Feel the sound of a starry night in the african savannah!
The E Low Pygmy is a black pearl in the whole collection of the RAV Vasts. What makes the E Low Pygmy so special compared to other scales? It has a really low mystic sound that reminds of a starry night in the middle of the African savannah. The sound of the E Low Pygmy is much deeper than of the other RAV's so it even may sound like a completely different instrument. The tongues are tuned in notes of 2nd, 3rd and 4th octave giving the musician a room for creating various compositions.
This scale will be a great choice for beginners and experienced musicians as well. This refers to both handpan players and non-percussionists who are searching for a new sound and are eager to try something new.
The E Low Pygmy provides a great opportunity to unlock the potential and challenge yourself to try something totally new. It's a great instrument to enter a jam session, preferable of higher-end instruments like mandolin or ukulele.
The E Low Pygmy RAV Vast is a perfect scale for those who are looking for some new ultimate sound and would like to take a more resonant vibratory sort of instrument. This scale produces a really deep "bassy" sound that you are almost feeling in your chest while playing.
The E Low Pygmy scale is the only scale tuned in E in the RAV Vast collection, so it possesses a unique selection of notes from A2 to D4. Like all the other RAV Vasts, the notes have sympathetic resonance.
Specifications
Notes: E2 A2 B2 C3 E3 G3 A3 B3 D4
Proficiency Level: Advanced
Mood: Mysterious
Culture: African
Key: E
Material: Steel (1.5 mm)
Weight: 4.9 kg
Size: 20" (51 cm)
Height: (17 cm)
Coating: Painted
Colour: Blue-green
Suitable accessories (Not included in the delivery.)
Reviews
Questions about product
No questions have yet been asked about this article.
Your question about the article RAV Vast E Low Pygmy Steel Tongue Drum
Your question will be forwarded directly to the department and answered as soon as possible.
Variants
Accessories
Customers also bought
Product Video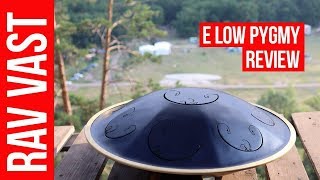 Your contact persons
Our specialists will be happy to advise you.
| | | |
| --- | --- | --- |
| Tuesday | 09:30 - 18:00 | |
| Wednesday | 09:30 - 18:00 | |
| Thursday | 09:30 - 18:00 | |
| Friday | 09:30 - 18:00 | |
| Saturday | 09:30 - 13:30 | |
| Monday | 09:30 - 18:00 | |