On a hidden path deeper to the secret forest!
Sonorous like the spring drops of melting icicle, the D Celtic takes you deeper with a hidden path to the secret druid forest. It's tuned in a minor scale and has an incredibly soothing and relaxing sound. If you are looking for a tool to practice sound therapy, there's no instrument better than this. The voice of this scale is spellbinding and can hypnotize anyone who is hearing it.
The D Celtic is also the right choice if you are eager to find your first tongue drum. This is a beginner-friendly scale that will let you create wonderful melodies. The seasoned musicians will get an opportunity to compose soothing and enchanting melodies and make the best accompaniment for meditation using the D Celtic Minor RAV Vast. The sound of the D Celtic Minor is very relaxing and makes you feel very enlightened while listening to it. Unlike many minor scales, it brings tranquillity without the feeling of melancholy. Thus, it's a very positive scale.
The sound of the D Celtic can remind you of the windchimes or singing bowl. These bowls are usual accompaniments for meditation and sound-healing, so the D Celtic is perfect for this purpose as well. It's a chakra-tuned drum that means that each note of the drum harmonises with the inner vibrations of the chakras in your body and that's what makes it a perfect instrument for energy balancing.
The D Celtic is a good choice for an inexperienced musician who wants to have an instrument to practice meditation and improvisation while delving into the relaxing sound of the tongue drum.
Specifications
Notes: D3 A3 C4 D4 E4 F4 G4 A4 C5
Proficiency Level: Easy
Mood: Peaceful and calming
Culture: Celtic
Key: D
Material: Steel (2 mm)
Weight: 5.9 kg
Size: 20" (51 cm)
Height: (17 cm)
Coating: Painted
Colour: Blue-green

Suitable accessories (Not included in the delivery.)
Reviews
Questions about product
No questions have yet been asked about this article.
Your question about the article RAV Vast D Celtic Minor Steel Tongue Drum
Your question will be forwarded directly to the department and answered as soon as possible.
Variants
Accessories
Product Video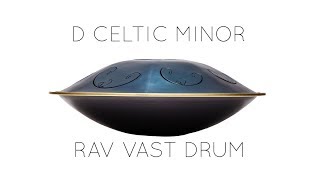 Your contact persons
The hotline is currently not manned. You can reach us again on Tuesday, 03.08.2021 at 09:30.
| | | |
| --- | --- | --- |
| Tuesday | 09:30 - 18:00 | |
| Wednesday | 09:30 - 18:00 | |
| Thursday | 09:30 - 18:00 | |
| Friday | 09:30 - 18:00 | |
| Saturday | 09:30 - 13:30 | |
| Monday | 09:30 - 18:00 | |