Feel the aura of traditional Celtic rhythms and melodies!
Playing the B Celtic Minor is like wandering around the lush sacred groves after the April shower looking for the four-leaf clover. It recreates the traditions of Celtic rhythms that you still can hear in English folk music and old Irish ballades. The B Celtic Minor has a romantic and slightly melancholic minor voice. It produces a calm and peaceful sound and is really easy to play. This is the scale you can't really go wrong with as it's very harmonious.
The B Celtic Minor will become a perfect choice for beginners as it is easy to handle and learn various patterns. It also works perfectly for a fast-playing style. The B Celtic Minor pairs perfectly a good bunch of RAV drums and other instruments, so it's gonna be a good choice for a pro to take part in jam sessions.
The B Celtic Double Ding RAV Vast replicates the notes of the B Celtic except the extra bass note on the Ding tuned in A. The Double Ding will be great for those who are interested in learning techniques. If you take the B Celtic Double Ding scale as a beginner today, the scale will have a lot to provide you tomorrow when you evolve as a musician.
The B Celtic is a great scale if you are just starting out. But the point that the B Celtic Minor works well for beginners doesn't mean it has nothing to propose for sophisticated players. The unique heartwarming sound of the scale makes the B Celtic Minor a good instrument for meditation.
Specifications
Notes: B2 F#3 A3 B3 C#4 D4 E4 F#4 A4
Proficiency Level: Easy
Mood: Peaceful and calming
Culture: Celtic
Key: B
Material: Steel (2 mm)
Weight: 5.9 kg
Size: 20" (51 cm)
Height: (17 cm)
Coating: Painted
Colour: Blue-green
Suitable accessories (Not included in the delivery.)
Reviews
Questions about product
No questions have yet been asked about this article.
Your question about the article RAV Vast B Celtic Minor Steel Tongue Drum
Your question will be forwarded directly to the department and answered as soon as possible.
Variants
Accessories
Product Video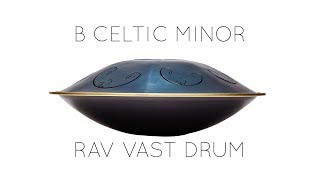 Your contact persons
The hotline is currently not manned. You can reach us again on Wednesday, 04.08.2021 at 09:30.
| | | |
| --- | --- | --- |
| Wednesday | 09:30 - 18:00 | |
| Thursday | 09:30 - 18:00 | |
| Friday | 09:30 - 18:00 | |
| Saturday | 09:30 - 13:30 | |
| Monday | 09:30 - 18:00 | |
| Tuesday | 09:30 - 18:00 | |