Feel the celtic spirit!
Do you have a big plan for learning to play the tongue drum? Make your choice for the B Celtic Double Ding. It's a perfect drum to upgrade your playing technique from zero to hero and from hero to a pro-level. Beginners will love this scale as it is very melodic and easy to handle. Seasoned musicians will appreciate the harmonious sound of the instrument, the ease to improvise and the increased number of notes that give more room for experiments.
This scale is tuned in B and has an additional A-bass note. Like a two-side coat which is bright and colorful from the outside and dark from the inside, the B Celtic has two sides. You can choose between the two moods - the cheerful A major and the moody B minor - by switching the keynote of the melody.
It's one of the first steel drums that was designed by RAV Vast and is the first experimental steel tongue drums that has two notes in the same area. The Double Ding scale belongs to Celtic music culture, so the melodies played with this steel tongue drum has this specific Irish flavour. It can remind you of the ancient times, the songs about King Arthur and the love story of Tristan and Isolde.
The B Celtic Double Ding will also give a lot to seasoned players. It's a great scale for people who tend to improvise a lot as this scale has a good variety of chords available to it. Like a bigger number of markers in the box provide more colors to your art, the additional note gives you more room to perform anything you want from simple rhythms to integral music compositions.
Specifications
Notes: B2 F#3 G3 A#3 B3 C#4 D4 F4 F#4
Proficiency Level: Easy
Mood: Peaceful and calming
Culture: Celtic
Key: A, B
Material: Steel (2 mm)
Weight: 5.9 kg
Size: 20" (51 cm)
Height: (17 cm)
Coating: Painted
Colour: Blue-green
>
Suitable accessories (Not included in the delivery.)
Reviews
Questions about product
No questions have yet been asked about this article.
Your question about the article RAV Vast B Celtic Double Ding Steel Tongue Drum
Your question will be forwarded directly to the department and answered as soon as possible.
Variants
Accessories
Product Video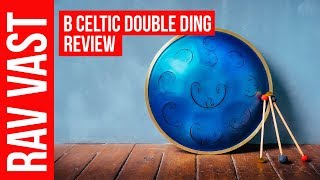 Your contact persons
Our specialists will be happy to advise you.
| | | |
| --- | --- | --- |
| Tuesday | 09:30 - 18:00 | |
| Wednesday | 09:30 - 18:00 | |
| Thursday | 09:30 - 18:00 | |
| Friday | 09:30 - 18:00 | |
| Saturday | 09:30 - 13:30 | |
| Monday | 09:30 - 18:00 | |