Get the feeling of flowing sand and the flair of the 1001 Night Tales!
The B Arabian Night is the scale that will fill you up with Middle East flair. The scale reproduces the Arabic Maqam – the traditional system of melodic modes and improvisation techniques. The Arabian Night scale has its own very specific voice that differs from the rest of RAV drums. The tongues are tuned in 2nd, 3rd and 4th octave with the central Ding in B2. The B Arabian Night is not a versatile scale but it adds a very unique flavour to your playing.
This step can be tricky for beginners but the advanced players will find it captivating as it has a lot of half-steps and is more open-ended when you are playing. This is one of the most popular scales to record music videos and it's definitely good for meditative play.
The B Arabian Night RAV Vast has a very mysterious voice and is close to jazz-sounding scales. What makes this scale differ from other Middle-Eastern scales? The Arabian Night can seem to have some similarities with another RAV Vast scale - the B Onoleo. But the B Onoleo has a lot of resolution to it and allows you to close up easily the melody. With the Arabian Night you'll have to know the tips to tie the phrases that you are playing together.
Still, the Arabian scale is not only used in the Middle East. There are multiple classic western music compositions that you'd never thought to use this scale. The relative Hungarian gipsy scale was commonly used by Franz Liszt in its Hungarian rhapsody and Battle of the Huns and the Bizet's Carmen.
Specifications
Notes: B2 F#3 G3 A#3 B3 C#4 D4 F4 F#4
Proficiency Level: Medium
Mood: Mysterious
Culture: Middle Eastern
Key: B
Material: Steel (2 mm)
Weight: 5.9 kg
Size: 20" (51 cm)
Height: (17 cm)
Coating: Painted
Colour: Blue-green
>
Suitable accessories (Not included in the delivery.)
Reviews
Questions about product
No questions have yet been asked about this article.
Your question about the article RAV Vast B Arabian Night Steel Tongue Drum
Your question will be forwarded directly to the department and answered as soon as possible.
Variants
Accessories
Product Video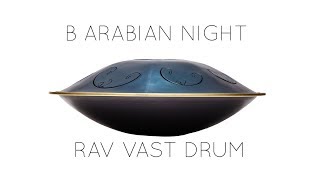 Your contact persons
Our specialists will be happy to advise you.
| | | |
| --- | --- | --- |
| Tuesday | 09:30 - 18:00 | |
| Wednesday | 09:30 - 18:00 | |
| Thursday | 09:30 - 18:00 | |
| Friday | 09:30 - 18:00 | |
| Saturday | 09:30 - 13:30 | |
| Monday | 09:30 - 18:00 | |