Open the door to a secret world - with the A Integral!
Deep, mystical, mellow – that's what we say when talking about the A Integral. Playing it is like opening the door to a whimsical secret world, and the key is the A Integral. It's a great scale for pros as it is challenging as soon as changing the root note provides an opportunity to choose between major and minor key. 6 out of 9 notes are tuned in 3rd octave, while the Ding is tuned in A2 and 2 upper notes tuned in 4th octave.
This drum is perfect for sound-healing, meditation, relaxation, music therapy and other mystical music experiences due to its deep enigmatic sound and incredibly long sustain which is longer than in the other RAV Vasts. Still it's also great for playing along pop songs and minor sounding alternative rock that have darker feel to them.
The A Integral is an enigmatic scale with very special energetic vibration. It has dark melodic sound and provides an esoteric mood. The A Integral refers to Native American culture and reminds of a lonely horseman crossing a deserted prairie.
This scale will instantly become one of the favourites in the collection of an advanced musician. If you are already familiar with playing the tongue drum or any other hand drum, you'll love the A Integral for the challenge it will be for you and for the opportunities it will provide. This scale may be a little bit tricky to deal with due to the semitones. It's not the easiest scale among the other RAV Vasts, however with just a little practice there's nothing hard to acquire the A Integral and come up with songs on it.
Specifications
Notes: A2 C3 E3 F3 G3 A3 B3 C4 E4
Proficiency Level: Advanced
Mood: Esoteric
Culture: American
Key: A
Material: Steel (1.5 mm)
Weight: 4.9 kg
Size: 20" (51 cm)
Height: (17 cm)
Coating: Painted
Colour: Blue-green

Suitable accessories (Not included in the delivery.)
Reviews
Questions about product
No questions have yet been asked about this article.
Your question about the article RAV Vast A Integral Steel Tongue Drum
Your question will be forwarded directly to the department and answered as soon as possible.
Variants
Accessories
Product Video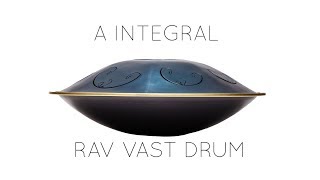 Your contact persons
Our specialists will be happy to advise you.
| | | |
| --- | --- | --- |
| Tuesday | 09:30 - 18:00 | |
| Wednesday | 09:30 - 18:00 | |
| Thursday | 09:30 - 18:00 | |
| Friday | 09:30 - 18:00 | |
| Saturday | 09:30 - 13:30 | |
| Monday | 09:30 - 18:00 | |