Yamaha Clavinova CLP-700 Serie - Digital never felt so grand!
Die Yamaha Clavinova CLP-700-Serie wandelt selbst kleinste Nuancen Ihres Tastenanschlags von der Berührung bis zum Auslösen des Tones in eine grenzenlose Klangvielfalt um, die Ihre Individualität als Musiker zum Ausdruck bringt. Dank neuester Technologie ist die CLP-700-Serie so nah an einem akustischen Flügel wie noch nie und bietet Ihnen ein grandioses Spielerlebnis. Ihre Erwartungen an das, was ein Digitalpiano leisten kann, werden damit noch übertroffen. Das CLP-725 vervollständigt nun die Clavinova CLP-700-Serie.
Spielbarkeit
Besonderes Feature ist die neueste GrandTouch-S-Tastatur mit einem breiten dynamischen Touch- und Response-Bereich auf dem Niveau eines Konzertflügels. Ausgezeichnete Stabilität und feinste Nuancierung geben dem Pianisten die größtmögliche Kontrolle über den Tastenanschlag.
Sensitivität
Grand Expression Modeling ist eine bahnbrechende neue Technologie. Sie ermöglicht dem Pianisten durch seine Spieltechniken, grenzenlose Klangvariationen zu erzeugen, welche für Konzertflügel einzigartig sind. Die Möglichkeit, die Intensität und Geschwindigkeit des Anschlags zu variieren, um verschiedene Töne zu erzeugen, fügt der Freude am musikalischen Ausdruck eine weitere Dimension hinzu.
Klangqualität
Die CLP-700 Serie reproduziert originalgetreu den Dynamikumfang und die vielfältigen Klangvariationen des brillanten, kraftvollen Yamaha CFX und des Bösendorfer Imperial mit seinem Klangreichtum und seiner natürlich anmutenden Resonanz. Virtual Resonance Modeling (VRM) simuliert auf differenzierte Weise den angenehmen vollen Klang, der durch die sich überlagernde Resonanz von Saiten und dem Klangkörper eines Flügels entstehen.
Grand Expression Modeling
Die Interaktion und das Zusammenspiel von Hämmern, Dämpfern und Saiten im Inneren eines Konzertflügels reagieren auf die subtilsten Nuancen des Keyboard-Anschlags und schaffen eine unendliche Bandbreite an klanglichem Ausdruck. Dabei bezieht sich der Anschlag nicht nur auf die Intensität (Weichheit/Lautheit) beim Spielen und Loslassen der Tasten, sondern auch auf die Geschwindigkeit und Tiefe, mit der die Tasten gedrückt werden.
Das Grand Expression Modeling, das in der CLP-700-Serie neu eingeführt wurde, überträgt die sehr unterschiedlichen Spieltechniken von Pianisten in die grenzenlose Klangvielfalt eines Konzertflügels. So ist es möglich, den Output zu variieren, indem die Tasten unterschiedlich tief und mit unterschiedlichen Geschwindigkeiten gespielt werden, selbst wenn Techniken wie Triller oder Legato oder die Betonung der Melodie über der Begleitung eingesetzt werden.
Clavinova Design - Silhouette und optische Highlights
Die einheitliche Silhouette der Frontpartie aller Modelle vom CLP-725 bis zum CLP-795GP ist ein gemeinsames Merkmal der gesamten CLP-Serie. Außerdem wurde die Power-Anzeige von der Frontplatte auf den Netzschalter verlegt, der sich rechts neben der Tastatur befindet. Das Notenpult wurde beim CLP-725 geändert und hat nun die "einheitliche Clavinova-Form". Auch das Design des Bedienfeldes wurde optisch entsprechend angepasst. Das CLP-725 ist in 4 Farbvarianten verfügbar.
Die neue CLP-700 Serie bietet sowohl gestandenen Pianisten als auch Anfängern bisher ungeahnte Möglichkeiten, Musik zu genießen & ihre Kreativität voll auszuleben!
Specification
| | |
| --- | --- |
| Lesson function | No |
| USB to device | No |
| Auto accompaniment | No |
| Colour | White |
| Display | No |
| Integrated speakers | Yes |
| Keyboard cover | Yes |
| Accessories included | No |
| Recording function | Yes |
| Headphones out | Yes |
| Midi interface | No |
| USB to host | Yes |
| Wooden keys | No |
| Finish | Satin |
| Console | Yes |
Reviews
Questions about product
No questions have yet been asked about this article.
Your question about the article Yamaha CLP-725 WH Digitalpiano Weiß matt
Your question will be forwarded directly to the department and answered as soon as possible.
Alternatives
Also available as set!
Yamaha CLP-725 WH Digitalpiano Weiß Matt Set
| | | |
| --- | --- | --- |
| 1 x | Yamaha CLP-725 WH Digitalpiano Weiß matt | 1.590,00 € |
| 1 x | Steinmayer Piano bench Mat White | 87,80 € |
| 1 x | Pronomic KH-900 Comfort Headphones | 46,99 € |
| 1 x | Michael Christoph "Aller Anfang ist leicht" Vol. 2 Piano School + Playback Downloads (German) | 14,90 € |
| | |
| --- | --- |
| instead of individually | 1.730,90 € |
| You save (4,7 %) | 81,90 € |
| Your price | 1.649,00 € |
Customers also bought
Product Video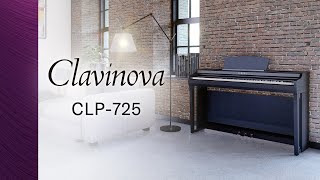 Your contact persons
The hotline is currently not manned. You can reach us again on Monday, 12.04.2021 at 09:00.
| | | |
| --- | --- | --- |
| Monday | 09:00 - 18:00 | |
| Tuesday | 09:00 - 18:00 | |
| Wednesday | 09:00 - 18:00 | |
| Thursday | 09:00 - 18:00 | |
| Friday | 09:00 - 18:00 | |
| Saturday | 09:30 - 13:30 | |