Captivating sound experience with guaranteed comfort!
Experience first-class piano pleasure! The DP-361 combines attractive design and professional technology for pure piano enjoyment. The natural sound, the authentic feel and the graceful aesthetics will awaken so much joy, you'll think you were playing a grand piano!
Excellent features
The Steinmayer DP-361 is a digital piano with multisampling technology that features the top features of exquisitegrand pianos while fitting perfectly within yourfour walls with its classic, space-saving design. With the DP-361, you can make your dream of a powerful, inspiring soundcome true. Thisnoble keyboard hashammer-weighted real wood keys and a triple sensor system, as well as a comprehensive automatic accompaniment,excellent amplifier performance, and many other first-class features.
Hammer-weighted real wood keys with triple sensor system
The ingenious triple sensor system ensures that the digital piano reliably and authentically reproducesevery tone you play- even while playing delicate or high-velocity passages. This is possible because eachindividual keyisassignedthree sensors, which accurately detect every littlekey movement.
Bluetooth
Playing to your own favorite music, even without a connection cable? The integrated Bluetooth interface of theDP-361 makes exactly itpossible. Music files can be streamed from your playback device (smartphone, tablet) to the pianoand played through the two speakers. The interface can be used as an alternative to audio streaming andcan also be used for wireless transmission of MIDI signals.
Steinmayer DP-361: real high performance!
Specification
| | |
| --- | --- |
| Lesson function | Yes |
| USB to device | Yes |
| Auto accompaniment | Yes |
| Colour | Rosewood |
| Display | Yes |
| Integrated speakers | Yes |
| Keyboard cover | Yes |
| Accessories included | No |
| Recording function | Yes |
| Headphones out | Yes |
| Midi interface | No |
| USB to host | Yes |
| Wooden keys | Yes |
| Finish | Satin |
| Console | Yes |
Reviews
| | | |
| --- | --- | --- |
| 5 Stars | | 1 |
| 4 Stars | | 0 |
| 3 Stars | | 1 |
| 2 Stars | | 0 |
| 1 Star | | 0 |
Totally satisfied!
Review from
Anonymus
on 22.01.2020
Variant
Steinmayer DP-361 WM Digital Piano White Matte
This rating has been translated automatically. Original language
verified purchase
I have already tested several electric pianos from the well-known manufacturers. Therefore, I was very curious to see how the Steinmayer DP361 compares.
I must say it is worlds better than other electric pianos in the price range.
The workmanship, appearance and sound are absolutely top-notch, and I also like the operation and functionality very much.
I can really recommend the Steinmayer DP361 to anyone who is looking for an electric piano in the price range around 1000 euros.
Light and shadow
Review from
Bjoern
on 31.12.2019
Variant
Steinmayer DP-361 WM Digital Piano White Matte
This rating has been translated automatically. Original language
verified purchase
Function and design are top!
Only the processing is at least partly a disaster. When screwing together immediately fell off a glued and clamped wooden part.
1. construction error: When assembling according to assembly instructions is inevitably a much too large and unfavorable load on the glue joint.
2. the main reason is a wooden pin that has sunk too deep. Since it protruded on the back by about 5 mm, even the best wood glue can not hold in such an air gap. On the other side the same play, but "only" 2 mm protrusion. There have failed workers AND quality assurance!
Comment of Musikhaus Kirstein:
Sehr geehrter Kunde,
vielen Dank für Ihre Produktbewertung. Es freut uns, dass Sie Funktion und Design des Instrumentes spitze finden.
Steinmayer ist einer der wenigen Hersteller, welche bei der Fertigung Ihrer Instrumente trotz relativ hoher Kosten in Korea verblieben sind. Dies ist ein klares Bekenntnis zur Fertigungsqualität. Somit waren wir über Ihr Urteil bzgl. der Verarbeitung sehr erstaunt.
Nach Ihrer Kontaktaufnahme konnte der Verarbeitungsmangel schnell an einem Zapfen der Pedalleiste festgemacht werden, welcher zu tief eingesetzt war und somit ein bündiges Aufliegen der Abschlusshölzer verhinderte.
Dieses Bauteil wurde überarbeitet und der gesamte Lagerbestand auf bündige Leim-Verbindungen überprüft.
Dass Sie als kritischer Kunde auf Rückfrage die Verarbeitungsqualität des Steinmayer Pianos ansonsten als sehr gut beschreiben beruhigt uns doch sehr.
Richtig:

Falsch:

Die Aufbauanleitung wurde von uns ebenfalls überarbeitet, um einen einfachen und unmissverständlichen Aufbau zu gewährleisten.
Wir möchten uns für die Unannehmlichkeiten beim Zusammenbau entschuldigen, freuen uns, dass Sie ansonsten mit dem Instrument zufrieden sind und bedanken uns für Ihre Mithilfe ein sehr gutes Produkt noch besser zu machen.
Mit freundlichen Grüßen aus dem Musikhaus Kirstein,
Thomas Kirchner, Produktmanagement
Questions about product
Sehr geehrte Damen und Herren ,
könnten Sie mir bitte Einzelheiten zu den Klängen und der Klaviwerbegleitung mitteilen ?
Mit bestem Dank vorab
D.Thomas
Question by D.Thomas on 13.09.2020
Answer by Til - Musikhaus Kirstein
Sie finden die volle Anzahl und genaue Bezeichnung aller Voices in der Bedienungsanleitung:
https://www.kirstein.de/docs/manuals/sm-dp361-de.pdf
- Die Begleitung funktioniert in zwei Varianten: instrumental oder als Rhythmus. Entweder Sie haben eine Melodie als Begleitung, die auf den Chord reagiert, den Sie links spielen, oder einen Rhythmus ohne Melodiefunktion.
Your question about the article Steinmayer DP-361 RW Digital Piano Dark Rosewood
Your question will be forwarded directly to the department and answered as soon as possible.
Variants
Also available as set!
Steinmayer DP-361 RW Digital Piano Dark Rosewood Set
| | | |
| --- | --- | --- |
| 1 x | Steinmayer DP-361 RW Digital Piano Dark Rosewood | 1.288,00 € |
| 1 x | Classic Cantabile Piano Bench Rosewood Matte, solid wood | 69,99 € |
| 1 x | Classic Cantabile KH-238 Headphones | 32,30 € |
| 1 x | Michael Christoph "Aller Anfang ist leicht" Vol. 2 Piano School + Playback Downloads (German) | 14,90 € |
instead of individually
1.309,60 €
You save (2,4 %)
31,70 €
Your price

Free shipping (DE) inkl. VAT.

1.277,90 €
| | |
| --- | --- |
| In stock - immediately available | |
Customers also bought
Product Video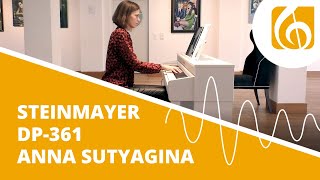 Your contact persons
Our specialists will be happy to advise you.
| | | |
| --- | --- | --- |
| Friday | 09:30 - 18:00 | |
| Saturday | 09:30 - 13:30 | |
| Monday | 09:30 - 18:00 | |
| Tuesday | 09:30 - 18:00 | |
| Wednesday | 09:30 - 18:00 | |
| Thursday | 09:30 - 18:00 | |