Roland Kiyola - pures, natürliches Holzdesign trifft fortschrittliche Digitalpiano-Technologie!
Im neuen KIYOLA KF-10 trifft Digitaltechnik auf traditionelle Handwerkskunst. In Kooperation von Roland mit dem japanischen Designmöbel Hersteller Karimoku ist dieses außergewöhnliche Digital Piano entstanden, das die perfekte Harmonie zwischen Funktionalität und Optik darstellt. Ein leistungsstarkes Instrument, das auch in Ihrem Wohnzimmer eine gute Figur machen wird.
KIYOLA ist Japanisch und bedeutet frei übersetzt "Eleganz und Schönheit", was sich besonders beim handgearbeiteten Massivholz Gehäuse widerspiegelt, derzeit einzigartig am Markt. Daneben sorgt die innovative Digital Piano Technologie von Roland dafür, dass auch höchste pianistische Ansprüche erfüllt werden. Mit erstklassiger Ausstattung, wie der SuperNATURAL Piano Modelling Tonerzeugung, einer hochauflösenden PHA-50 Hybrid Tastatur, der drahtlosen Verbindungsmöglichkeit zu mobilen Endgeräten via Bluetooth und einem kraftvollen Lautsprechersystem, bietet das KIYOLA KF-10 tollen Klang und exzellentes Spielgefühl für Ihr Zuhause.
Erhältlich in den Ausführungen Nussbaum, Eiche Natur, Weiß, Schwarz und Mocha Braun mit passender Pedaleinheit und ergonomischer Sitzbank, begeistert das KIYOLA KF-10 Digital Piano und garantiert Spielfreude zugleich.
Erfrischend anders - das handgearbeitete Massivholz Gehäuse von Karimoku
Das eigens für das KF-10 entworfene Gehäuse, wird bei Japans größter Möbelmanufaktur für Massivholzmöbel Karimoku von Hand hergestellt. Seit 1940 setzt das Unternehmen auf die Verwendung natürlicher und nachhaltiger Rohstoffe, die sich durch eine einzigartige Qualität und Maserung auszeichnen und zum eleganten Erscheinungsbild des KIYOLA KF-10 beitragen. Und das macht das KF-10 so einzigartig auf dem Markt, denn egal für welche Variante Sie sich entscheiden, jedes einzelne Instrument ist ein Original mit Charakter und Persönlichkeit.
Reines, naturbelassenes Echtholz steht für Qualität, die Sie sehen und spüren können
Das KIYOLA KF-10 möchte man nicht nur anschauen, man möchte es anfassen und fühlen. Die sanft geschwungenen Seitenteile erinnern an die hochwertigen Sitzmöbel von Karimoku und auch die eleganten Standbeine tragen dazu bei, dass sich das KIYOLA KF-10 nahtlos in eine Wohnumgebung einfügen lässt. Durch die dezente Anordnung der minimalistischen Bedienelemente an der Seite, wird das natürliche Aussehen erhalten und eine Ablenkung durch leuchtende oder blinkende Taster beim Spielen vermieden.
Die Tastaturabdeckung dient im geöffneten Zustand außerdem als Notenhalter, was weiter zum ästhetischen und kompakten Erscheinungsbild beiträgt. Der natürliche Alterungsprozess der verwendeten Hölzer ist ein typisches Merkmal, wie Sie es auch von anderen hochwertigen Möbelstücken kennen und schätzen.
Meisterhafte Handwerkskunst eines japanischen Traditionsunternehmens
Bekannt für kompromisslose Aufmerksamkeit zum Detail und Perfektionismus, stellen erfahrene Handwerksmeister die Gehäuse jedes einzelnen KIYOLA KF-10 von Hand her. Die japanische Fabrik von Karimoku befindet sich unweit des Roland Firmensitzes, und so werden die Gehäuse direkt zu den Roland Produktionsstätten transportiert, wo Elektronik, Lautsprechersystem und Tastatur verbaut werden. Durch die Verwendung umweltfreundlicher Materialien und nachhaltiger Produktionsverfahren, gewährleisten beide Unternehmen, ethnische Unbedenklichkeit und höchste Produktqualität.
Die mitgelieferte, ergonomische Klavierbank sorgt für gesunden Sitzkomfort
Gerade bei längerem Sitzen, kann sich eine falsche Haltung durch minderwertige Sitzmöbel negativ auf Muskeln und Gelenke auswirken und zu Rückenschmerzen oder gar langfristigen Schäden der Wirbelsäule führen. Um diesem Risiko entgegenzuwirken, liefert Roland zu jedem KIYOLA KF-10 eine ergonomisch geformte Klavierbank, die von Karimoku auf Grundlage der Erfahrungen im Möbeldesign und wissenschaftlicher Forschung speziell für das Sitzen am Klavier entwickelt wurde.
Das charakteristisch geformte Polster fördert eine gute Körperhaltung, durch den Einsatz eines weichen, aber hochdichten Schaumstoffs, wobei die Verbreiterung der Sitzfläche für eine gleichmäßigere Gewichtsverteilung sorgt. So können Sie länger, vor allem aber entspannt Klavier spielen - ganz ohne gesundheitliche Bedenken.
Echtes Spielgefühl durch Rolands SuperNATURAL Piano Modelling und die neue PHA-50 Tastatur
Die kunstvolle Optik des KIYOLA KF-10 geht keinesfalls zu Lasten der Spielbarkeit. Öffnen Sie den Tastaturdeckel und erleben Sie, dank der anerkannten SuperNATURAL Modelling Tonerzeugung, die gleichen Klangeigenschaften wie bei Rolands hochklassigen Digital Pianos der HP-/LX-Serien.
Ganz anders, als bei herkömmlichen Digital Pianos, bei denen der Druck einer Taste lediglich einen zuvor aufgenommenen Klavierton abspielt, entsteht bei der SuperNATURAL Technologie jeder Ton nach dem Vorbild des komplexen Klangentstehungsprozesses eines akustischen Klaviers immer wieder neu. Unterstützt durch ein 4-Wege-Lautsprechersystem, kommen Sie in den Genuss eines warmen, lebendigen und charaktervollen Klavierklangs, der sich individuell Ihrer Spielweise anpasst.
Das KIYOLA KF-10 ist darüber hinaus mit der neuesten PHA-50 Tastatur von Roland ausgestattet, deren Tasten sowohl aus Holz, als auch aus strapazierfähigem Kunststoff bestehen. Dadurch werden Spielbarkeit und Optik einer echten Klaviatur erreicht, jedoch ohne den Nachteil regelmäßiger Wartungskosten. Um auch fortgeschrittenen Klavierspielern alle Ausdrucksmöglichkeiten zu geben, unterstützt die mitgelieferte Pedaleinheit anspruchsvolle Halbpedaltechniken.
Bluetooth Schnittstelle ermöglicht drahtlose Verbindung zu zahlreichen Apps
Wenn Sie sich ab und zu einmal mehr Abwechslung beim Klavier spielen wünschen, könnte Ihnen das Folgende gefallen: Trotz seines minimalistischen Aussehens, lässt sich das KIYOLA KF-10 drahtlos mit Smartphones oder Tablets verbinden. Damit können Sie nicht nur zahlreiche Funktionen, wie Klangauswahl, interne Songs und das eingebaute Metronom über Ihr iOS- oder Android-Gerät steuern, sondern auch andere Musik Apps, wie z.B. "piaScore" oder "Sheet Music Direct" nutzen.
Das KIYOLA KF-10 erlaubt dabei sogar das Blättern in den digitalen Partituren mithilfe der Fußpedale. Möchten Sie noch tiefer einsteigen, erlaubt die Piano Designer App von Roland eine feine Abstimmung des Klavierklangs, ganz nach Ihrem persönlichen Geschmack.
Und selbst, wenn Sie einfach nur Musik hören möchten, ohne selbst zu spielen, ist das KIYOLA KF-10 die ideale Lösung für das heimische Wohnzimmer: Lassen Sie Ihre Lieblingssongs von mobilen iOS-/Android-Geräten via Bluetooth über das eingebaute Lautsprechersystem wiedergeben.
Wählen Sie eine Ausführung, das zu Ihrem Wohnraum passt!
Mit seinem handgefertigten Holzgehäuse aus rein natürlichen Materialien gleicht das KIYOLA KF-10 einem Designermöbel, das sich perfekt in Ihren Wohnraum und Lifestyle integriert. Zur Auswahl stehen fünf Premium-Farben: Pure Oak (Eichenholz massiv), Nussbaum, Sheer White (reines Weiß), Mocha Brown (mokkabraun) und Sheer Black (reines Schwarz).
Jedes Finish bietet eine einzigartige Oberflächen-Struktur, welche die natürliche Eleganz der Holzmaterialien betont und Ihnen die Auswahl des perfekten Finishes für Ihr Zuhause erleichtert.
Nussbaum -Gehaltvoll und edel
Walnuss-Holz in Premium-Qualität verfügt über eine tiefe, kräftige Farbgebung mit wunderschöner Maserung, die sich mit der Zeit noch verstärkt. Dieses elegante Finish eignet sich perfekt für gediegene, gehobene und relaxte Inneneinrichtungen.
Das kunstvoll hergestellte Digital Piano vereint ein handgearbeitetes Massivholz Gehäuse mit der SuperNATURAL Modelling Technologie!
Specification
| | |
| --- | --- |
| Lesson function | No |
| USB to device | Yes |
| Auto accompaniment | No |
| Colour | Walnut |
| Display | No |
| Integrated speakers | Yes |
| Keyboard cover | Yes |
| Accessories included | Yes |
| Recording function | No |
| Headphones out | Yes |
| Midi interface | No |
| USB to host | Yes |
| Wooden keys | Yes |
| Finish | Satin |
| Console | Yes |
Reviews
5.0
/
5.0
Based On 1 ratings
| | | |
| --- | --- | --- |
| 5 Stars | | 1 |
| 4 Stars | | 0 |
| 3 Stars | | 0 |
| 2 Stars | | 0 |
| 1 Star | | 0 |
All around satisfied
Review from
Andreas
on 21.11.2019
Variant
Roland Kiyola KF-10 KMB Mocha Brown
This rating has been translated automatically. Original language
verified purchase
The instrument is first class, I am very satisfied with the quality and service.
Questions about product
No questions have yet been asked about this article.
Your question about the article Roland Kiyola KF-10 KWX Nussbaum
Your question will be forwarded directly to the department and answered as soon as possible.
Variants
Also available as set!
Roland Kiyola KF-10 KWX Set Nussbaum
| | | |
| --- | --- | --- |
| 1 x | Roland Kiyola KF-10 KWX Nussbaum | 4.696,00 € |
| 1 x | Pronomic KH-900 Comfort Headphones | 46,99 € |
| 1 x | Michael Christoph "Aller Anfang ist leicht" Vol. 2 Piano School + Playback Downloads (German) | 14,90 € |
| | |
| --- | --- |
| instead of individually | 4.749,10 € |
| You save (5,8 %) | 275,10 € |
| Your price | 4.474,00 € |
Product Video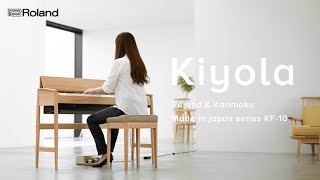 Your contact persons
Our specialists will be happy to advise you.
| | | |
| --- | --- | --- |
| Friday | 09:00 - 18:00 | |
| Saturday | 09:30 - 13:30 | |
| Monday | 09:00 - 18:00 | |
| Tuesday | 09:00 - 18:00 | |
| Wednesday | 09:00 - 18:00 | |
| Thursday | Closed | |