Roland HP700 Serie - die Schönheit der Musik in Ihrem Zuhause!
Klavierspielen gehört zu den beglückendsten Erlebnissen überhaupt - ganz gleich, ob Sie es selbst erlernen oder ein Familienmitglied begleiten, dass seine Leidenschaft für Musik entdeckt. Die Roland HP700-Serie fördert diese Ambitionen mit einem wunderschönen Pianosound, einem erlesenen Design und praxisnahen Funktionen. Die HP700 Digital Pianos sind Instrumente, die mit Ihnen wachsen und sich dank ihrer Flexibilität und Ausdrucksfähigkeit jedem Genre und Spielstil anpassen. Unabhängig davon, aus welchen Gründen Sie ein Klavier besitzen möchten - die HP700 Serie bringt Stil, Kultur und Musik direkt zu Ihnen nach Hause.
Üben und spielen über Kopfhörer und Bluetooth
Ein HP700 Piano kann der Mittelpunkt eines jeden Raums sein - oder sich dezent im Hintergrund halten, so dass Sie es kaum wahrnehmen. Durch den Anschluss eines Kopfhörers können Sie Tag und Nacht üben und den immersiven Sound genießen, ohne Ihre Familie oder Nachbarn zu stören. Indem Sie das Piano kabellos via Bluetooth mit Ihrem Smartphone verbinden, können Sie zudem interaktiv üben und zu Ihren Lieblingssongs spielen oder Ihre Fähigkeiten mit Hilfe von Online-Tutorials erweitern. Weiterhin können Sie die internen, in der Lautstärke regelbaren Lautsprecher verwenden, um den Raum mit Musik zu füllen. Selbst wenn Sie nicht aktiv spielen, können Sie Ihr HP700 Piano als Home-Entertainment-System nutzen, um Musik mit klaren, detaillierten Höhen und runden, kräftigen Bässen zu übertragen.
Headphones 3D Ambience
Dank der Headphones 3D Ambience-Funktion klingt es, als käme der Sound direkt aus Ihrem Piano. Auf diese Weise profitieren Sie auch bei intimen Sessions von einem detaillierten, immersiven Klangerlebnis.
Bluetooth Audio
Mit der kabellosen Bluetooth Audio-Funktion geben Sie Musik von Ihrem Smartphone über die leistungsstarken, integrierten Piano-Lautsprecher wieder - perfekt für gesellige Zusammenkünfte oder Übungseinheiten.
Mehr als 380 interne Songs
Dank der großen Auswahl an integrierten Songs gestaltet sich das Üben gleichermaßen unterhaltsam wie produktiv. Wählen Sie aus klassischen Werken mit voller Orchester-Begleitung, Pop- und Jazz-Songs.
Schnelle Lernfortschritte mit der Piano Every Day App
Klavierunterricht muss nicht zwingend in endlosen Übungsstunden resultieren. Bereits fünf Minuten konzentriertes Üben jeden Tag führen zu Verbesserungen Ihres Spiels - insbesondere in Verbindung mit der Roland Piano Every Day App. Die App läuft auf Ihrem Smartphone oder Tablet und kommuniziert via Bluetooth mit Ihrem Piano, um jederzeit bereit zu sein. Wählen Sie Ihre Lieblingssongs aus, beginnen Sie mit dem Spielen und die App zeichnet Ihre Performance oder Übungssession automatisch auf. Im Anschluss können Sie sich die Aufnahme überall anhören und sich auf die zu verbessernden Passagen und Bereiche konzentrieren. Auf diese Weise werden Sie nicht nur schneller zu einem besseren Pianisten als durch endloses, eintöniges Üben - es macht zudem auch noch Spaß.
Mehr als 70.000 Noten und Partituren online
Verwenden Sie die App für den Zugriff auf Sheet Music Direct, den weltweit größten Online-Store für digitale Noten und Partituren Stöbern Sie in über 70.000 Noten und Partituren und erwerben Sie mit nur wenigen Klicks Ihre Favoriten.
One Week Master
Mit dem One Week Master-Programm erlernen Sie ein Musikstück in nur einer Woche. Entdecken Sie die große Auswahl an Folk-, Jazz- und klassischen Stücken in Ihrem HP700 Piano und beginnen Sie mit der Herausforderung.
Timeline
Über die Timeline-Funktion können Sie verfolgen, wie oft Sie gespielt haben. In Kombination mit einem Piano der HP700-Serie wird jede Ihrer Übungseinheiten aufgezeichnet und in der Timeline dargestellt.
Eine Piano-Serie für jeden musikalischen Stil und Standard
Je größer die dauerhafte Inspiration, desto größer der Spaß an einem Musikinstrument. Mit dem Sound, der Ansprache, und der Funktionsvielfalt der HP700-Serie können Sie eine Vielzahl von Musikgenres und Spielstilen entdecken. Die reaktionsschnelle Tastatur und leistungsstarke Klangerzeugung ermöglichen eine authentische Piano-Performance für Ihre ersten Schritte bis hin zu professionellen Spieltechniken.
SuperNATURAL Piano Modelling
Im Gegensatz zu den meisten Digital Pianos arbeitet die HP700-Serie mit der fortschrittlichen SuperNATURAL Piano-Modelling-Technologie. Auf diese Weise werden die komplexen physikalischen Interaktionen bei der Klangerzeugung in einem akustischen Klavier reproduziert. Sie werden den Unterschied bei jeder gespielten Note hören - und fühlen!
Hybrid-Tastatur des HP704
Die Hybrid-Tastatur kombiniert die wunderschöne Optik und das vertraute Spielgefühl einer Holz-Tastatur mit der Strapazierfähigkeit moderner Verbundstoffe, dank derer die sonst üblichen Wartungskosten komplett entfallen.
Progressive Damper Pedal für fortschrittliche Spieltechniken
Das Progressive Damper Action Pedal sorgt für eine präzise Reproduktion des Pedalverhaltens eines akustischen Klaviers und ermöglicht so traditionelle Spieltechniken, wie zum Beispiel Halbpedalstellungen.
Helfen Sie Ihrem Kind die Leidenschaft der Musik zu entdecken
Es gibt für Eltern nichts Schöneres als das eigene Kind dabei zu beobachten, wie es ein kreatives neues Hobby für sich entdeckt. Mit der Auswahl des richtigen Pianos schenken Sie Ihrem Kind eine lebenslange Leidenschaft. Unterstützen Sie es dabei, den Wert von Musik zu erkennen, Herausforderungen zu meistern und seine Ziele zu erreichen. Erfahren Sie mehr darüber, warum die HP700-Serie der perfekte Ausgangspunkt für die musikalische Reise Ihres Kindes ist.
Eine moderne Piano-Serie, die zu Ihrem Zuhause passt
Setzen Sie ein Statement - oder mögen Sie es etwas dezenter? Inspiriert von der eleganten und geschwungenen Formensprache traditioneller Klaviergehäuse, verleiht die HP-Serie mit ihrem modernen Ansatz jedem Zuhause und jeder Einrichtung Eleganz. Im Vergleich zu klassischen Klavieren verfügt die Serie zudem über kompaktere Abmessungen, eine dezentere Optik und ein deutlich geringeres Gewicht, so dass Sie Ihr HP700 Piano komfortabel umherbewegen können, bis Sie den perfekten Ort gefunden haben.
Elegantes Gehäuse
Zeitlose und elegante Gehäusedesigns für moderne Vorlieben.
Konzentrierte Eleganz
Das Bedienfeld Ihres HP-Pianos ist unter dem Tastaturdeckel verborgen. Auf diese Weise verfügt das Piano über eine schlanke und unaufdringliche Optik, dank derer Sie sich voll auf Ihr Spiel fokussieren können.
Klangwiedergabe des HP704
Auf Basis der modernen Roland Soundtechnologie liefern die integrierten Lautsprecher ein dynamisches, volles Klangbild für Übungseinheiten, Performances oder Partys.
HP704 - hochwertige Optik und authentisches Spielgefühl mit vier Lautsprechern
Das elegante HP704 überzeugt mit einer Spielbarkeit und natürlichen Klangabbildung, die man sonst nur von hochwertigen Studio-Pianos kennt. Mit seinem schlanken und erlesenen Gehäusedesign macht das Digital Piano überall eine hervorragende Figur und lässt sich dank der unterschiedlichen Oberflächen in jede Umgebung integrieren.
Die fortschrittliche PHA-50 Tastatur, die integrierten Tutorial-Funktionen sowie die Bluetooth-Anbindung an unterschiedliche Musik-Apps sorgen dafür, dass Sie fortwährend inspiriert bleiben, immer weiter zu spielen, sich zu verbessern und neue Wege zu erkunden. Darüber hinaus verfügt das große und elegante Gehäuse über ein leistungsstarkes Audiosystem mit vier integrierten Lautsprechern für einen dynamischen, raumfüllenden Sound bei jeder Performance sowie bei der kabellosen Wiedergabe Ihrer Lieblingssongs.
Enorme Ausdrucksfähigkeit dank reaktionsschneller PHA-50 Tastatur
Ein natürliches Spielgefühl steht bei jedem Pianisten ganz oben auf der Wunschliste. Ganz gleich, ob Sie die grundlegenden Spieltechniken erlernen wollen oder Ihre ganze Ausdruckskraft in eine anspruchsvolle Komposition legen - die PHA-50 Tastatur des HP704 reagiert schnell und präzise auf Ihren Anschlag, so dass Sie die volle Kontrolle über Ihr Spiel behalten und inspiriert bleiben.
Auf lange Sicht werden Sie zudem die Kombination aus Handwerkskunst und High-end-Technologie zu schätzen wissen. So verfügen die weißen Tasten über schlanke Seitenflächen aus Holz für ein vertrautes Spielgefühl, während der robuste innere Rahmen auch nach Jahren eine exzellente und sorgenfreie Spielbarkeit garantiert.
Ein schlichtes und elegantes Design, das zum Spielen einlädt
Neben dem Klang spielt auch die Optik eines Pianos eine gewichtige Rolle. Mit seinem großen und doch schlanken Gehäuse, seinen eleganten Vorderbeinen und der ausgefeilten Formensprache auf Basis des Designs der Roland LX-Flaggschiffserie zieht das HP704 Spieler in seinen Bann und lädt unweigerlich zum Spielen ein.
Jede Oberfläche wurde sorgfältig ausgewählt und mit höchster Präzision gefertigt, damit sich das Piano in Ihrem Wohnraum wie zu Hause zu fühlt. Zudem wurde das Gehäuse darauf ausgelegt, an jeder Position im Raum einen exzellenten Sound zu gewährleisten. Das HP704 ist in den Ausführungen Ebenholz-Hochglanz, Anthrazit, dunkles Palisander, helle Eiche und Weiß erhältlich.
Das farblich passende Zubehör ist mit dabei!
Brillanter Klang und höchster Tragekomfort beim lautlosen Üben
Der KH-900 verfügt über einen weitreichenden Frequenzbereich von 15 bis 25.000 Hz wodurch ausgewogener nuancenreicher Klang mit brillanten, klaren Höhen und präzisen, satten Bässen wiedergegeben wird. Aufgrund der unverfälschten Mitten-Wiedergabe eignet sich der Komfort-Kopfhörer ideal sowohl für den ambitionierten HiFi-Genuss im Studio als auch für das Spiel von Instrumenten wie z. B. Digitalpianos oder E-Drums.
Durch die niedrige Impedanz von nur 32 Ohm kann der KH-900 bereits an sehr leistungsschwachen Kopfhöreranschlüssen, wie z. B. MP3-Playern oder Smartphones, mit einem druckvollen Klang und genug Leistungsreserven überzeugen. Dabei liefert der 3,5 mm Stereoklinken-Stecker beste Übertragungseigenschaften. Des Weiteren ist ein 6,3 mm Stereo-Klinkenadapter im Lieferumfang enthalten.
Klavierschule mit DVD und Playback-CD für den leichten Einstieg
Aller Anfang ist leicht - Dieses Motto gilt auch für die neue Klavierschule von Michael Schwager. Wer Angst hat, dass Klavier ein zu schwer zu erlernendes Instrument ist, braucht unbedingt diese Schule. Auf spielerisch, lockere Weise wird dem Anfänger das Instrument nahe gebracht und erklärt. Außerdem garantieren einfache Übungen einen schnellen Lernerfolg. So macht Klavier lernen jede Menge Spaß!
Das HP704 Digital Piano bringt Stil, Kultur & Musik direkt zu Ihnen nach Hause!
Specification
| | |
| --- | --- |
| Lesson-Funktion | Ja |
| max. Polyphonie | 384 |
| Begleitautomatik | Nein |
| Anzahl Tasten | 88 |
| Farbe | Eiche |
| Verstärkerleistung in Watt (RMS) | 60 |
| Display | Ja |
| Lautsprecher integriert | Ja |
| Anzahl Pedale | 3 |
| Tastaturabdeckung | Ja |
| Set inkl. Zubehör | Ja |
| USB to host | Ja |
| Aufnahmefunktion | Ja |
| Kopfhöreranschluss | Ja |
| MIDI-Anschluss | Ja |
| Anzahl Styles | 0 |
| Holz-/Teilholztastatur | Ja |
| USB to device | Ja |
| Oberfläche (glänzend/matt) | Satiniert |
| Anzahl Voices | 324 |
| Konsole | Ja |
Reviews
Questions about product
No questions have yet been asked about this article.
Your question about the article Roland HP704-LA Digitalpiano Set helle Eiche
Your question will be forwarded directly to the department and answered as soon as possible.
product video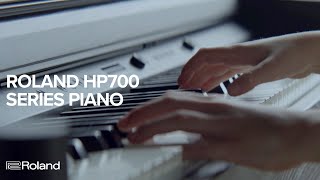 Your contact persons
The hotline is currently not manned. You can reach us again on Friday, 04.12.2020 at 09:30.
| | |
| --- | --- |
| Monday - Friday | 09:30 - 18:00 |
| Saturday | 09:30 - 16:00 |
| Sunday | Closed |