Korg LP-380U Digitalpiano mit USB-MIDI/Audio!
Das LP-380U liefert superbe Pianoklänge in einem eleganten, schlanken Gehäuse, das sich auch bei geschlossenem Deckel stilvoll in jedes Ambiente integriert. Das leistungsfähige Lautsprechersystem plus KORGs Premium RH3 Tastatur mit gewichteter Hammermechanik garantieren eine realistische Soundreproduktion und expressive Performance.
Stilvolles Design
Das stilvolle Design des LP-380U Digitalpianos veredelt jede Inneneinrichtung und findet mit nur 26 cm Tiefe überall Platz. Sein elegantes Slimline Chassis vermittelt bei geschlossenem Tastaturdeckel den Eindruck eines wertbeständigen Möbelstücks. Eine Besonderheit ist, dass sich der Tastaturdeckel langsam absenkt, so dass ein Klemmen der Finger verhindert wird. Die RH3-Tastatur, drei Pedale und die leistungsfähigen, großflächigen Lautsprecher garantieren hohen Spielgenuss und detailreiche Pianoklänge. Lieferbar in todschicker schwarzer oder nobler weißer Lackierung.
Brilliante Pianosounds für grenzenloses Spielvergnügen
Das LP-380U wechselt je nach Anschlagdynamik zwischen vier Pianosamples und vermittelt dadurch ein Spielgefühl, das einem Akustikpiano nahezu ebenbürtig ist. Vom subtilen Pianissimo bis zum kraftvollen Fortissimo reagiert der Klang absolut realistisch auf jede Nuance des Vortrags. Besonders die Classic Piano- und Grand Piano-Sounds reproduzieren die mit dem Dämpferpedal eines Akustikpianos erzeugten Resonanzen auf so beeindruckende Weise, dass man den Klangkosmos des Instruments neu erlebt und staunend genießt.
Authentische Vintage-E-Pianosounds
Besonderer Wert wurde auf authentische und überzeugende E-Pianoklänge gelegt. Die Standard E-Pianos reproduzieren nicht nur die nuancierte klangliche Ansprache durch den Anschlag, sondern auch die subtilen Geräusche beim Loslassen der Tasten. Die sechs E-Piano Variationen emulieren alle in der Pop- und Soul Musik der 60er und 70er Jahre beliebtesten E-Pianosounds.
30 brillante Sounds aus vielen Bereichen
Neben Pianos und E-Pianos sind im LP-380U insgesamt 30 expressive, hochwertige Sounds integriert. Im Layer Modus lassen sich sogar zwei Instrumente gleichzeitig spielen und im Partner Modus wird die Tastatur in zwei Hälften unterteilt, damit zwei Musiker im gleichen Tonhöhenbereich spielen können. Für "lautlose" Duo-Darbietungen sind zwei Kopfhörerbuchsen verfügbar. Weiterhin kann man für historisch authentische Performances unter neun verschiedenen Stimmsystemen wählen.
Drei Effekte für den realistischen Sound
Brilliance regelt die Helligkeit des Klangs, Reverb simuliert den natürlichen Raumklang (Nachhall) eines Konzertsaals und Chorus erzeugt noch mehr Räumlichkeit.
Leistungsstarkes Verstärkersystem für satte Lautstärken
Das Verstärkersystem des LP-380U verfügt mit 2 x 22 Watt über die höchste Leistung seiner Preisklasse und reproduziert die expressiven Pianosounds mit kraftvollen Bässen, glitzernden Höhen und fantastischer Klangfülle. Die beiden 10 cm großen Lautsprecher sind unter der Tastatur ins Gehäuse integriert und erzeugen die typischen Resonanzen eines Akustikpianos, die das ganze Instrument umhüllen.
RH3-Tastatur für authentisches Spielgefühl
Die Real Weighted Hammer Action 3 (RH3) Tastatur bietet das gleiche Spielgefühl wie ein Akustikpiano, mit härterer Ansprache in den Bässen und zunehmend leichterer Ansprache in den Höhen. Insgesamt wurde der Anschlag nochmals verbessert, damit sich auch extrem schnelle Passagen ausdrucksstark darbieten lassen. Mit der dreistufigen Key Touch Control Funktion kann man exakt definieren, wie die Spieldynamik auf die Signalausgabe wirkt und so die Ansprache des LP-380U auf die eigene Spielweise abstimmen.
Leichte, kompakte Bauweise für den einfachen Transport
Da man Pianos manchmal neu aufstellen muss, wurde das LP-380U im Vergleich zum Vorgängermodell (LP-350) etwa 5 kg leichter gebaut, was sowohl den Transport als auch den Aufbau stark vereinfacht.
LINE OUT Buchse für weitere Möglichkeiten
An die LINE OUT Buchse (3,5 mm stereo) des LP-380U lassen sich Aktivboxen oder z.B. Aufnahmegeräte anschließen.
Vollwertige Pedalbedienung
Das LP-380U verfügt über die drei Pedale eines Konzertflügels inklusive Half-Pedal Unterstützung bei den Dämpfer- und Soft Pedalen. Die Pedale sind an perfekter Stelle fest am LP-380U angebracht und exakt wie bei einem echten Piano bedienbar.
MIDI Fähigkeit
Das LP-380U unterstützt MIDI, den allgemeinen Standard für die Übertragung von Performance Daten zwischen elektronischen Musikinstrumenten und Computern. Da via MIDI verbundene Geräte sich gegenseitig steuern können, lässt sich das LP-380U auch als multitimbrales Soundmodul mit 16 Parts einsetzen.
Das Metronom für den richtigen Takt
Das integrierte Metronom erlaubt die Taktart, das Tempo und die Lautstärke einzustellen und Akzente mit einem Glockenklang zu betonen.
USB MIDI/AUDIO
Um das LP-380U als MIDI-Keyboard in Verbindung mit Ihrem Smartphone, Tablet oder Computer zu verwenden, müssen Sie es einfach mit einem USB-Kabel verbinden. So lässt sich Ihr Smartphone, Tablet oder Computer als externes Soundmodul einsetzen, das musikalische Spiel extern aufzeichnen und der Klang des Smartphones oder Tablets über die Lautsprecher des LP-380U wiedergeben.
Großzügiges Software-Bundle zum kreativen Arbeiten und Üben
Im Lieferumfang des LP-380U befindet sich ein großzügiges Softwareangebot. Darunter die bekannte Lernsoftware "Skoove", die Ihnen hilft Ihre Musikalität in das nächste Level zu bringen, die "KORG Module"-App um Zugriff auf weitere, externe Klänge zu erhalten und die "KORG Gadget 2 Le" DAW-Musikproduktions-App.
Authentisches Konzertflügel - Erlebnis im kompakten, stilvollen Design!
Specification
| | |
| --- | --- |
| Colour | Black |
| Auto accompaniment | No |
| Recording function | No |
| Headphones out | Yes |
| Midi interface | Yes |
| USB to host | Yes |
| Finish | Satin |
| Console | Yes |
| Lesson function | No |
| USB to device | No |
| Accessories included | No |
| Wooden keys | No |
| Display | No |
| Integrated speakers | Yes |
| Keyboard cover | Yes |
Reviews
Questions about product
No questions have yet been asked about this article.
Your question about the article Korg LP-380U BK Digitalpiano Schwarz
Your question will be forwarded directly to the department and answered as soon as possible.
Variants
Also available as set!
Korg LP-380U BK Digitalpiano Set Schwarz
| | | |
| --- | --- | --- |
| 1 x | Korg LP-380U BK Digitalpiano Schwarz | 949,00 € |
| 1 x | Classic Cantabile Piano Bench Black Matte solid wood | 69,99 € |
| 1 x | Classic Cantabile KH-238 Headphones | 31,00 € |
| 1 x | Michael Christoph "Aller Anfang ist leicht" Vol. 2 Piano School + Playback Downloads (German) | 14,90 € |
| | |
| --- | --- |
| instead of individually | 1.055,80 € |
| You save (9,6 %) | 101,80 € |
| Your price | 954,00 € |
Customers also bought
Product Video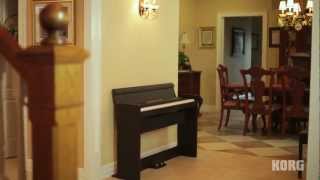 Your contact persons
The hotline is currently not manned. You can reach us again on Monday, 12.04.2021 at 09:00.
| | | |
| --- | --- | --- |
| Monday | 09:00 - 18:00 | |
| Tuesday | 09:00 - 18:00 | |
| Wednesday | 09:00 - 18:00 | |
| Thursday | 09:00 - 18:00 | |
| Friday | 09:00 - 18:00 | |
| Saturday | 09:30 - 13:30 | |