Get personal advice now!
The hotline is currently not manned. You can reach us again on Tuesday, 21.03.2023 at 09:30.
Lasse dich von tollem Klang und einzigartigem Design überzeugen!
Der wunderschöne Klang des Kawai SK-EX Konzertflügels ist das Herzstück des neuen CA901. Du findest ihn nun in zwei Varianten. Wie beim Vorgängermodel als SK-EX Concert Grand und neu jetzt auch als SK-EX COMPETITION GRAND.
Der neue SK-EX COMPETITION GRAND Klang wurde von einem für internationale Wettbewerbe ausgewählten SK-EX Konzertflügel der neuesten Generation neu und aufwendig gesampelt. Mit multiplen Mikrofonpositionen wurde der Klang dieses besonderen Flügels mit all seinen Nuancen eingefangen und zeichnet sich durch noch kräftigeren Ton und größere Dynamik aus. Die anschließende Mischung der verschiedenen Mikrofonpositionen wurde auf die Spielerposition ausgerichtet im Unterschied zum SK-EX Concert Grand, der eher wie aus Zuhörerposition klingt.
Beeindruckende Optik
Das CA901 überzeugt nicht nur durch die vielen inneren Werte. Auch sein modernes Design ist ein Blickfang. Das anspruchsvolle Erscheinungsbild interpretiert das klassische Klavierdesign neu. Die schlanke Seitenlinie, die hochwertige Verarbeitung und die langsam schließende Tastenklappe runden das elegante Gesamtbild ab. Auch auf bessere Ergonomie wurde geachtet. So ist die Position der Pedale weiter nach hinten versetzt, was eine bessere Spielerergonomie erlaubt.
Außergewöhnliche Tastatur
Das CA901 ist mit der Grand Feel III Mechanik mit Holztasten ausgestattet, die ein außergewöhnlich realistisches Spielgefühl ermöglicht. Die Tastenlänge der Grand Feel III Tastatur (von der Tastenvorderkante bis zum Waagebalkenstift) ist länger als bei jeder anderen Digitalpiano Tastatur. Alle achtundachtzig schwarzen und weißen Tasten sind komplett aus langen Holzteilen gefertigt. Wie bei einem Flügel bewegt sich jede Taste sanft auf einem Waagebalken. Beim Anschlag einer Taste wird, wie beim Original, ein gewichteter Hammer nach oben bewegt. Darüber hinaus sorgt das 3-fach Sensor System für optimale Repetition und Spielkontrolle.
Twindrive Soundboard System
Mit dem TwinDrive Soundboard System ist es Kawai gelungen eine breites Frequenzspektrum direkt über den Resonanzboden wiederzugeben. Der hintere Resonanzboden wird durch zwei AURES Transducer in Schwingungen versetzt, sodass keine zusätzlichen Bass Lautsprecher benötigt werden. Das Resultat ist ein Abstrahlverhalten wie bei einem echten Klavier und eine bestmögliche akustische Wiedergabe des Pianoklangs. Dieses System basiert auf der natürlichen Resonanz akustischer Klaviere und ist daher dem Wirkungsprinzip normaler Lautsprechersysteme weit überlegen.
Neben Hi-End Audio Signalführung, digitaler Endstufen und hochwertigem Kopfhörerverstärker ist das CA901 zusätzlich zu seinem einzigartigen Resonanzbodensystem mit 6 Lautsprechern und 360 Grad Diffusoren für die nach oben gerichteten Lautsprecher ausgestattet. Diese speziell entwickelten Komponenten erzeugen ein Klangerlebnis, das den natürlichen Sound im ganzen Raum verteilt und es Zuhörern ermöglicht genauso wie der Spieler zu hören, ohne dass es zu Qualitätseinbußen kommt.
Bluetooth Audio/Midi
Zusätzlich zum USB-to-host Anschluss ist das CA901 auch mit Bluetooth® MIDI 5.0 Technik ausgestattet, die eine kabellose Kommunikation mit Smart Devices (z.B. Smartphone oder Tablet) ermöglicht. Das gibt Ihnen die Möglichkeit, eine große Auswahl an musikbezogenen Apps wie die Kawai PianoRemote App oder die PiaBookPlayer App in Verbindung mit Deinem CA901 Digitalpiano komfortabel einsetzen zu können. Oder nutze doch einfach die Bluetooth® Audio 5.1 Schnittstelle. Verbinde einfach Dein Smartphone mit dem CA901 und schon kannst du all deine Musik direkt über das Lautsprechersystem des CA901 genießen. Dies ist besonders zum Play-Along zu empfehlen oder um Lehrvideos zu hören.
Touchscreen Bedienung
Das CA901 verfügt über einen 5" großen Touchscreen mit reflexionsfreier Anti-Glare Oberfläche. Alle Funktionen lassen sich so einfach bedienen. Zusätzlich kannst Du das CA901 auch über die für Android und iOS erhältliche PianoRemote App steuern, die im Wesentlichen das interne System wiederspiegelt. Das Display kann sich bei Inaktivität komplett ausschalten, damit Du noch weniger vom Spiel abgelenkt wirst.
USB To Device Funktionalität mit MP3/wav Aufnahme und Wiedergabe
Das CA901 ist mit USB-Anschlüssen ausgestattet, die Ihnen nicht nur die Möglichkeit bieten, MIDI Daten mit einem angeschlossenen Computer auszutauschen. So kannst Du beispielsweise auch Daten direkt auf ein USB-Speichermedium speichern. Auch das direkte Abspielen von Songs Deiner Lieblingskünstler im MP3- oder WAV-Format ist möglich. Du kannst auch Dein eigenes Spiel im MP3- oder WAV-Format aufnehmen und beispielsweise Deinen Freunden per E-Mail schicken, die Songs auf einem Smartphone oder einem PC anhören oder auf dem PC auf CD brennen.
Kawai - "The Future Of The Piano"
Specification
| | |
| --- | --- |
| Product number | 00091711 |
| Number of Keys | 88 |
| Amplifier power RMS (Watts) | 135 |
| Recording function | Yes |
| Finish | Satin |
| Headphones out | Yes |
| Number of voices | 96 |
| Midi interface | Yes |
| Keyboard cover | Yes |
| USB to host | Yes |
| Accessories included | No |
| Console | Yes |
| Wooden keys | Yes |
| Lesson function | Yes |
| max. polyphony | 256 |
| USB to device | Yes |
| Colour | White |
| Display | Yes |
| Auto accompaniment | No |
| Integrated speakers | Yes |
| Number of styles | 0 |
| Number of pedals | 3 |
Reviews
Questions about product
No questions have yet been asked about this article.
Your question about the article Kawai CA-901 W Digitalpiano weiß matt
Your question will be forwarded directly to the department and answered as soon as possible.
Product Video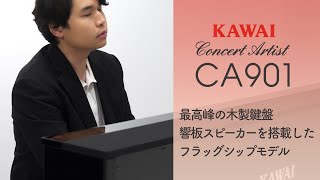 Your contact persons
The hotline is currently not manned. You can reach us again on Tuesday, 21.03.2023 at 09:30.
| | | |
| --- | --- | --- |
| Tuesday | 09:30 - 18:00 | |
| Wednesday | 09:30 - 18:00 | |
| Thursday | 09:30 - 18:00 | |
| Friday | 09:30 - 18:00 | |
| Saturday | 09:30 - 13:30 | |
| Monday | 09:30 - 18:00 | |