Elegant design meets exquisite sound and extensive features!
The UP-1 from Classic Cantabile is a fine digital piano with extensive features and a quality keyboard. At the same time, it is affordable and gives power to the ambitious beginner. The UP-1 is revolutionary in the world of the digital piano!
40 high quality sounds with multi-sampling
With a total of 40 sounds, which all feature multi-sampling, the discerning pianist has a wide range of sounds and voices to experiment with. From piano to strings to the organ and the harpsichord: The UP-1will inspire your creativity with its endless possibilities. The multi-sampling technology ensures that every piano key has several different samples, setting the UP-1 Upright Piano as a new standard in piano sound.
Weighted hammer keyboard with simulation and synthetic ivory surface
The weighted keyboard has pressure simulation and a 3-way sensor that makes the UP-1 feel just like a traditional piano. The ivory-touch surface of the keys also provides the look you expect from a piano. With the touch-response dynamics, you can play this digital piano like a classic piano or concert grand piano. The keyboard dynamics can be adjusted to five different levels with the touch-response function. The UP-1 can simultaneously render up to 256 tones. The Twinova function was created for teachers and students - allowing the keyboard and pedals to be divided into two halves.
An upscale piano at an entry-level price!
Specification
| | |
| --- | --- |
| Colour | Black |
| Auto accompaniment | No |
| Recording function | Yes |
| Headphones out | Yes |
| Midi interface | No |
| USB to host | Yes |
| Finish | Satin |
| Console | Yes |
| Lesson function | No |
| USB to device | Yes |
| Accessories included | No |
| Wooden keys | No |
| Display | Yes |
| Integrated speakers | Yes |
| Keyboard cover | Yes |
Reviews
| | | |
| --- | --- | --- |
| 5 Stars | | 11 |
| 4 Stars | | 1 |
| 3 Stars | | 3 |
| 2 Stars | | 0 |
| 1 Star | | 0 |
Excellent
Review from
Michele
on 01.09.2020
This rating has been translated automatically. Original language
verified purchase
Great design, good finish. Very good sound, keyboard very similar to an acoustic. Very easy to assemble. At this price there is nothing better, but it is still comparable to much more expensive digital pianos. Go ahead and buy it even if you are a level piano player!
TRES TRES BIEN
Review from
pascal
on 12.12.2019
This rating has been translated automatically. Original language
verified purchase
The prices are not fancy (shipping actually included, and tariff including all taxes) You know exactly what you will pay when you go to the checkout ... not like the German competitor where one surprise after another ...
Everything is well packed, we answer your mails with links ...
very well packaged as far as I'm concerned.
So no bad surprises, despite the miles...
If I have a purchase to make, YES, I'll go through them again ! !
serious, availability, material in accordance with what is announced
Thank you
mixed feelings
Review from
Volker
on 24.01.2019
This rating has been translated automatically. Original language
verified purchase
When I received the box, I first had mixed feelings. Because the carton was dusty without end, which gave me the impression to have bought a store. In the box was then of course nothing dusty and the device was also perfectly in order.

The assembly is very simple, because the game table is completely ready and you only have to bring together the frame underneath. This was done without instructions (all logical in itself) and alone in 15 minutes. Setting up the game table on your own is probably not everyone's cup of tea, but it's not impossible either. A little bit of what can lift, you have to do it.

The first impression... The instrument is much smaller and more slender than the pictures in the shop show. If you have a real piano in the room like me, this one seems quite small. But you can get along with it, if you bring the bench to the right height. :-) The next point is the keyboard: It is of high quality, pressure point simulation is all well and good, but it is only a simulation, you notice that immediately. The keyboard is weighted and can also be played well, but it does not come to a real piano, there are worlds in between.

Then the first playing. What is immediately noticeable is the amplifier, which doesn't have too much pressure. This becomes noticeable when you play with a lot of power. That sounds then already somewhat pressureless... If you have ever played a real piano, you know what a can of sound can come out of such a device. Here that is not the case, everything is rather leisurely. But you can play with it and for most players, including me, that should be enough. The sound as such is also acceptable in the piano sounds, but the bass in chords already rolls over, while individual notes sound clean. The middle range and the treble is acceptable, whereby the strength lies here quite clearly in the middle range.
The not piano length are gimmicks, which are more or less successful, but probably for a "piano player" should be completely uninteresting.
The pedals I find successful, because I have not really had what to criticize.

Successful I find the keyboard cover, which comes with a softclose.

A price of 799, - euros I find a bit high for this device, but there you can decide freely, what you buy. :-)

My conclusion: A successful device with some limitations. I had previously opted for the Steinmayer with real wood keyboard, then switched at the last moment to this one, because I found the design (Upright) more beautiful. I don't know if that was the right decision, it's the Krucz which unfortunately you can't play beforehand when buying on the internet. If I could now, I would want to take the Steinmayer.

All in all, you get here but a nice piano to learn to play and beyond.
Excellent
Review from
Vittorio
on 12.10.2018
This rating has been translated automatically. Original language
verified purchase
Good feelings aside: the keys seem too soft, I can't make them harder; apparently the treble portion of the keyboard has a lower volume than the others; I'd like to get a lamp to mount on the piano to illuminate the sheet music, do you have something to recommend?
Cheap
Review from
Gihyun
on 21.09.2018
This rating has been translated automatically. Original language
verified purchase
Insgesammt ziehmlich close to the piano.
Of course many things are missing but with the price I find quite good.
Questions about product
No questions have yet been asked about this article.
Your question about the article Classic Cantabile UP-1 SM Upright E-Piano Black Matte
Your question will be forwarded directly to the department and answered as soon as possible.
B-Stock Bargains.
This product is also available as b-stock:
B-Stock Bargains.
Variants
Also available as set!
Classic Cantabile UP-1 SM Upright E-Piano Black Matte Deluxe Set
| | | |
| --- | --- | --- |
| 1 x | Classic Cantabile UP-1 SM Upright E-Piano Black Matte | 899,00 € |
| 1 x | Classic Cantabile Piano Bench Black Matte solid wood | 69,99 € |
| 1 x | Pronomic KH-900 Comfort Headphones | 46,99 € |
| 1 x | Michael Christoph "Aller Anfang ist leicht" Vol. 2 Piano School + Playback Downloads (German) | 14,90 € |
| | |
| --- | --- |
| instead of individually | 1.013,00 € |
| You save (5,3 %) | 54,00 € |
| Your price | 959,00 € |
Customers also bought
Product Video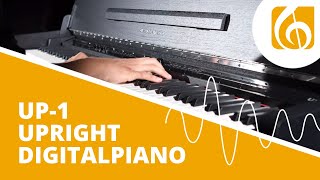 Sound Examples
Your contact persons
The hotline is currently not manned. You can reach us again on Friday, 16.04.2021 at 09:00.
| | | |
| --- | --- | --- |
| Thursday | 09:00 - 18:00 | |
| Friday | 09:00 - 18:00 | |
| Saturday | 09:30 - 13:30 | |
| Monday | 09:00 - 18:00 | |
| Tuesday | 09:00 - 18:00 | |
| Wednesday | 09:00 - 18:00 | |