Get personal advice now!
Our specialists from the keyboard department look forward to your call.
Elegant design meets exquisite sound and extensive features!
The UP-1 from Classic Cantabile is a fine digital piano with extensive features and a quality keyboard. At the same time, it is affordable and gives power to the ambitious beginner. The UP-1 is revolutionary in the world of the digital piano!
40 high quality sounds with multi-sampling
With a total of 40 sounds, which all feature multi-sampling, the discerning pianist has a wide range of sounds and voices to experiment with. From piano to strings to the organ and the harpsichord: The UP-1will inspire your creativity with its endless possibilities. The multi-sampling technology ensures that every piano key has several different samples, setting the UP-1 Upright Piano as a new standard in piano sound.
Weighted hammer keyboard with simulation and synthetic ivory surface
The weighted keyboard has pressure simulation and a 3-way sensor that makes the UP-1 feel just like a traditional piano. The ivory-touch surface of the keys also provides the look you expect from a piano. With the touch-response dynamics, you can play this digital piano like a classic piano or concert grand piano. The keyboard dynamics can be adjusted to five different levels with the touch-response function. The UP-1 can simultaneously render up to 256 tones. The Twinova function was created for teachers and students - allowing the keyboard and pedals to be divided into two halves.
Specification
| | |
| --- | --- |
| Colour | Black |
| Auto accompaniment | No |
| Recording function | Yes |
| Headphones out | Yes |
| Midi interface | No |
| USB to host | Yes |
| Finish | Satin |
| Console | Yes |
| Lesson function | No |
| USB to device | Yes |
| Accessories included | Yes |
| Wooden keys | No |
| Display | Yes |
| Integrated speakers | Yes |
| Keyboard cover | Yes |
Reviews
| | | |
| --- | --- | --- |
| 5 Stars | | 127 |
| 4 Stars | | 13 |
| 3 Stars | | 6 |
| 2 Stars | | 0 |
| 1 Star | | 0 |
A verification of the ratings has taken place as follows: Only customers who are registered in our online store and have actually purchased the product from us can submit a rating for the item in the customer account.
We are very satisfied
Review from
Bettina
on 09.12.2021
This rating has been translated automatically. Original language
verified purchase
We are super satisfied with the piano. The arrangement of the delivery date and the delivery went flawlessly.
*
The piano has a good quality, a beautiful sound and everything you need to learn to play the piano well.
Our daughter is thrilled!
Rating
Review from
Oliver
on 09.12.2021
This rating has been translated automatically. Original language
verified purchase
The item arrived on time with the shipping company leifer was the box damaged. Fortunately, the piano had no damage.
It plays very well and we are very happy with the piano.
Very good surprise
Review from
Enzo
on 17.08.2021
This rating has been translated automatically. Original language
verified purchase
I had not expected such a realistic sound:
The notes resonate in the frame and in the other strings (just like a real piano) and
The keys have a different intensity depending on how hard you press them.
Beautiful....
Review from
Caldeira
on 30.04.2021
This rating has been translated automatically. Original language
verified purchase
This piano is very beautiful. This matte black is very modern/trendy. The sound is of excellent quality. I am really satisfied. The assembly is quite easy and the delivery super fast. Obviously an exceptional quality/price ratio. Thank you
a Christmas dream
Review from
FERSTLER
on 02.03.2021
This rating has been translated automatically. Original language
verified purchase
My daughter and I are musicians, but we didn't practice piano.
Since our purchase, thanks to the headphones, we can practice on the keyboard without disturbing the rest of the family.
The price/performance ratio of this device is really remarkable. The touch and sound of a piano and much more for those who want to play on other tones.
Fast delivery and clean, safe packaging. Bravo KIRSTEIN!
Questions about product
Hallo,
Muss das Klavier zusammengebaut werden?
Question by Krystian on 18.01.2021
Answer by Til - Musikhaus Kirstein
Der Versandkarton beinhaltet 5 Einzelteile des Digitalpianos. Es besteht aus:
- Spieltisch
- Füße (2x)
- Pedaleinheit
- Rückwand

Die Komplexität der Montage überschreitet die eines handelsüblichen Schrankes nicht und sollte somit leicht zu meistern sein. Auf der Artikelseite finden Sie ein Aufbauvideo von einem anderen Piano, das den Vorgang gut veranschaulicht.
Bei weiteren Fragen stehen wir Ihnen gerne zur Verfügung.
Ich fange jetzt frisch an. Muss das Klavier noch gestimmt werden oder geht es auch so?
Und wenn ich die Kopfhörer anschließe, können mich dann auch andere nicht spielen hören? Das wäre z. B. für einen Sonntag wichtig im Haus.
Question by Mary on 16.08.2020
Answer by Jochen Sonntag - Musikhaus Kirstein
Das UP-1 ist ein Digitalpiano und muss deshalb niemals gestimmt werden. Sobald Du den Kopfhörer einsteckst, sind die Lautsprecher stumm und somit ist ein nahezu lautloses Spielen möglich.
Guten Abend,

habe großes Interesse an dem Piano. Meine Frage: Ist das Piano kompatibel mit Apps wie simplypiano oder ähnlichen ?

Liebe Grüße,
Kai
Question by Kai Beste on 15.03.2021
Answer by Markus - Musikhaus Kirstein
Über den USB-to-Host-Ausgang können Sie das Classic Cantabile UP-1 an einen PC o. an ein Tablet anschließen und Apps wie Simply Piano, Flowkey o. Skoove problemlos nutzen.
Your question about the article Classic Cantabile UP-1 SM Upright E-Piano Black Matte Deluxe Set
Your question will be forwarded directly to the department and answered as soon as possible.
Variants
Customers also bought
Product Video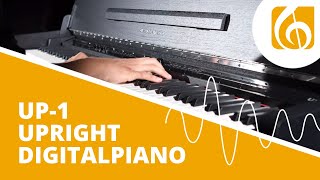 Sound Examples
Your contact persons
Our specialists will be happy to advise you.
| | | |
| --- | --- | --- |
| Saturday | 09:30 - 13:30 | |
| Monday | 09:30 - 18:00 | |
| Tuesday | 09:30 - 18:00 | |
| Wednesday | 09:30 - 18:00 | |
| Thursday | 09:30 - 18:00 | |
| Friday | 09:30 - 18:00 | |