Get personal advice now!
The hotline is currently not manned. You can reach us again on Tuesday, 29.11.2022 at 09:30.
Elegant design meets exquisite sound and extensive features!
The UP-1 from Classic Cantabile is a fine digital piano with extensive features and a quality keyboard. At the same time, it is affordable and gives power to the ambitious beginner. The UP-1 is revolutionary in the world of the digital piano!
40 high quality sounds with multi-sampling
With a total of 40 sounds, which all feature multi-sampling, the discerning pianist has a wide range of sounds and voices to experiment with. From piano to strings to the organ and the harpsichord: The UP-1will inspire your creativity with its endless possibilities. The multi-sampling technology ensures that every piano key has several different samples, setting the UP-1 Upright Piano as a new standard in piano sound.
Weighted hammer keyboard with simulation and synthetic ivory surface
The weighted keyboard has pressure simulation and a 3-way sensor that makes the UP-1 feel just like a traditional piano. The ivory-touch surface of the keys also provides the look you expect from a piano. With the touch-response dynamics, you can play this digital piano like a classic piano or concert grand piano. The keyboard dynamics can be adjusted to five different levels with the touch-response function. The UP-1 can simultaneously render up to 256 tones. The Twinova function was created for teachers and students - allowing the keyboard and pedals to be divided into two halves.
An upscale piano at an entry-level price!
Specification
| | |
| --- | --- |
| Product number | 00046920 |
| Lesson function | No |
| USB to device | Yes |
| Auto accompaniment | No |
| Colour | Black |
| Display | Yes |
| Integrated speakers | Yes |
| Keyboard cover | Yes |
| Accessories included | Yes |
| Recording function | Yes |
| Headphones out | Yes |
| Midi interface | No |
| USB to host | Yes |
| Wooden keys | No |
| Finish | High Gloss |
| Console | Yes |
Reviews
| | | |
| --- | --- | --- |
| 5 Stars | | 127 |
| 4 Stars | | 13 |
| 3 Stars | | 6 |
| 2 Stars | | 0 |
| 1 Star | | 0 |
A verification of the ratings has taken place as follows: Only customers who are registered in our online store and have actually purchased the product from us can submit a rating for the item in the customer account.
Piano Classic Cantabile UP 1
Review from
Anonymus
on 30.05.2018
verified purchase
Alles werd gisteren geleverd door DHL.
De deluxe versie bevat 2 collies, één met bankje, DVD, CD en boekje, de andere de piano.
Het komt als bouwpakket, alles is zorgvuldig verpakt.

Montage:
1) bankje: montage van poten en inleggen van het kussen (bouten en steeksleutel zijn erbij)
2) piano: de balk met voorgemonteerde pedalen en bekabeling, de 2 poten van de zijkant alsook een rugwand en de klankkast met klavier (in het totaal zo'n 28 schroeven en afdekdoppen).
Alle schroeven zijn kruistype, twee schroevendraaiers met aangepaste kop moet je wel ter beschikking hebben.
De klankkast is erg zwaar en 2 personen voor de montage zijn geen overbodige luxe.
Na de montage van onderstel en bovengedeelte dient enkel nog de bekabeling voor pedalen alsook de bijgeleverde voeding aangesloten te worden.

Klank en bediening:
De toetsen voelen uitstekend aan, er zit meer weerstand op de toetsen voor de lagere klanken dan die voor de hogere.
Het klankbeeld is zeer mooi en komt toch wel in de buurt van een akoestische.
very nice piano in attractive design
Review from
Volkmar
on 13.01.2022
This rating has been translated automatically. Original language
verified purchase
The review refers to the deluxe set (piano lacquer). Visually, the piano is in no way inferior to an acoustic instrument (up format, piano lacquer) and is a real eye-catcher. The keyboard is easy to use, comparable to an acoustic piano. The weighting of the keys is good, especially in the bass, but I would have liked that the treble exudes a bit more brilliance, the sound is rather a bit thinner. The connection options leave nothing to be desired and the 40 selectable tones are also flawless (especially the church organ I found quite convincing).
As a newcomer after more than 45 years (church organ), I can only highly recommend this very attractively priced instrument, especially since you also get the booklet, the stool and the headphones in the complete package. I ordered the piano light separately (73 euros, gold, also very decorative, especially since it can also be operated with batteries, so you have no cable jamming).
Good electric piano for the price
Review from
Peter
on 05.01.2022
This rating has been translated automatically. Original language
verified purchase
We decided on the UP-1 in black high gloss without having heard or played it before - and did not regret it.
The electric piano makes a high-quality impression on the outside, is very easy to play and has a good sound. In addition, there are many other sound variants and functions, of which we have not yet tried all. (one also does not necessarily have to)
The order went professionally and the piano was well packaged delivered on time to the day. However, a second person should be present during delivery and assembly, because alone bekomment one does not manage the package.
The assembly went easily and quickly, everything was well described. But I also had to look for the headphone holder for a while until I discovered the two holes on the back of the junction box. The instructions could be improved. The only small weak point in the overall package are the headphones - although the sound is okay, the pads are hard and sit uncomfortably on the head. I don't want to play with these headphones for a longer time. But at the price this does not really matter. I hereby give a clear purchase recommendation. Especially ideal for beginners.
Hm, well...
Review from
Iri
on 27.03.2021
This rating has been translated automatically. Original language
verified purchase
The sound is wonderful. And it looks very nice; simple, yet striking. Unfortunately, the piano has a small scratch right in the middle of the lid, which despite cleaning and polishing can not be removed. That is annoying at the price.
Perhaps the mechanics should be trained again, because they did not find the place to attach the headphone holder despite searching. I have then found it myself.
Very great electric piano
Review from
Markus
on 30.12.2020
This rating has been translated automatically. Original language
verified purchase
Very well packaged, easy assembly and very good workmanship. Beautiful sound quality and very nice appearance. Price performance is top. Keyboard is excellent and there are very many setting options. I can only recommend as a beginner.
Questions about product
Are the keys on the left side feeling more heavier touched than the keys on the right side?
Question by Ferdinand Kolfschoten on 16.08.2021
Answer by Patrik Molnar - Musikhaus Kirstein
The keys are all equally weighted.
Hallo, zeigt das Display bei den demosongs oder anderen die Noten an die man spielen muss- so wie das funkey digitalpiano dp 88? Danke und LG
Question by Jeske on 22.12.2020
Answer by Til - Musikhaus Kirstein
Das Display des UP-1 hat leider keine Notenanzeige. Allerdings ist das UP-1 hinsichtlich des Klangs und vor allem auch der Tastatur um einiges hochwertiger als das Funkey DP-88 II.
Gibt es bei dem Model die "DUAL-Funktion"?
Question by Alexander Kemberg on 17.03.2021
Answer by Patrik-Olivér Molnár - Musikhaus Kirstein
Ja, das UP-1 hat auch eine Dual-Funktion.
Your question about the article Classic Cantabile UP-1 SH Upright Digital Piano Black Gloss Deluxe Set with Bench and Headphone
Your question will be forwarded directly to the department and answered as soon as possible.
Variants
Customers also bought
Product Video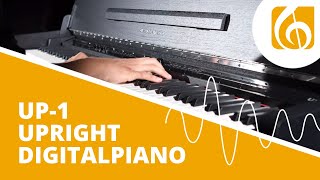 Sound Examples
Your contact persons
The hotline is currently not manned. You can reach us again on Tuesday, 29.11.2022 at 09:30.
| | | |
| --- | --- | --- |
| Tuesday | 09:30 - 18:00 | |
| Wednesday | 09:30 - 18:00 | |
| Thursday | 09:30 - 18:00 | |
| Friday | 09:30 - 18:00 | |
| Saturday | 09:30 - 16:00 | |
| Monday | 09:30 - 18:00 | |