Was ist TaylorSense?
TaylorSense ist ein neues System zur Überwachung der Gesundheit deiner Taylor-Gitarre, das ihre Vitaldaten auf Dein Smartphone übertragt.
TaylorSense überwacht Feuchtigkeit, Temperatur, die übrige Batterielaufzeit und Stoßeinwirkungen.
TaylorSense warnt Dich, wenn Deine Gitarre gepflegt werden muss, indem es über Low-Energy-Bluetooth® zwischen der TaylorSense Smart Battery Box und der kostenlosen TaylorSense App auf Deinem iOS- oder Android-Mobilgerät kommuniziert. TaylorSense wurde von Taylors umfangreichem Fachwissen im Bereich der Gitarrenpflege geprägt und ist so kalibriert, dass es dir rechtzeitig Warnungen sendet und leicht verständliche Videos enthält, die dir zeigen, wie Du Probleme lösen kannst, wenn sie auftreten.
Feuchtigkeits-Alarm
Wenn eine Akustikgitarre längere Zeit einer niedrigen oder hohen Luftfeuchtigkeit ausgesetzt ist, kann sie Schaden nehmen. Dies beeinträchtigt nicht nur die Spielbarkeit und den Klang, sondern kann auch ernsthafte Beschädigungen hervorrufen. Trockene Bedingungen können dazu führen, dass das Holz reißt, während feuchte Bedingungen dazu führen können, dass die Leimverbindungen versagen und die Lackierung abblättert. Deine TaylorSense Battery Box enthält ein digitales Hygrometer, das den Feuchtigkeitsgehalt Deiner Taylor-Gitarre überwacht. Wenn die Werte über einen längeren Zeitraum zu niedrig oder zu hoch sind, erhältst Du eine Feuchtigkeitswarnung und einen Link zu Informationen, wie Du den Zustand Deiner Gitarre verbessern kannst.
Temperatur-Alarm
Längerer Kontakt mit großer Hitze - z. B. wenn Du Deine Gitarre an einem heißen Sommertag im Auto liegen lässt - kann dazu führen, dass der Leim aufweicht und sich der Steg unter der Saitenspannung löst. Das Holz einer Gitarre kann auch Schaden nehmen, wenn die Gitarre in kurzem Zeitabstand von extrem kalten zu heißen Bedingungen wechselt. TaylorSense überwacht die Temperatur Deiner Gitarre. Wenn die für Deine Taylor-Gitarre gefährlich wird, erhältst Du eine Warnung und einen Link zu hilfreichen Ratschlägen des Taylor-Service-Teams.
Batterie-Alarm
Mit TaylorSense hast Du die Batteriekapazität Deines Pickup-Systems immer im Griff, damit es Dich nicht im Stich lässt, wenn es am wichtigsten ist. Wenn die Batterieladung 30 % erreicht, erhältst Du eine Warnung. Eine weitere, wenn sie 10 % erreicht hat. Du kannst Deine Akkulaufzeit auch jederzeit über die TaylorSense App überprüfen, so dass Du vor einem Gig immer genau weißt, wo Du stehst.
Stoß-Alarm
TaylorSense kann zwar nicht verhindern, dass Deine Gitarre auf Reisen fallen gelassen, umgestoßen oder aufgeraut wird, aber es kann Dich informieren, wenn sie einen schweren Schlag erleidet. Wenn Deine Gitarre einen Schlag abbekommt, benachrichtigt TaylorSense dich, damit Du sie genauer auf Schäden untersuchen kannst. TaylorSense zeichnet auch den Zeitpunkt des Vorfalls auf, was Dir dabei helfen kann, die wahrscheinliche Ursache zu identifizieren. Das kann nützlich sein, wenn der Vorfall eintritt, nachdem Du Deine Gitarre bei einer Fluggesellschaft überprüft wurde, oder wenn die Gitarre zu Hause in der Nähe von Kindern oder Haustieren ist.
Ist Meine Taylor-Gitarre kompatibel?
Die TaylorSense Battery Box ist mit jedem Taylor-Tonabnehmer mit 9-V-Batterie kompatibel.
Jetzt spricht Deine Gitarre. Und Du hörst zu.
Reviews
Questions about product
No questions have yet been asked about this article.
Your question about the article Taylor TaylorSense Battery Box
Your question will be forwarded directly to the department and answered as soon as possible.
Customers also bought
Product Video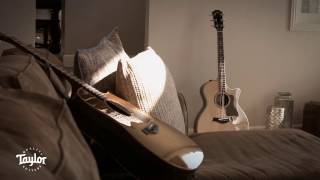 Your contact persons
The hotline is currently not manned. You can reach us again on Monday, 29.11.2021 at 09:30.
| | | |
| --- | --- | --- |
| Monday | 09:30 - 18:00 | |
| Tuesday | 09:30 - 18:00 | |
| Wednesday | 09:30 - 18:00 | |
| Thursday | 09:30 - 18:00 | |
| Friday | 09:30 - 18:00 | |
| Saturday | 09:30 - 13:30 | |