Get personal advice now!
The hotline is currently not manned. You can reach us again on Friday, 27.01.2023 at 09:30.
Ibanez SRF700 - Brown Burst Flat, Gloss, aktiver E-Bass aus der Ibanez Workshop Series!
Seit mehr als 40 Jahren leistet Ibanez Pionierarbeit bei der Entwicklung von Bässen, indem es die Grenzen konventioneller Designs für Bassisten aller Stilrichtungen verschiebt und so neue Wege des Ausdrucks und der Kreativität eröffnet. Dieser Erkundungsgeist hat zur Entwicklung einiger der erfolgreichsten und beliebtesten Serienbässe aller Zeiten geführt. Das Bestreben, neue und relevante Ideen in den Vordergrund zu rücken, bildet die Grundlage für dieses fortlaufende Projekt, das den Namen Ibanez Bass Workshop trägt. Hinter jedem dieser einzigartigen Instrumente steht der Wunsch des Ibanez Bass-Entwicklungsteams, die besonderen Bedürfnisse vieler Spieler zu erfüllen. Diese Erfindungen sind vielleicht nicht für jedermann, aber für diejenigen, die sich danach sehnen, neue Klangwelten durch das Medium Bass zu entdecken: Das Ibanez Bass Workshop-Projekt könnte genau das sein, wonach Sie suchen.
Seit 30 Jahren bietet der SR Bassisten eine moderne Alternative. Angesichts seiner anhaltenden Beliebtheit ist Ibanez ständig bemüht, die Bedürfnisse einer Vielzahl von Spielern mit unterschiedlichen Budgets zu erfüllen. Aber egal wie die Spezifikationen aussehen, das Herzstück ist dasselbe - der SR begeistert mit seinem weichen, schnellen Hals, dem leichten Korpus und der perfekt abgestimmten Elektronik.
Der Ibanez Bass Workshop SRF700-BBF Fretless Brown Burst Flat wendet sich an alle Bassisten, die auf der Suche nach einem Instrument mit dem holzigen Klangcharakter ähnlich dem eines Kontrabasses und den komfortablen Spieleigenschaften eines E-Basses sind. Basierend auf dem ergonomischen Soundgear-Design, besteht dieser Viersaiter aus einem durchgehenden Ahorn-Walnuss-Hals mit bundlosem Panga-Panga-Griffbrett, das in Verbindung mit den ab Werk aufgezogenen D'Addario Flatwound-Saiten einen warmen singenden Ton verspricht. Neben den klassischen Bartolini MK-1 Magnet-Pickups mit aktivem 2-Band-EQ, besitzt der Ibanez SRF700 Portamento außerdem das Ibanez AeroSilk Piezo-Tonabnehmersystem mit aktivem Preamp für authentische Akustik-Sounds. Hochwertige Hardware in Form einer Ibanez AeroSilk Custom Brücke und präziser Die-Cast-Mechaniken komplettieren den Ibanez Bass Workshop SRF700-BBF Fretless Brown Burst Flat.
Longscale 4 Saiter E-Bass mit exzellenten Spieleigenschaften und facettenreichen Fretless-Sounds!
Reviews
Questions about product
No questions have yet been asked about this article.
Your question about the article Ibanez SRF700-BBF
Your question will be forwarded directly to the department and answered as soon as possible.
Product Video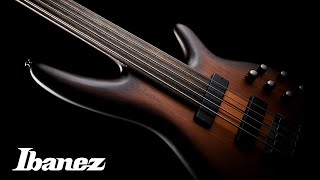 Your contact persons
The hotline is currently not manned. You can reach us again on Friday, 27.01.2023 at 09:30.
| | | |
| --- | --- | --- |
| Friday | 09:30 - 18:00 | |
| Saturday | 09:30 - 13:30 | |
| Monday | 09:30 - 18:00 | |
| Tuesday | 09:30 - 18:00 | |
| Wednesday | 09:30 - 18:00 | |
| Thursday | 09:30 - 18:00 | |