Dieser Artikel ist eine Retoure - Zustand: sehr gut - mit Gewährleistung.
Anmerkung zum Zustand:
Ausstellungsstück mit leichten Gebrauchsspuren.

Bitte beachte: Da der Artikel bereits versandfertig in unserem Logistikcenter gelagert ist, sind leider keine weiteren Auskünfte zum Zustand oder die Zusendung weiterer Fotos möglich.

Nachfolgend findest Du die Beschreibung des Artikels als Neuware:
HK Audio POLAR 10 Säulensystem - Put your Sound in Pole Position!
Das neue POLAR 10 Säulensystem wurde speziell für die Anforderungen von Musikern, Entertainern, DJs, Präsentatoren, Schulen etc. entwickelt.
Mit seinem 24-Bit-DSP und seinen hochwertigen Lautsprecherkomponenten liefert ein besonders klares und natürliches Klangbild von 38 Hz bis 20 kHz. Das kompromisslose Subwoofer-Design und 2.000 Watt Endstufenleistung sorgen dabei für ein gleichbleibend kraftvolles XXL-Sounderlebnis bei jeder Lautstärke.
Mit seiner breiten Abstrahlung von 120° und der geringen Rückkopplungsanfälligkeit ist POLAR 10 unkritisch im Raum zu positionieren und macht zusätzliche Bühnenmonitore oftmals überflüssig. Die Lautstärkeverteilung funktioniert so, wie man es von einem "normalen" Lautsprecher gewohnt ist: hohe Lautstärke auf der Tanzfläche, voller Sound in den ersten Reihen und eine gesprächsfreundliche Lautstärke am Ende des Saals.
Das eingebaute Vierkanal-Mischpult bietet zwei Kanäle für Mikrofon- und Line-Signale, einen Instrumentenkanal (z.B. für Akustikgitarre) und einen AUX-Kanal z.B. für MP3-player. Musikeinspielungen können auch per Bluetooth® 5.0 empfangen werden. Alle Einstellungen bis auf die Kanal- und Masterlautstärken können in bis zu 5 User-Presets gespeichert werden.
Das neue E.A.S. Verbindungssystem macht Lautsprecherkabel überflüssig, sorgt für einen soliden Stand und macht den Auf- und Abbau zum Kinderspiel.
XXL-Sounderlebnis
Der 24-Bit-DSP und die hochwertigen Lautsprecher-Komponenten sorgen für einen außergewöhnlich transparenten, natürlichen Klang von den tiefsten Bässen bis zu den feinsten Höhen.
Die Kombination aus 1" CD-Horn, Hochleistungs-Mitteltönern und einem speziell entwickelten Langhub-Basslautsprecher im akustisch perfekt dimensionierten Holzgehäuse wird von großzügigen 2000 Watt Endstufenleistung angetrieben.
Das garantiert ein XXL-Sound-Erlebnis in jeder Situation - von der dezenten Dinner-Untermalung bis zum energiegeladenen Höhepunkt der Veranstaltung.
Spitzensound überall
Mit seiner breiten Abstrahlung von 120° und der geringen Rückkopplungsneigung ist Polar 10 unkritisch auf Bühnen oder im Raum zu positionieren, in vielen Fällen wird kein weiterer Bühnenmonitor gebraucht. Zur einfachen Anpassung der Abstrahlhöhe z.B. beim Einsatz auf einer erhöhten Bühne kann Polar 10 ohne das untere Säulensegment aufgebaut werden.
Die sanft abfallende Lautstärkeverteilung sorgt für packenden Schalldruck auf der Tanzfläche, für angenehm vollen Sound in den ersten Reihen und für eine kommunikationsfreundlich reduzierte Lautstärke in den hinteren Zonen.
Vier-Kanal-Mischpult
Der eingebaute Vier-Kanal-Mixer stellt genügend Anschlüsse für viele Anwendungssituationen zur Verfügung: zwei Kanäle für Mikrofon- oder Line-Signale, einen speziellen Instrumentenkanal (z.B. für Akustikgitarre) und einen AUX-Kanal für Musikeinspielungen.
Audio Streams empfängt POLAR 10 drahtlos, dabei sorgt Bluetooth® 5.0 für eine größere Reichweite und eine zuverlässigere Verbindung im Vergleich zu bisherigen Bluetooth®-Versionen.
Drei Sound-Modes (Music, Voice, DJ) und der semiparametrische Master EQ ermöglichen eine einfache und wirkungsvolle Einstellung des System-Klangs. Fünf Klangeinstellungen lassen sich lassen sich in User Presets speichern, und bei Bedarf wieder abrufen.
Bei Veranstaltungen in sehr großen Räumen oder im Freien kann POLAR 10 komfortabel als Delay-Lautsprecher eingesetzt werden. Über das integrierte Display wird dabei einfach die Entfernung zur Haupt-PA eingestellt, der DSP errechnet dann automatisch die passende Zeitverzögerung.
Die Lautstärkeregler für die vier Kanäle, die Gesamtlautstärke und den Subwoofer sind in allen Bediensituationen direkt erreichbar. Seltener benötigte Einstellungen wie z.B. der semiparametrische Master-EQ werden über einen Dreh-Drück-Steller und das angenehm ablesbare Display vorgenommen.
Das neuentwickelte E.A.S. Connect System verbindet die drei Komponenten komfortabel, sicher und wackelfrei, Kabel werden dabei nicht benötigt.
Zum Lieferumfang gehört eine gepolsterte Transporttasche für die Säulenelemente und eine ebenfalls gepolsterte Schutzhülle für den Systembass. Selbstverständlich sind mit POLAR 10 auch Stereo-Systeme realisierbar.
Leistungsstarkes Fullrange-Säulensystem, komplett ausgestattet & für jeden Anlass passend!
Reviews
| | | |
| --- | --- | --- |
| 5 Stars | | 12 |
| 4 Stars | | 0 |
| 3 Stars | | 0 |
| 2 Stars | | 0 |
| 1 Star | | 0 |
Don't be afraid of the big T!
Review from
Ralf
on 20.10.2021
This rating has been translated automatically. Original language
verified purchase
I would even say: Better! There is not much more to say about the plant. Everything is known. An amazing piece of which I now call 2 my own. In stereo mode a great thing. I find the service of Kirstein however still better. As B-goods really like new. No quirks, works and original packaging. As stated delivered on time and professionally. Also here the best partner selected. There is really nothing to complain about. Gladly again. Greetings from the Eifel.
Hk Audio Polar 10 System - B-Ware Condition : like new
Review from
Peter
on 05.10.2021
This rating has been translated automatically. Original language
verified purchase
Great price-performance ratio, great sound and pressure in the bass.
Again and again !!!
Perfect companion
Review from
Bernhard
on 21.09.2021
This rating has been translated automatically. Original language
verified purchase
After my old passive DJ system had said goodbye after many years, I became aware of the HK Audio Polar 10 system on the Internet. The numerous positive reviews and reports convinced me relatively quickly to decide for this system. For the purchase I found Kirstein, which offered this system just also as B-goods. Because of the optics and the lower price I ordered 2 systems.
First of all, I must say that the delivery arrived very quickly. Everything was well packed and undamaged. That the system is B-goods I could not make out so far both visually and sonically. The system is simply fun to use and has an extremely good sound, which has also been confirmed by my clients at events. It is - for its price - very high quality and thanks to the included carrying bags quite easy to transport, although the subwoofers of course already bring their certain weight with them. The integrated 4-channel mixer, the 3-band master EQ, the inputs and outputs and the Bluetooth function leave hardly anything to be desired. Furthermore, hardly any ventilation noise is audible.
Conclusion: I am very happy with this system and look forward to many beautiful events.
Great column speaker, super service
Review from
Mathias
on 07.09.2021
This rating has been translated automatically. Original language
verified purchase
Absolutely brilliant column speaker. Play acoustic guitar and sing along. Absolutely recommended. Fa. Kirstein also has a great service and a very fast shipping. Uncompromisingly recommendable. I have not bought here the last time. Keep it up!!!!Thank you!!!!
Polar 10 HK
Review from
Domenico
on 04.09.2021
This rating has been translated automatically. Original language
verified purchase
Thanks a lot
I have tested the system yesterday.
Am thrilled super pressure and sound.

Wonderful.
Questions about product
Was ist der Unterschied zwischen 10 und 12
Question by Dirk Mettler on 09.12.2021
Answer by Rainer Bösel - Musikhaus Kirstein
Die beiden Boxen sind eigentlich relativ ähnlich. Die Polar 12 spielt mehr Bassdruck aus, ist durch den 12-Zoll-Woofer ein wenig höher und schwerer, aber auch lauter.
Your question about the article HK Audio Polar 10 System - Retoure (Zustand: sehr gut)
Your question will be forwarded directly to the department and answered as soon as possible.
Customers also bought
Product Video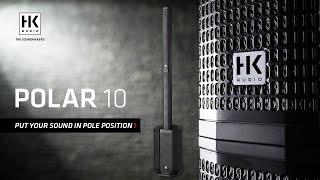 Your contact persons
Our specialists will be happy to advise you.
| | | |
| --- | --- | --- |
| Saturday | 09:30 - 13:30 | |
| Monday | 09:30 - 18:00 | |
| Tuesday | 09:30 - 18:00 | |
| Wednesday | 09:30 - 18:00 | |
| Thursday | 09:30 - 18:00 | |
| Friday | 09:30 - 18:00 | |