Eventide Blackhole - Reverb Effektpedal
Überschreite den Ereignishorizont...
Was liegt jenseits des Ereignishorizonts eines Schwarzen Lochs? Ist es ein Ort, an dem die Zeit still steht oder an dem sich die Schwerkraft in sich zusammenbricht? Ist es ein Portal zu einer anderen Dimension? Es gibt nur einen Weg, das herauszufinden. Entfliehe der Erde und schaffe eindringliche Echos, ätherische Landschaften und jenseitige Stimmungen mit dem Blackhole - einem Hallpedal, so groß und geheimnisvoll wie der Kosmos.
...und entdecke einen unbekannten Ort
Entdecke, was jenseits von Hall, Room, Plate und Spring liegt und lass dich von Blackhole in eine alternative Dimension des Ambience entführen. Wähle aus fünf außerweltlichen Presets:

Erzeuge supermassive Atmosphären mit dem ätherischen Hall von "Blackhole"
Schwebe durch Nimbuswolken mit dem luftigen Delay von "Dark Matter"
Erreiche klangliche Supernovas mit dem klingenden Wirbel von "Nebula"
Erlebe eine unerforschte Klanggalaxie mit der Wärme von "Singularity"
Und erreiche eine stellare Klangdrehung mit "Pulsar"
Bis zur Unendlichkeit...
Der grenzenlose Blackhole verfügt über zwei Arten des unendlichen Halls. Der "Infinite Modus" schichtet kontinuierlich neuen Klang über einen aufgehängten Hall, während der "Freeze-Modus" den Effekt in Stasis hält und Dir erlaubt, über die Hallfahne zu spielen. Der Freeze-Fußschalter ermöglicht den sofortigen Zugriff auf diese Funktion.
...und noch viel weiter.
Im Unterschied zu anderen Reverbs, die Pre- oder Post- Modulation bieten, verfügt Blackhole über eine Modulation, die in die eigentliche Hallstruktur integriert ist: Diese Modulation kann verwendet werden, um die rauen Ränder der extremsten Einstellungen zu glätten, und bietet eine einzigartige Fähigkeit zur Klangformung.
Entkomme dem Erwarteten
Wie alle Eventide-Pedale ermöglicht Dir Blackhole die Feinabstimmung jedes Aspekts des Effekts. Mit Eventides neuen, benutzerfreundlichen, intuitiven Benutzeroberfläche kann so gut wie jeder zum Mond starten und jenseits der Sterne landen. Als historische Grundlage für den Klang von Eventide eröffnet das Blackhole-Hallpedal eine Milchstraße der Möglichkeiten auf Deinem Pedalboard. Füge dieses außergewöhnliche Klanggefäß zu deinem Mix hinzu und bereite dich auf den Start in die Stratosphäre vor!
"Somewhere something incredible is waiting to be known" - Carl Sagan
Reviews
Questions about product
No questions have yet been asked about this article.
Your question about the article Eventide Blackhole
Your question will be forwarded directly to the department and answered as soon as possible.
Accessories
Also available as set!
Eventide Blackhole Set Kabel
| | | |
| --- | --- | --- |
| 1 x | Eventide Blackhole | 379,61 € |
| 1 x | Pronomic Stage INST-6 instrument jack cable 6m black | 8,99 € |
instead of individually
388,19 €
You save (21,9 %)
85,19 €
Your price

Free shipping (DE) inkl. VAT.

303,00 €
Customers also bought
Product Video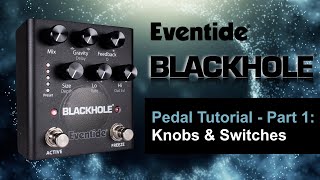 Your contact persons
The hotline is currently not manned. You can reach us again on Saturday, 25.09.2021 at 09:30.
| | | |
| --- | --- | --- |
| Saturday | 09:30 - 13:30 | |
| Monday | 09:30 - 18:00 | |
| Tuesday | 09:30 - 18:00 | |
| Wednesday | 09:30 - 18:00 | |
| Thursday | 09:30 - 18:00 | |
| Friday | 09:30 - 18:00 | |