Get personal advice now!
The hotline is currently not manned. You can reach us again on Tuesday, 28.06.2022 at 09:30.
Natürlicher Akustiksound für unterwegs
Mit dem AD-2 Acoustic Preamp können elektroakustische Gitarristen in jeder Live-Situation auf natürlichen Akustikgitarrenklang in Studioqualität zurückgreifen. Ausgestattet mit einem mächtigen BOSS-Klangprozessor, kombiniert der kompakte AD-2 enorme Leistungsfähigkeit mit einer einfachen und intuitiven Bedienoberfläche.
Während "Acoustic Resonance" die komplexen Resonanzschwingungen eines unverstärkten Tons reproduziert, fügt "Ambience" dem Klang eine speziell für Akustikgitarren optimierte Räumlichkeit hinzu. Darüber hinaus verfügt der AD-2 über die wichtigsten Werkzeuge für den Live-Betrieb: Ein Notch-Filter für die Unterdrückung von Rückkopplungen, einen symmetrischen DI-Ausgang für den direkten Anschluss an eine PA sowie eine komfortable Mute-Funktion für das Stimmen oder den Gitarrenwechsel.
Bringe Deinen akustischen Klang auf die Bühne!
Der Klang einer akustischen Gitarre basiert auf dem komplexen Zusammenspiel von Korpus, Decke, Saiten sowie zahlreichen weiteren Elementen. Je nach Spieltechnik, Dynamik usw. variiert diese Interaktion und erzeugt auf diese Weise den typischen reichen und natürlichen Klang, den wir über alles lieben.
Leider sind die meisten elektroakustischen Gitarren mit ihren Standard-Piezo-Tonabnehmern unterhalb des Sattels nicht in der Lage, diese Komplexität der erzeugten Resonanzen wiederzugeben. Der Acoustic-Resonance-Effekt des AD-2 löst dieses Problem, indem er das Eingangssignal im Moment des Spielens analysiert und den natürlichen, sich stets entwickelnden Gitarrenklang mittels fortschrittlicher Berechnung reproduziert.
Über nur einen einzigen Regler auf der Bedienoberfläche des AD-2 passt Du mehrere Parameter simultan an und gelangst so intuitiv zu einem perfekten Klangergebnis für jede Stilistik – von zartem Fingerpicking bis zum heftigem Strumming.
Erweitere Deinen Gitarrenklang mit professioneller Räumlichkeit!
Nachdem Du mittels "Acoustic Resonance" Deinen intimen, natürlichen akustischen Gitarrenton reproduziert hast, kannst Du diesem noch eine gute Portion Räumlichkeit für mehr Größe und Tiefe mit auf den Weg geben. Mit dem Ambience-Effekt des AD-2 erzeugst Du einen Hall in Studioqualität – und das in jeder denkbaren Live-Umgebung.
Im Gegensatz zu herkömmlichen Halleffekten, die häufig zu einer Verwässerung des Akustikgitarrenklangs führen, produzieren die optimierten BOSS-Algorithmen des AD-2 eine dichte und komplexe Räumlichkeit, die perfekt mit dem Klang Deiner Akustikgitarre harmoniert. Wie auch der Acoustic-Resonance-Effekt, lässt sich "Ambience" über nur einen einzigen Regler flexibel an deine Bedürfnisse anpassen – die Detailarbeit der einzelnen, ineinandergreifenden Parameter vollzieht der AD-2 unbemerkt unter der Haube.
DI-Ausgang und Unterdrückung von Rückkopplungen
Für größtmögliche Flexibilität auf der Bühne bietet der AD-2 zwei unabhängige Ausgänge. Über den Standard-Ausgang schließt Du Dein Instrument an einen Akustikgitarren-Verstärker oder einen Bühnenmonitor an und schickst ein symmetrisches Signal über den jeweiligen Line Out direkt an das FOH-Mischpult.
Um dem FOH-Engineer noch mehr Entscheidungsfreiheit bei der Effektgestaltung zu geben, lässt sich der Ambience-Effekt des AD-2 für das Line-Out-Signal separat ausschalten. Und falls du Dich auf der Bühne mit tieffrequenten Rückkopplungen herumärgerst, leistet der Notch-Filter des AD-2 unschätzbare Dienste. Sobald Du das altbekannte Brummen und Pfeifen hörst, aktivierst du einfach den Notch-Taster und das Problem ist verschwunden. Ja, es funktioniert wirklich!
Boss AD-2: perfektes Klangergebnis für elektroakustische Gitarrensounds!
Reviews
| | | |
| --- | --- | --- |
| 5 Stars | | 2 |
| 4 Stars | | 0 |
| 3 Stars | | 0 |
| 2 Stars | | 0 |
| 1 Star | | 0 |
A verification of the ratings has taken place as follows: Only customers who are registered in our online store and have actually purchased the product from us can submit a rating for the item in the customer account.
Hallo!
Review from
Rainer
on 22.01.2022
This rating has been translated automatically. Original language
verified purchase
Am about the sound refinement positively Surprised.With the purchase I have done everything right.The pedal is no longer issued.Would recommend power supply.
Greets you Kladdy
Guter Acoustic Preamp
Review from
Anonymus
on 24.05.2017
This rating has been translated automatically. Original language
verified purchase
The Boss AD-2 is a good acoustic preamp. The control options are usable in all positions. Ambienc is only audible from the middle position of the pot as an effect, before that the effect is hardly consciously heard, you notice it only when you turn off the pedal. The effect of the Resonance control depends on the quality of the instrument used. On a very good instrument it is most useful before the middle position. With a less good, inexpensive instrument it may well be turned up 3/4. Notch does what it is supposed to do, cut the frequencies that are susceptible to feedback with ease. You can also use Notch to dampen boomy basses a bit. I like the possibility to choose if Ambience should be applied to both outputs (output, line) or only to the output. By the way, a normal guitar cable can also be used in the line output and not only a stereo cable, as the manual states. I use the output with ambience for channel 1 of my Marshall AS50, line out goes without ambience, but with a short echo without drysignal in channel 2 of the acoustic amp - so you have a maximum of sound adjustment possibilities.
All in all, a very well thought-out and sonically good pedals at a reasonable price in the usual, indestructible Boss quality.
Questions about product
No questions have yet been asked about this article.
Your question about the article Boss AD-2 Acoustic Preamp Effektpedal
Your question will be forwarded directly to the department and answered as soon as possible.
Accessories
Customers also bought
Product Video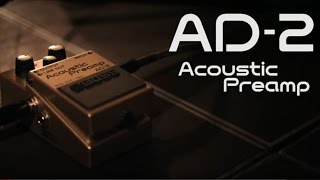 Your contact persons
The hotline is currently not manned. You can reach us again on Tuesday, 28.06.2022 at 09:30.
| | | |
| --- | --- | --- |
| Monday | 09:30 - 18:00 | |
| Tuesday | 09:30 - 18:00 | |
| Wednesday | 09:30 - 18:00 | |
| Thursday | 09:30 - 18:00 | |
| Friday | 09:30 - 18:00 | |
| Saturday | 09:30 - 13:30 | |