Get personal advice now!
The hotline is currently not manned. You can reach us again on Thursday, 09.02.2023 at 09:30.
VOX MV50 AC - Guitar Amp Head!
Die MV50 Serie von VOX representiert eine wahrhaftig innovative Art der Gitarrenverstärkung. Diese kleinen Kraftpakete wiegen gerade mal ein halbes Kilo und liefern dabei dennoch volle 50 Watt Nutube -Power, die mit jedem Vollröhren Verstärker mithalten können.
Ausgestattet mit der Nutube, einer neuartigen Vacuum Röhre und einem voll analogem Vorverstärker Schaltkreis erhalten die MV-Verstärker den vollen dynamischen Sound der angeschlossenen Gitarre und verstärken diesen, wie man es von den beliebten Klassikern gewohnt ist.
MV50 AC
Beim MV50 von VOX liegt der Schwerpunkt ganz klar auf der analogen Ebene. Er kombiniert einen "klassischen" Verstärker-Aufbau mit hochmodernen Herstellungsverfahren und schafft es so, trotz seiner Miniatur-Abmessungen gestandenen Gitarrenverstärkern Angst und Bange zu machen. Mit einer Leistung von sagenhaften 50W strahlt dieser Pfundskerl mit einem Gitarren-Sound, den man sofort der gehobenen Röhrenfraktion zuordnet. Mit seinem Boxen- und Line-/Kopfhörerausgang eignet sich der MV50 gleichermaßen für den Live-Einsatz, das Studio und zum Üben daheim.
Der MV50 beruht auf einem rein analogen Aufbau mit einer Nutube, d.h. einer revolutionären neuen Röhre, die trotz ihrer kompakten Abmessungen einen authentischen Röhren-Sound erzeugt. Diesem höchst innovativen Ansatz ist es zu verdanken, dass dieser VOX-Winzling brüllt wie ein ausgewachsener Röhrenverstärker.
Außer der Nutube enthält die Vorstufe des MV50 eine erstaunliche Anzahl analoger Komponenten, die ihren Teil zu einer röhrentypischen Dynamik und Ansprache beitragen. Die Übertragung zur Außenwelt übernimmt eine zuverlässige und effiziente "Class D"-Endstufe, die eigens für den MV50 entwickelt wurde. Vom warmen, natürlichen Clean-Sound bis zu dynamischer Übersteuerung bietet diese Endstufe alle Klangschattierungen, die Ihre Gitarre und Technik ins rechte Licht rücken.
Obwohl der MV50 vorrangig für die BC108 Box gedacht ist, kann er mit nahezu jeder beliebigen Box eingesetzt werden. Der EQ-Schalter auf der Rückseite bietet zwei Einstellungen: FLAT und DEEP. Bei Verwendung einer kompakten Box wie der BC108 gibt der DEEP-Modus dem Sound im Bassbereich mehr Schub, um eine Überbetonung der hohen Frequenzen zu verhindern. Wer lieber mit seiner vertrauten (großen) Box arbeitet, kann dagegen den FLAT-Modus wählen, um der Box freie Bahn bei der Klangformung zu lassen - in diesem Betrieb wird kein Frequenzbereich angehoben.
Zum Üben bzw. für Studio-Gigs kann der Line-/Kopfhörerausgang des MV50 mit einem Mischpult, einer Audioschnittstelle bzw. einem Kopfhörer verbunden werden. In Zusammenarbeit mit namhaften Toningenieuren hat das VOX-Team dem MV50 hierfür eine Boxensimulation spendiert, der man sofort anhört, dass die Signalwiedergabe von hochwertigen Mikrofonen und herausragenden Vorverstärkern inspiriert wurde. Somit verfügt man immer und überall über einen hochkarätigen Studio-Sound, der einen pausenlos zu neuen Glanztaten inspiriert.
Ideal für den Live-Einsatz, im Studio und das Üben daheim!
Suitable accessories (Not included in the delivery.)
Specification
| | |
| --- | --- |
| Product number | 00047873 |
| Direct Out / Line Out | Yes |
| Power amplifier | Solid State |
| Foot switch included | No |
| Pre amplifier | Tubes |
| additional FX | No |
| Colour | Black |
| Hall/Reverb included | No |
Reviews
| | | |
| --- | --- | --- |
| 5 Stars | | 1 |
| 4 Stars | | 0 |
| 3 Stars | | 0 |
| 2 Stars | | 0 |
| 1 Star | | 0 |
A verification of the ratings has taken place as follows: Only customers who are registered in our online store and have actually purchased the product from us can submit a rating for the item in the customer account.
good sound, very loud
Review from
Paul
on 11.02.2022
Variant
VOX MV50 Boutique
This rating has been translated automatically. Original language
verified purchase
even with the Vox BC 108 speaker a pleasant sound. Well suited for practicing with headphones. Clean and with gain a good sound. very loud. Fast verzand, well packaged.
Questions about product
No questions have yet been asked about this article.
Your question about the article VOX MV50 AC
Your question will be forwarded directly to the department and answered as soon as possible.
Variants
Accessories
Customers also bought
Product Video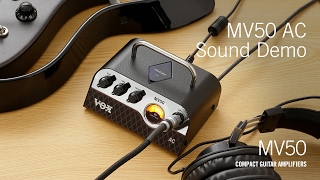 Your contact persons
The hotline is currently not manned. You can reach us again on Thursday, 09.02.2023 at 09:30.
| | | |
| --- | --- | --- |
| Thursday | 09:30 - 18:00 | |
| Friday | 09:30 - 18:00 | |
| Saturday | 09:30 - 13:30 | |
| Monday | 09:30 - 18:00 | |
| Tuesday | 09:30 - 18:00 | |
| Wednesday | 09:30 - 18:00 | |