Get personal advice now!
Our specialists from the guitar department are looking forward to your call.
Der akustische Stage Amp - neu definiert!
Der Acoustic Singer Pro ist ein Stage Amp mit nie dagewesener Klangqualität und Vielseitigkeit. Mit den neuesten BOSS Verstärker-Entwicklungen ausgestattet, liefert dieses kompakte Kraftwerk einen satten, lebendigen Sound mit unvergleichlichem Druck und Klarheit.
Der Acoustic Singer Pro verfügt über unabhängige Kanäle für eine Akustikgitarre und ein Mikrofon, beide mit diskreter analoger Input-Schaltung und Dreiband-EQ für einen Klang in Studioqualität. Dank der weiteren Features, wie Acoustic Resonance, einem Looper, automatischen Vocal-Harmonien, Effekten und mehr, bietet der Acoustic Singer Pro Akustik-Musikern alles, was sie für inspirierende und eindrucksvolle Live-Performances benötigen.
Natürlicher Klang mit Leistung, Definition und Präsenz
Das Verstärken deiner Akustik-Gitarre mit dem Acoustic Singer Pro ist ein inspirierendes Erlebnis. Die BOSS-Ingenieure haben unermüdlich daran gearbeitet, den Verstärker so zu konstruieren, dass die natürlichen Transienten des Instruments und dessen dreidimensionaler Klangcharakter wiedergegeben werden. Jedes Bauteil des Amps wurde mit diesem Ziel vor Augen entwickelt.
Ein kräftiges Bi-Amp Design mit erweiterter Spitzen-Power liefert tighten High-Definition Sound mit ultra-cleaner Breitband-Frequenzansprache. Die eigenentwickelten Subwoofer und Hochtöner sind aus innovativen Materialien gefertigt und hüllen die Bühne in satten, natürlich diffusen Klang. Ein weiteres wichtiges Detail ist die einzigartige Gehäusekonstruktion, die unerwünschte Resonanzen ausschaltet und ein inneres Rückwanddesign für eine maximale Projektion.
Gitarrenkanal mit Acoustic Resonance
Der Gitarrenkanal des Acoustic Singer Pro verfügt über eine diskrete analoge Schaltung des Eingangssignals, die Raum für schnelles Anspiel und die dynamische Weite der Akustikgitarre unterstützt. Weiterhin verfügt er über die BOSS Acoustic Resonance, deren fortschrittlicher Prozessor den harten, sterilen Klang der Piezo Pickups der meisten Stage-Gitarren ausgleicht.
Dieses mächtige Feature verbessert nicht nur den Klangcharakter deines Pickups, es stellt auch die komplexen natürlichen Resonanzen wieder her, die beim Verstärkern einer Akustikgitarre häufig verloren gehen. Weiterhin verfügt der Kanal über einen Dreiband-Equalizer, einen Phasenschalter und einen Notch-Filter, um Feedback-Probleme zu minimieren. Zu guter Letzt sind zwei Chorus-Effekte und ein gitarrenoptimierter Reverb integriert, um deinem Sound den letzten Feinschliff zu verleihen.
Mikrofonkanal für Vocals und mehr
Neben dem Gitarrenkanal verfügt der Acoustic Singer Pro auch über einen Mikrofonkanal, der ihn zur Universallösung für singende Gitarristen macht. Die diskrete analoge Eingangsschaltung liefert einen klaren, vollen Sound. Die Phantomspeisung ermöglicht die Verwendung von Kondensatormikrofonen in Studioqualität.
Auch dieser Kanal ist mit einem Dreiband-EQ, einem Phasenschalter und einem Notch-Filter ausgestattet und der Klang der Stimme kann mit erstklassigen Delay/Echo- und Reverb-Effekten verstärkt werden. Wird der Acoustic Singer Pro nur für die Gitarre verwendet, lässt sich diese über den Kanal zusätzlich mikrofonieren. Bei aufwändigen Aufnahme-Setups eignet sich der zweite Kanal, um den Klang eines weiteren Tonabnehmers, wie ein zweites Pickup oder ein integriertes Mikrofon, hinzu zu mischen.
Automatische Vocal-Harmonien und Looper
Ein besonderes Feature des Acoustic Singer Pro ist dessen Vocal Harmony-Funktion, die beim Spielen und Singen live Harmonien erzeugt. Das geschieht komplett automatisch, ohne dass komplizierte Einstellungen vorgenommen werden müssen. Deine Akkorde werden in Echtzeit analysiert, eindrucksvolle Harmonien generiert und perfekt in dein Spiel integriert.
Und selbst bei einem Tonartwechsel passt der Prozessor den Klang harmonisch und nahtlos an. Zwei unterschiedliche Harmonien stehen zu Auswahl, sowie eine Unisono-Einstellung, die deine Stimme für mehr Volumen doppelt. Der integrierte Looper ermöglicht es, dich live mit der Gitarre, Stimme und Effekten zu begleiten und bringt zusätzlichen Spaß.
Erweiterte Anschluss- und Kontroll-Möglichkeiten
Auf der Rückseite des Acoustic Singer Pro erfüllen zwei DI/Line-Ausgänge mit XLR-Buchsen und je einem vielseitigen Mode-Schalter zur gemeinsamen Ausgabe beider Kanäle oder der separaten Ausgabe mit oder ohne Effekten alle Schnittstellenanforderungen. Hier steht weiterhin ein AUX-Eingang mit Lautstärkeregler zur Verfügung, über den sich beispielsweise Begleitmusik von deinem Smartphone wiedergegeben lässt.
Ein USB-Anschluss ermöglicht die direkte Verbindung zu einer DAW, der Rec/Phones-Stecker ist eine Standard Stereo-Klinkenbuchse, an die ein Kopfhörer oder ein mobiles Aufnahmegerät angeschlossen werden kann. Weitere Anschlüsse ermöglichen das Steuern der Harmonie-Funktion, des Loopers, der Effekte und mehr über optionale Fußpedale.
Akustik-Combo der Spitzenklasse von Boss!
Suitable accessories (Not included in the delivery.)
Specification
Product number

00048717

Microphone input

Yes, with phantom power

Power (Watts)

120

additional FX

Yes

Battery-powered

No

Hall/Reverb included

Yes

Foot switch included

No

Colour

Brown

Speakers

1x 8 Zoll

Headphone Out

Yes
Reviews
| | | |
| --- | --- | --- |
| 5 Stars | | 0 |
| 4 Stars | | 1 |
| 3 Stars | | 0 |
| 2 Stars | | 0 |
| 1 Star | | 0 |
A verification of the ratings has taken place as follows: Only customers who are registered in our online store and have actually purchased the product from us can submit a rating for the item in the customer account.
For fun alone
Review from
Andreas
on 29.12.2017
Variant
Boss ACS-Live Acoustic Singer Live Verstärker
This rating has been translated automatically. Original language
verified purchase
A wonderful toy for those hours alone at home. I don't mean that in a derogatory way! The guitar channel is perfectly laid out, all my acoustic guitars come beautifully acoustically 'rüber. But not only at home. I play live with it, i.e. the boss is my monitor, line into the mixer and the perfect sound is there.
The vocal channel, on the other hand, is really more for home use. A dynamic mic unfortunately overloads before you reach a reasonable volume. But with the harmonizer practicing is really fun! In retrospect, I would recommend the big brother, which certainly has enough power to actually exist in a pub, the small creates that unfortunately not.
No questions have yet been asked about this article.
B-Stock Bargains.
This product is also available in the following condition:
Product Video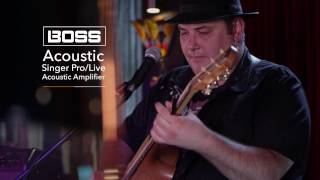 Your contact persons
Our specialists will be happy to advise you.
| | | |
| --- | --- | --- |
| Monday | 09:30 - 18:00 | |
| Tuesday | 09:30 - 18:00 | |
| Wednesday | 09:30 - 18:00 | |
| Thursday | 09:30 - 18:00 | |
| Friday | 09:30 - 18:00 | |
| Saturday | 09:30 - 16:00 | |