Blackstar ACOUSTIC:CORE 30!
ACOUSTIC:CORE 30 ist das Ergebnis unzähliger Stunden intensiver Entwicklungsarbeit und des Vergleichens mit marktführenden Akustikverstärkern. Die von Grund auf für akustische Gitarristen entwickelten Verstärker sind ebenso Intuitiv wie kompakt und perfekt auf die heutigen Bedürfnisse wie Streaming, Aufnehmen, Üben oder Live-Auftritte zugeschnitten.
Kanal 1 bietet einen 6,35 mm Klinkeneingang sowie Regler für GAIN, LOW und HIGH EQ sowie eine schaltbare ENHANCE-Funktion für einen Studio-typischen EQ, der Ihrem Instrumentenklang einen räumlichen Eindruck verleiht. Über einen separaten REVERB-Regler lassen sich zwei REVERB-Optionen aussteuern, während der Regler CHORUS die Lautstärke der beiden alternativen Super Wide Stereo-Chorus Effekte VINTAGE und WIDE kontrolliert.
Kanal 2 bietet eine XLR-/Klinken-Combo-Buchse sowie Regler für GAIN, LOW, MID und HIGH EQ - für den Anschluss eines Mikrofons oder weiteren Instruments -Sowie eine VOCAL-CLARITY-Schaltung, die für einen markanteren, professionellen Gesangssound sorgt, der sich im Mix dynamisch besser durchsetzt. Über eine global schaltbare PHASE-Taste können Sie unerwünschte Rückkopplungen unterbinden.
Der ACOUSTIC:CORE kann als USB-Audio-Interface genutzt werden. Durch Anschluss eines USB-Kabels können Sie gleichzeitig das Direkt- als auch das Bearbeitete Signal zu Aufnahme zwecken auf einen Computer speisen, während die Buchse LINE OUT / HEADPHONE zur Ausgabe an eine PA, ein Aufnahmemischpult oder zum Anschluss eines Kopfhörers für lautloses Üben dient. Über den Eingang LINE IN / STREAMING können Sie Ihren ACOUSTIC:CORE 30 mit einem Musikgerät oder einer Drum-Maschine verbinden, um zu einer Begleitung zu spielen.
Zudem können Sie ein geeignetes 3,5 mm TRRS-Kabel für die einfache Ein- und Ausgabe eines Live-Streamings über ein kompatibles Gerät verwenden. Das integrierte Neigestativ im Boden des Verstärkers erlaubt es Ihnen, den Neigungswinkel Ihres ACOUSTIC:CORE 30 präzise einzustellen.
Gitarrenkabel inklusive
Die Stage INST-Kabel sind professionelle Gitarren-/Instrumentenkabel mit hochwertigen Klinkensteckern und vergoldeten Spitzen. So ist eine niedrige Leiterkapazität und Audioübertragung gewährleistet.
Der Akustikverstärker für hochwertiges Live-Streaming!
Specification
| | |
| --- | --- |
| Battery-powered | No |
| Headphone Out | Yes |
| Microphone input | Yes, with phantom power |
| Foot switch included | No |
| Speakers | 2x 5 Zoll |
| additional FX | Yes |
| Hall/Reverb included | Yes |
| Colour | White |
Reviews
Questions about product
No questions have yet been asked about this article.
Your question about the article Blackstar ACOUSTIC:CORE 30 Set inkl. Gitarrenkabel
Your question will be forwarded directly to the department and answered as soon as possible.
Customers also bought
Product Video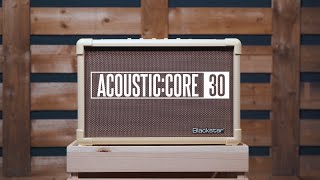 Your contact persons
The hotline is currently not manned. You can reach us again on Monday, 02.08.2021 at 09:30.
| | | |
| --- | --- | --- |
| Monday | 09:30 - 18:00 | |
| Tuesday | 09:30 - 18:00 | |
| Wednesday | 09:30 - 18:00 | |
| Thursday | 09:30 - 18:00 | |
| Friday | 09:30 - 18:00 | |
| Saturday | 09:30 - 13:30 | |