Korg MA-2 Metronom - glasklar leserlich und hörbar!
Das kartenförmige elektronische Metronom MA-1 wurde an vielen Stellen entscheidend überarbeitet. Das daraus resultierende MA-2 ist einfach unverzichtbar für alles, was mit Rhythmusfestigkeit zu tun hat. Neben einem enormen Tempo-Einstellungsbereich und einer Vielzahl an Taktarten und Rhythmen bietet es anwenderfreundliche Funktionen wie ein klareres Display, einen allzeit deutlich hörbaren und definierten Sound, einen neuen Timer-Modus und vieles mehr. Dieses Metronom ist in zwei Ausführungen lieferbar: Blau mit Schwarz und Schwarz mit Rot.
Größeres und perfekt leserliches Display
Mit einem Display, das im Vergleich zum Vorgängermodell um 30% vergrößert wurde, legt das MA-2 den Schwerpunkt auf eine perfekte Leserlichkeit. Der Takt wird mit einer Pendelanzeige im Display und einem akustischen Signal vorgegeben. Ein Dreieck zeigt die aktuelle Taktposition und das Timing an, in dem sich die Takte ändern.
Höhere Lautstärke und definierterer Sound
Das MA-2 enthält einen neu entwickelten Summer, der mehr Leistung auf die Waage bringt und sich folglich auch gegen laute Instrumente und hohe Frequenzen durchzusetzen versteht.
Bedient alle Rhythmus-Bedürfnisse
Das Tempo kann auf drei Arten eingestellt werden: In Pendelschritten (Pendulum Step), d.h. wie bei einem mechanischen Metronom, in Einzelschritten (Full Step) und im Tap Tempo-Verfahren, d.h. indem man einfach im gewünschten Tempo einen Taster drückt.
Außerdem lässt sich die Taktart sehr flexibel einstellen - wählen Sie 0~9 Schläge und einen der 8 Rhythmustypen. So lassen sich selbst vertrackte Passagen sauber einstudieren.
Timer-Modus
Das MA-2 ist nicht nur ein gestandenes Metronom, sondern bietet auch einen Timer- und Sound Out-Modus, die beim Üben eine wichtige Rolle spielen. Der jeweils benötigte Modus wird mit dem MODE-Taster gewählt. Nach der festgelegten Zeit erklingt ein Signalton und das Metronom hält an. Die Dauer kann in Minutenschritten zwischen 1 und 120 Minuten festgelegt werden, was sich z.B. zum Warmspielen und den damit einhergehenden Läufen eignet.
Sound Out-Modus
In diesem Modus gibt der eingebaute Lautsprecher einen Referenzton aus, der zum Stimmen des Instruments verwendet werden kann. Als Referenzton stehen die Noten C4~B4 (eine Oktave) zur Wahl. Auch die Kammertonfrequenz (Note A4) ist im Bereich 410Hz~480Hz in 1Hz-Schritten einstellbar.
Neu designtes Gehäuse mit verbesserten Funktionalitäten
Der Kippständer erlaubt eine stabile und gut sichtbare Platzierung des Geräts. Der Batteriefachdeckel kann zwar auf- und zugeschoben werden, ist aber Teil des Gehäuses und kann somit nicht verloren gehen.
Bis zu 400 Stunden im Dauerbetrieb
Bei Verwendung von Alkaliebatterien läuft das Gerät bei Bedarf bis zu 400 Stunden im Dauerbetrieb. Sobald die Batteriespannung nachlässt, erscheint eine Anzeige im Display, die Sie auf den demnächst bevorstehenden Wechsel hinweist. So können Sie sich ganz auf Ihre Übungen konzentrieren und brauchen nicht ständig an die Batterien zu denken.
Das MA-2 ist das Metronom, das man als Orchestermusiker einfach braucht!
Specification
Product number

00057416

Colour

Red
Reviews
| | | |
| --- | --- | --- |
| 5 Stars | | 1 |
| 4 Stars | | 1 |
| 3 Stars | | 0 |
| 2 Stars | | 0 |
| 1 Star | | 0 |
A verification of the ratings has taken place as follows: Only customers who are registered in our online store and have actually purchased the product from us can submit a rating for the item in the customer account.
Korg MA-2 BKRD
Review from
J.
on 29.07.2019
This rating has been translated automatically. Original language
verified purchase
It works and the display is very legible. However, the operation is cumbersome and the instruction manual difficult to understand / quite scarce. Once you have figured out how it works, you get along well with it. The metronome sound is extremely unpleasant in its timbre / pitch. For the price o.k.
SuperService!
Review from
Katja
on 17.03.2021
Variant
Korg MA-2 BLBK
This rating has been translated automatically. Original language
verified purchase
Have now ordered several times directly from Kirstein, from A to Z super satisfied, keep it up!!!
No questions have yet been asked about this article.
Product Video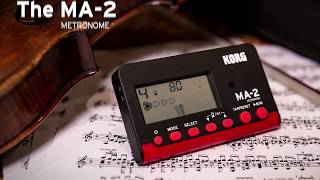 Your contact persons
Our specialists will be happy to advise you.
| | | |
| --- | --- | --- |
| Tuesday | 09:30 - 18:00 | |
| Wednesday | 09:30 - 18:00 | |
| Thursday | 09:30 - 18:00 | |
| Friday | 09:30 - 18:00 | |
| Saturday | 09:30 - 13:30 | |
| Monday | 09:30 - 18:00 | |